Brexit Party bus found abandoned in hedge after breaking down
Campaign team leaves bus empty with doors open in middle of lay-by overnight
Conrad Duncan
Sunday 28 July 2019 21:17 Comments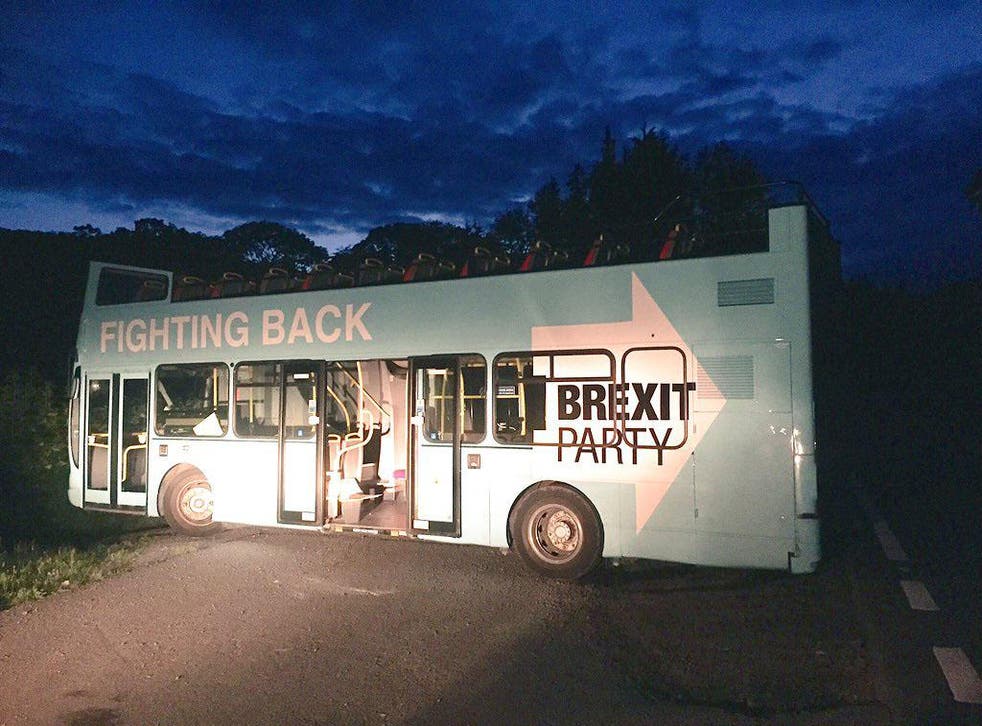 A Brexit Party bus was found abandoned in a hedge late last night after it broke down in the Brecon Beacons.
James Wells MEP, who is campaigning for the party in an upcoming by-election in Wales, confirmed that the bus broke down and had to be left until this morning to be picked up.
It was discovered by BBC journalist Sue Charles, who found it abandoned with its doors open, blocking a lay-by, at around 11pm on Saturday when she was driving to Cardiff.
"From a distance, it looked as if it was an accident but as you got closer you could see it was in a hedge and you could see it was a Brexit bus," Ms Charles said.
"It thought it was very odd that it had been left side-on blocking the layby."
Peterborough by-election: Brexit Party loses out to Labour

Show all 14
She added that she went to check if anyone had been injured but found no one inside.
Although Dyfed Powys Police reportedly told Ms Charles they were aware of the bus and had sent someone to investigate it, no official statement has been released on the incident.
A local vehicle recovery company said they were asked to tow the vehicle to Cardiff on Sunday morning.
Although Brexit Party candidate Des Parkinson said the bus broke down last night, Derek Jeffs, a local removal company boss, told Wales Online that he saw the bus stranded on Saturday afternoon.
"It looked as if the bus had turned into the layby but there wasn't enough room to turn it around. However, the driver couldn't reverse because the road dipped down," he said.
"The driver was still in the cab and he didn't look best pleased."
The Brexit Party are currently attempting to win their first parliamentary seat in the Brecon and Radnorshire by-election.
The by-election was triggered when Chris Davies, a Conservative MP, was recalled after he pleaded guilty in March to claiming false expenses.
The Liberal Democrats are favourites to win the election, with the Brexit Party predicted to challenge the Conservatives for second place.
A victory for either the Liberal Democrats or the Brexit Party would reduce Boris Johnson's majority in the House of Commons to just one MP.
Voters in the constituency will go to the polls on Thursday.
Register for free to continue reading
Registration is a free and easy way to support our truly independent journalism
By registering, you will also enjoy limited access to Premium articles, exclusive newsletters, commenting, and virtual events with our leading journalists
Already have an account? sign in
Join our new commenting forum
Join thought-provoking conversations, follow other Independent readers and see their replies