Half of Leave voters want to bring back the death penalty after Brexit
And 30 per cent of Leave voters want the notorious and energy inefficient incandescent light bulbs back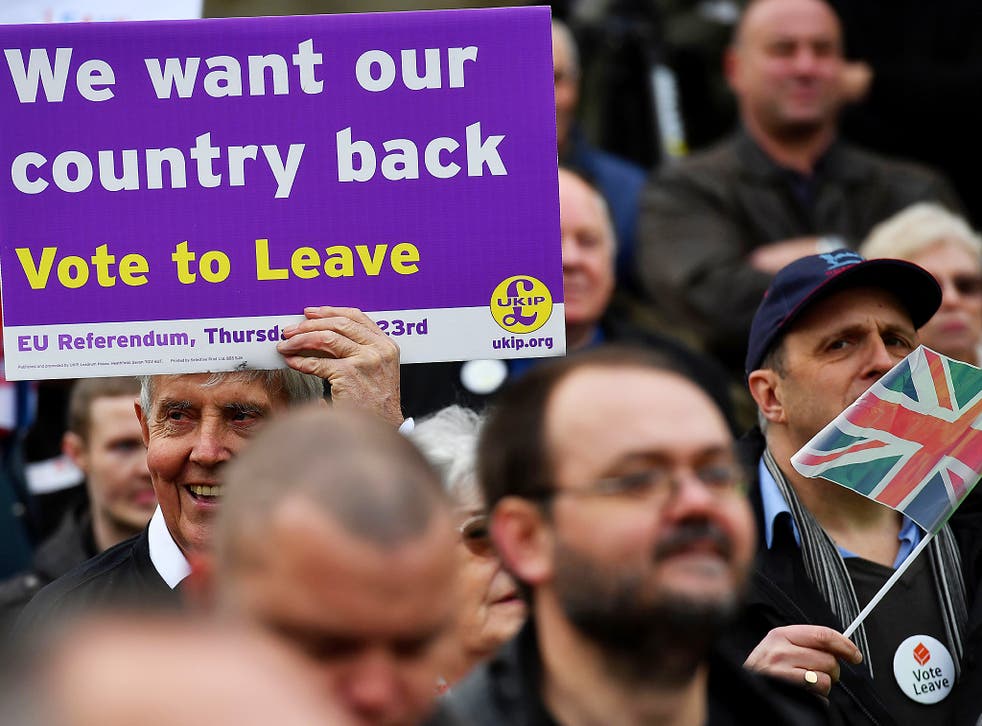 More than a half of Leave voters want the death penalty brought back after Brexit, according to a new poll.
The YouGov survey also found 42 per cent of those who opted to part ways with the European Union want corporal punishment back in schools and 30 per cent want inefficient light bulbs to return to shop shelves.
The results were released on the day Theresa May sent a letter to European Council President Donald Tusk and formerly triggered the two-year countdown to Brexit.
The results have been compiled into a chart by Statista, exclusively for The Independent.
The death penalty for murder was abolished for the entirety of the UK in 1973 but votes on whether to restore it were held every year until 1997.
But the poll found 53 per cent of those surveyed want a return to capital punishment after Britain leaves the Union.
The poll, quizzed 2,060 adults on 21 and 22 February. The research, also surveyed 810 Remain voters and found that 20 per cent of people opting to stay in the European Union backed the death penalty.
It also found 52 per cent of Leave voters would like a return to dark blue passports. They changed to Burgundy, machine readable passports in 1988 - the common format of member states of the European community.
Researchers also found 48 per cent of Leave voters want a return to imperial measurements like pounds and ounces, 11 per cent want smoking to return pubs and restaurants and nine per cent want a pre-decimal currency of pounds, shillings and pence.
Thirty per cent want a return to incandescent light bulbs, which are deemed inefficient because of their high temperature, and which were discontinued by the European Union.
They are estimated to cost the European economy up to 10 billion Euros but cut CO2 emissions by 15 million tonnes.
Register for free to continue reading
Registration is a free and easy way to support our truly independent journalism
By registering, you will also enjoy limited access to Premium articles, exclusive newsletters, commenting, and virtual events with our leading journalists
Already have an account? sign in
Register for free to continue reading
Registration is a free and easy way to support our truly independent journalism
By registering, you will also enjoy limited access to Premium articles, exclusive newsletters, commenting, and virtual events with our leading journalists
Already have an account? sign in
Join our new commenting forum
Join thought-provoking conversations, follow other Independent readers and see their replies