Majority of UK thinks Government is ignoring critical issues due to Brexit, poll reveals
Exclusive: Survey shows almost 60 per cent think ministers neglecting challenges facing country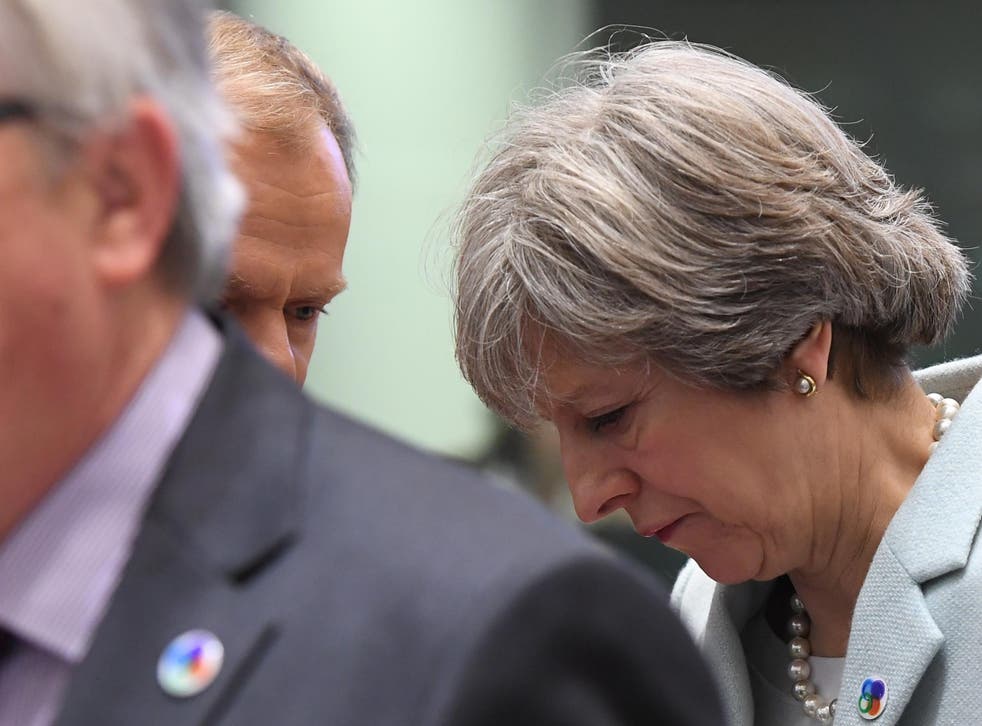 A large majority of British people think the Government's struggle for a Brexit deal has become so all-encompassing that other crucial challenges have been forgotten about, a poll has revealed.
The exclusive survey for The Independent by BMG Research showed some 60 per cent of people believe "important domestic issues" are being ignored by ministers as Brexit relentlessly diverts their attention, with problems faced by the NHS and the housing market consistently appearing in surveys of voter concerns.
Whitehall departments are undertaking a major recruitment drive to hire thousands of new civil servants to cope with the burden of Brexit, while the Government admitted last week it has not carried out any impact assessments into the implications of leaving the EU on the British economy.
Conducted amid the turmoil of last week's fraught Brexit negotiations, the new poll shows Labour edging ahead of the Conservatives by three points and Jeremy Corbyn's satisfaction ratings outstripping those of Theresa May.
Pressure on Ms May to push Brexit talks forward was momentarily lifted earlier this week when she secured a withdrawal deal, ending phase one of negotiations.
But the progress followed a week in which her political agenda was dominated by Brexit issues both in Brussels and in the House of Commons.
That in turn followed weeks of rolling negotiations with EU diplomats and different factions on her own backbenches to ensure any deal did not destroy her administration.
Brexit bonhomie as May finally seals agreement with EU leaders

Show all 10
Asked to what extent they agreed with the statement, "the Government has spent too much time focusing on Brexit and has forgotten about important domestic issues", a majority backed it.
Overall 19 per cent "strongly agreed" and 41 per cent "somewhat" agreed – meaning 59 per cent agreed to some extent.
A fifth, 20 per cent, neither agreed nor disagreed, seven per cent did not know, while 12 per cent disagreed "somewhat" and only three per cent disagreed "strongly" – giving a total of those who disagreed of just 14 per cent.
When "don't knows" were redistributed the total who agreed critical domestic issues are being forgotten hit 63 per cent, and 15 per cent disagreed.
The data is a stark warning for a party stung at the election by a public tired of austerity, angry about the housing crisis and worried about the state of the NHS.
In October, it emerged that the civil service will have to hire an extra 8,000 staff to deal specifically with Brexit, a sign of how its resources are being diverted towards the challenges of leaving the EU.
Nearly 3,000 new posts have already been created to help face what will be the biggest administrative challenge they have faced for half a century.
Brexit Secretary David Davis told Cabinet colleagues that Her Majesty's Revenue and Customs will also have to recruit between 3,000 and 5,000 new members of staff next year.
If the new recruits earn an average of £50,000 each, the wage bill would top £400m. But that's a drop in the ocean compared to the £35bn to £39bn the UK will have to pay the EU as part of its divorce settlement – a figure many expect to rise higher.
That also does not include the cost of new technology and extra infrastructure at borders that may be needed, which Chancellor Philip Hammond has suggested could divert funds from the NHS and education.
The UK has not conducted a Brexit impact assessment on any sector, says David Davis
Mr Davis faced a grilling on Wednesday when he admitted the Government had not conducted impact assessments into the effects on specific sectors of Brexit, or on the wider economy of leaving the EU's customs union.
The new polling was taken between 5-8 December, as Ms May desperately struggled to secure a withdrawal deal after her Northern Irish political partners scuppered an earlier attempt.
The furore appears to have not helped her or her party's public ratings, with Labour opening up a three-point lead, rising to 40 per cent once "don't knows" are excluded, compared to the Conservatives' 37 per cent.
In terms of leaders' satisfaction ratings, Ms May hit minus 30 (35 per cent satisfied, and 65 per cent dissatisfied) while Mr Corbyn had a rating of minus 12 (44 per cent satisfied and 56 per cent dissatisfied).
Asked who people would prefer to see as the next prime minister, the pair were effectively tied. Once "don't knows" were redistributed, Ms May had the backing of 32 per cent and Mr Corbyn the support of 33 per cent of people.
BMG interviewed a representative sample of 1,509 adults living in Great Britain on 5-8 December. Data are weighted. BMG are members of the British Polling Council and abide by its rules. Full details at bmgresearch.co.uk/polling
Join our new commenting forum
Join thought-provoking conversations, follow other Independent readers and see their replies