Labour and SNP under pressure in Scotland as poll shows voters strongly support fresh referendum
Pollster Peter Kellner says survey suggests both Jeremy Corbyn and Nicola Sturgeon's party are 'in the wrong place with most of their supporters'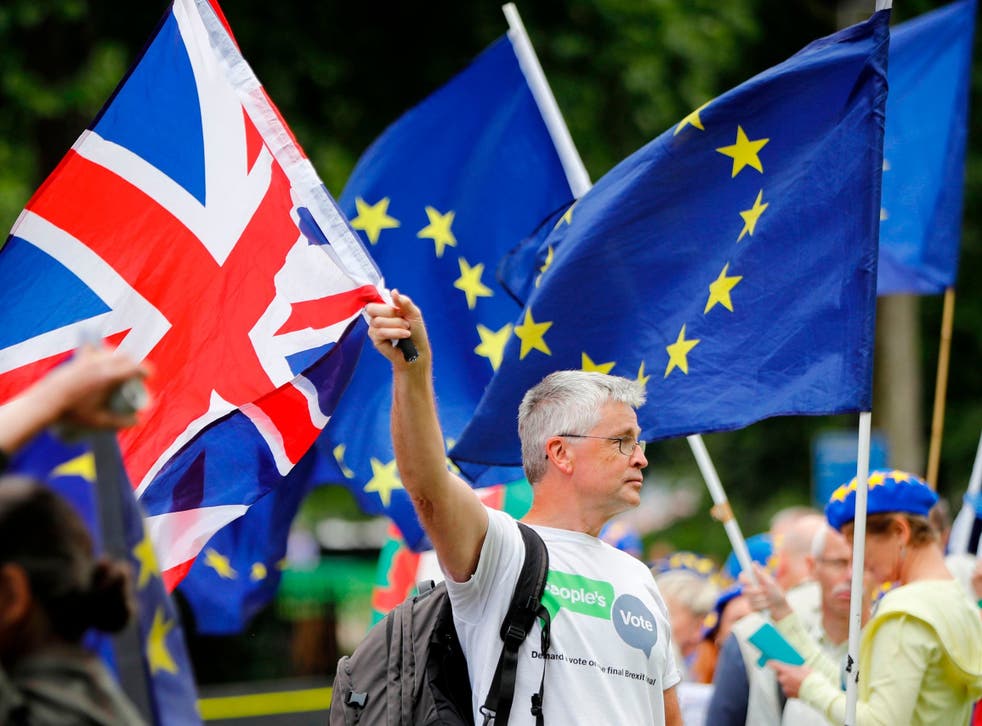 Labour and the SNP in Scotland are under pressure to adopt a stronger stance on Brexit as a new poll shows Scottish voters strongly support a fresh referendum on the final deal.
The YouGov survey for the People's Vote campaign – calling for a public vote on the deal Theresa May returns from Brussels with – found that 48 per cent of respondents were in favour of the idea, with 31 per cent opposed.
While the SNP's leader Nicola Sturgeon has previously said the case for a second vote may become "irresistible", the party does not support the policy and Jeremy Corbyn has repeatedly said Labour is not backing the idea.
Peter Kellner, former president of pollster YouGov, said the new poll suggested both party leaders were "in the wrong place with most of their supporters" and claimed their could be electoral benefits to reap if either party strengthened their position on Brexit.
The Independent launched its campaign to win a Final Say Brexit referendum for the British people just three weeks ago – with more than 610,000 people signing the petition so far.
Researchers, who surveyed 2,013 adults in Scotland, found rising support for staying in the European Union. After the don't-knows were removed, two-thirds (66 per cent) said they wanted to remain while 34 per cent were pro-Brexit.
At the 2016 EU referendum Scottish voters, 62 per cent backed Remain and 38 per cent opted for Brexit.
The poll also indicated widespread support among SNP, Labour and Liberal Democrat voters for staying in the EU at 73 per cent, 67 per cent, and 77 per cent respectively.
SNP voters back a Brexit deal referendum by a margin of more than four to one – 66 per cent to 18 per cent when the don't-knows have been removed – while for Labour this is 64 per cent to 21 per cent.
Brexit casualties

Show all 10
Mr Kellner said the poll was evidence of public opinion shifting on Brexit. "Support for a public vote on the outcome is growing across the UK but is particularly strong in Scotland where most people did not want to leave in the first place," he said.
"There is deep pessimism about what Brexit will mean for Scotland and the next generation. Around two-thirds of Scots think the UK is ignoring their concerns and don't trust Westminster to take the decisions."
He continued: "But the survey suggests the leaderships of both the SNP and the Labour Party are in the wrong place with most of their supporters. There may be an electoral dividend in Scotland for one of these parties if they strengthen their position.
"For instance, by a margin of three to one Labour supporters want Jeremy Corbyn to campaign for a public vote, while Nicola Sturgeon may yet want to move faster than she has in backing such a route on Brexit."
Register for free to continue reading
Registration is a free and easy way to support our truly independent journalism
By registering, you will also enjoy limited access to Premium articles, exclusive newsletters, commenting, and virtual events with our leading journalists
Already have an account? sign in
Register for free to continue reading
Registration is a free and easy way to support our truly independent journalism
By registering, you will also enjoy limited access to Premium articles, exclusive newsletters, commenting, and virtual events with our leading journalists
Already have an account? sign in
Join our new commenting forum
Join thought-provoking conversations, follow other Independent readers and see their replies