Brexit: Nicola Sturgeon asks EU to 'keep a light on' for Scotland
Scotland will be back in European Union 'soon', says first minister
Andrew Woodcock
Political Editor
Friday 01 January 2021 13:22 Comments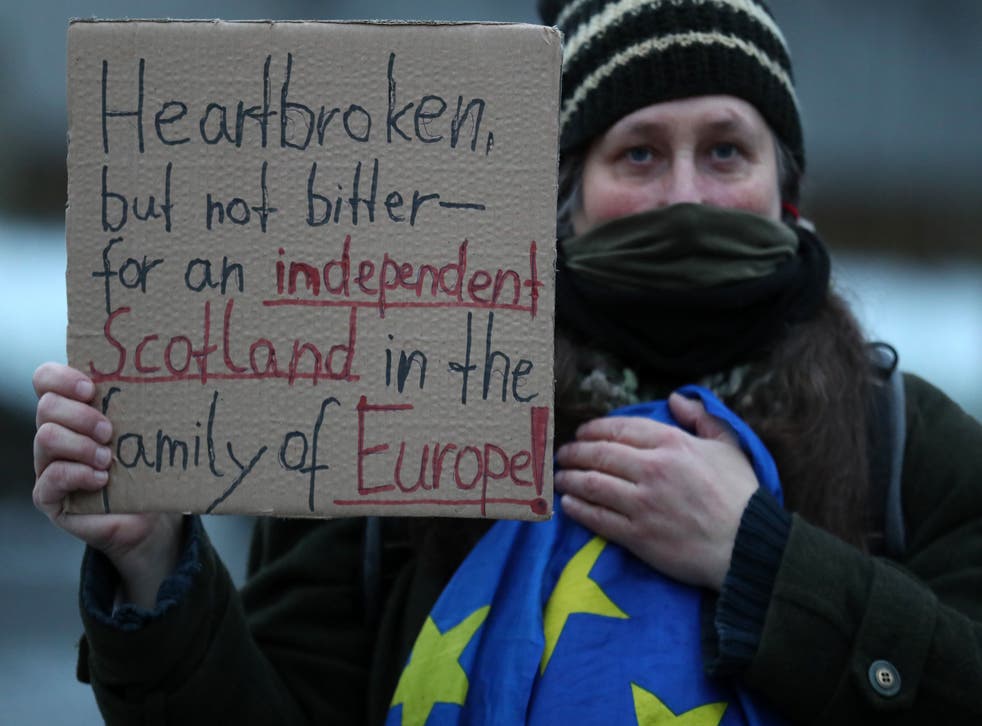 Nicola Sturgeon has predicted that Scotland will be back in the EU "soon", as she urged Europe to "keep a light on" for her nation after Brexit.
And a senior member of her government said that the removal of pro-European Scotland from the EU on the same terms as England and Wales meant that independence was now "the only alternative".
Scotland's parliament at Holyrood voted by an overwhelming 92-30 majority earlier this week to refuse legislative consent to the Trade and Cooperation Agreement struck by Boris Johnson as a framework for the UK's future relationship with the EU.
As the UK's formal transition out of the EU took place at 11pm on New Year's Eve, the Scottish first minister tweeted a picture of the words Europe and Scotland attached by a love heart.
The image was projected onto the side of the European Commission's Berlaymont headquarters in Brussels.
Ms Sturgeon accompanied it with the message: "Scotland will be back soon, Europe. Keep the light on."
She later retweeted a Scotland Is Now video which sent out a promise to Europeans: "As long as Scotland's still here, you are always welcome."
Scotland voted by 62 per cent to 38 per cent to Remain in the EU in the 2016 referendum, and calls for independence from the UK have been fuelled by the argument that it is being taken out of the 27-nation bloc against its will.
Writing on the Politico website, Ms Sturgeon said she was "committed to a legal, constitutional route to becoming an independent state".
And she added: "As an independent member of the European Union, Scotland would be a partner and a bridge-builder — not just a bridge to building a stronger economy and fairer society, but a bridge to aid understanding between the EU and UK.
"More and more people in Scotland believe our aspirations can best be met by continuing to contribute to the shared endeavour and solidarity that the EU represents.
"Because of Brexit, we can now only do this as an independent member state in our own right. We have been inside the European Union family of nations for nearly 50 years. We didn't want to leave and we hope to join you again soon as an equal partner as we face the opportunities and challenges of the future together."
Scotland's constitution secretary Mike Russell said that the agreement of separate arrangements for Northern Ireland and Gibraltar made clear that it would have been possible for the UK government also to negotiate different terms for Scotland.
Edinburgh's demand in 2016 for Scotland to remain in the EU single market after Brexit was ignored by Westminster.
Mr Russell tweeted on Thursday evening: "The NI & Gibraltar deals make clear that the December 2016 Scottish Government proposals could have produced a Scottish deal but were never pursued in EU negotiations by UK.
"Consequently the UK has itself created the circumstances in which independence is the only alternative for Scotland."
MSPs at Holyrood voted on Wednesday for a motion rejecting Mr Johnson's Brexit deal on the grounds it would to say the deal would "cause severe damage to Scotland's environmental, economic and social interests".
A Scottish Government report modelled that GDP would be 6.1 per cent lower north of the border by 2030, compared to remaining a member of the EU.
But Conservatives accused Sturgeon's administration of spreading "propaganda" about the agreement on taxpayer-funded official channels.
Scottish Conservative leader Douglas Ross said he had written to civil service chiefs seeking an apology for the "bad deal for Scotland" video shared on social media.
Mr Ross said: "This video is a work of shameless propaganda and it's incredible that a politically neutral civil service would think it is in any way appropriate.
"For taxpayers to be bankrolling a work of one-sided nationalist distortion is not on.
"The government is supposed to represent everyone in Scotland."
A small group of protesters demonstrated in favour of EU membership outside Holyrood as the Brexit transition period came to an end.
Morag Williamson, from the Yes for EU group, said: "We are very sad and very angry at the same time.
"We don't want to leave the family of Europe – but we are being dragged out against our will."
Register for free to continue reading
Registration is a free and easy way to support our truly independent journalism
By registering, you will also enjoy limited access to Premium articles, exclusive newsletters, commenting, and virtual events with our leading journalists
Already have an account? sign in
Join our new commenting forum
Join thought-provoking conversations, follow other Independent readers and see their replies