Independence would hit Scotland's economy 'two to three times' harder than Brexit, say economists
Rejoining the EU would do 'little' to mitigate cost of breakaway, report finds
Adam Forrest
Wednesday 03 February 2021 07:47 Comments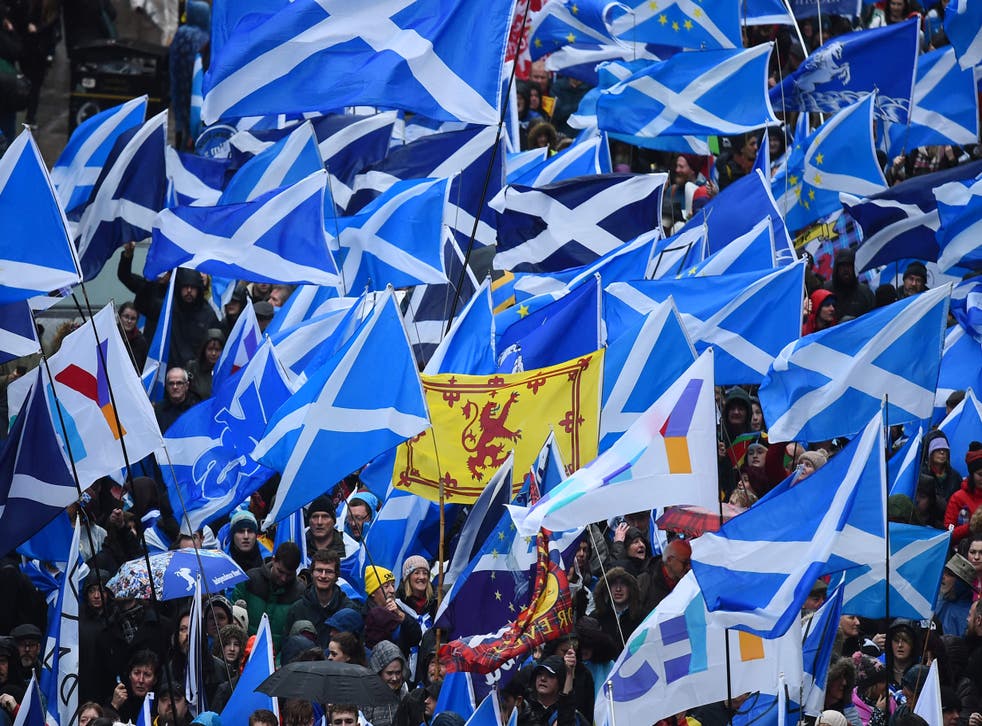 Independence would damage Scotland's economy and leave the country "considerably poorer" than staying inside the UK, according to a new study by economists.
The economic costs of Scottish independence would be two to three times greater than the impact of Brexit, finds the report from the London School of Economics and Political Science (LSE).
In the first major study since Brexit on the economic risks of breaking away, the LSE report concludes the price would be a heavy one – regardless of whether an independent Scotland rejoins the EU or maintains a common economic market with the UK.
The authors estimate that Brexit will reduces Scotland's long-term income per capita by 2 per cent.
But becoming independence after Brexit would reduce Scottish income per capita by between 6.3 per cent and 8.7 per cent, depending upon the kind of trade barriers imposed.
The economic hit from the two events is estimated to be the equivalent of an income loss of between £2,000 and £2,800 per person every year.
The study Disunited Kingdom: Brexit, Trade and Scottish Independence focuses purely on trade costs and does not study other economic consequences of independence – such as changes in Scotland's fiscal arrangements or currency.
Authors Hanwei Huang, Thomas Sampson and Patrick Schneider found that independence would hit the Scottish economy much harder than Brexit, since Scotland's trade with the rest of the UK is about four times larger than its trade with the EU.
Mr Sampson, associate professor of economics at LSE, said the costs of independence to the Scottish economy are likely to be "two to three times" greater than the costs of Brexit.
"Moreover, rejoining the EU following independence would do little to mitigate these costs, and in the short run would probably lead to greater economic losses than maintaining a common economic market with the rest of the UK," he said.
"This analysis shows that, at least from a trade perspective, independence would leave Scotland considerably poorer than staying in the United Kingdom," said Mr Huang, assistant professor at the City University of Hong Kong.
"While many considerations will play a role in shaping the outcome of a second referendum, voters need to know what the likely costs and benefits of each course will be. This briefing contributes to that knowledge."
Responding to the UK's exit from the single market last month, Scotland's first minister and SNP leader Nicola Sturgeon argued that rejoining the bloc would mean "building a stronger economy".
Recent polls suggest many Scots accept there would be economic costs to independence – but are no longer put off by the prospect.
Only 22 per cent of Scots said they thought they would be better off outside the UK, while 44 per cent said they would be worse off, according to the most recent survey by Panelbase. The same poll found 52 per cent backing for independence when undecideds are removed.
Register for free to continue reading
Registration is a free and easy way to support our truly independent journalism
By registering, you will also enjoy limited access to Premium articles, exclusive newsletters, commenting, and virtual events with our leading journalists
Already have an account? sign in
Join our new commenting forum
Join thought-provoking conversations, follow other Independent readers and see their replies