Brexit: Andy Burnham suggests UK may need to leave single market to rebuild North of England
The frontrunner to be Greater Manchester's first mayor wants to 'pick winners' to reverse deindustrialisation – which, he suggests, is not possible with EU state aid restrictions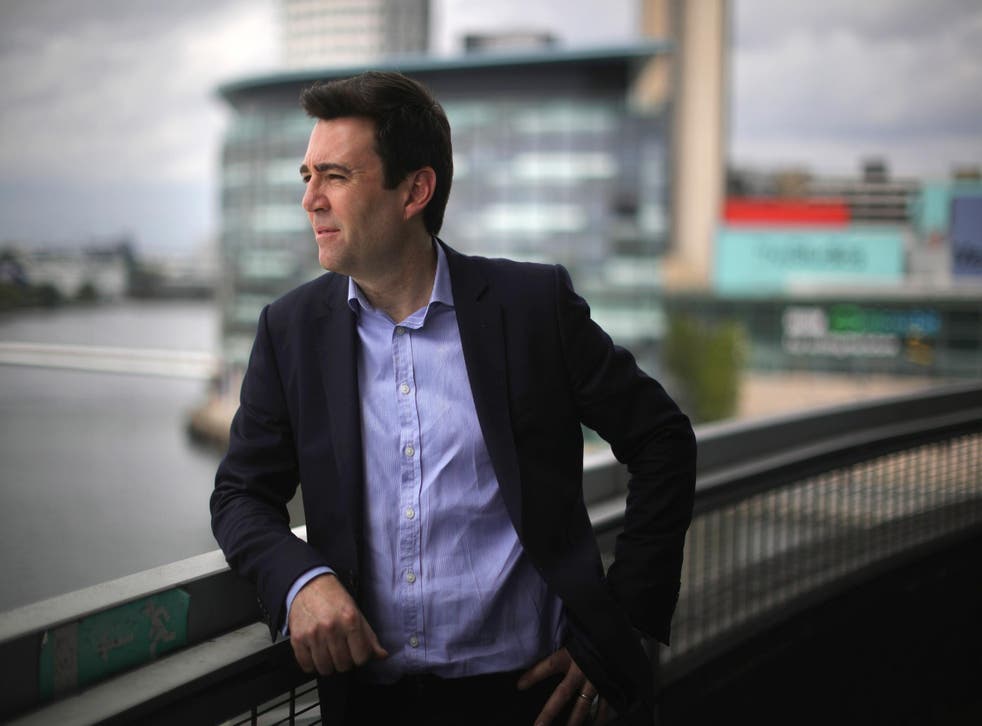 Andy Burnham has broken with Labour colleagues by suggesting Britain may need to pull out of the EU's single market to reverse de-industrialisation of the North.
The front-runner to be Greater Manchester's first mayor demanded the right to "pick winners" – which, he argued, is not possible with current EU state aid restrictions.
Mr Burnham criticised politicians whose "sole focus after Brexit is to preserve access to the single market", accusing them of trying to "rerun the referendum campaign".
And he said: "If that means we can't get some flexibility on state aid rules well, maybe that's not necessarily going to be right for the North.
"I think the North needs to adopt a very different approach now in terms of the way we create the industry of the future. It's about becoming more interventionist."
Mr Burnham backed a recommendation for a "Brexit negotiating committee of the North" to be set up, to push the region's different industrial priorities and to examine the "trade off" with single market membership.
Pointing to renewables, advanced manufacturing and digital industries, he told a conference in Leeds: "In the north of England, we have got to start saying we are going to pick some winners – we are going to be strong in these areas. If London is the service capital, we are going to be the industrial and manufacturing capital of this country."
The former shadow Home Secretary traced the Brexit result to anger about decline in the North's industrial towns – if not its thriving big cities – and politicians' lack of answers.
He said: "It seems to me to be the case that, not just Westminster, but Europe, didn't have a good enough answer to de-industrialisation."
The comments put Mr Burnham on a collision course with senior Labour figures who have demanded Theresa May make single market membership – or, at least, tariff-free access – her top priority.
However, they put him in agreement with Jeremy Corbyn, who has also welcomed the likely death of EU rules restricting state aid because of Brexit.
In his September conference speech, the Labour leader said he would be pushing his "own Brexit agenda" – using withdrawal to shift Britain to the left. In Manchester, Mr Corbyn said that agenda would include "the freedom to intervene in our own industries, without the obligation to liberalise or privatise our public services".
It is the second time this week that Mr Burnham has sparked controversy, after his call to end free movement of people because it was "undermining the cohesion of our communities and the safety of our streets". On that row, he is on the side of a growing number of Labour backbenchers who want their party to accept immigration curbs – in the teeth of opposition from Mr Corbyn.
Both immigration restrictions and a more interventionist industrial policy are likely to play well in next May's election to be Greater Manchester's first "metro-mayor". The role would make Mr Burnham one of Britain's most powerful elected figures, with the devolution to the city-region of powers over health, transport, housing, planning, policing and skills.
Register for free to continue reading
Registration is a free and easy way to support our truly independent journalism
By registering, you will also enjoy limited access to Premium articles, exclusive newsletters, commenting, and virtual events with our leading journalists
Already have an account? sign in
Register for free to continue reading
Registration is a free and easy way to support our truly independent journalism
By registering, you will also enjoy limited access to Premium articles, exclusive newsletters, commenting, and virtual events with our leading journalists
Already have an account? sign in
Join our new commenting forum
Join thought-provoking conversations, follow other Independent readers and see their replies