Brexit: Big business and banks are dominating formation of Brexit warns report
Exclusive: New research indicates 'corporate bias' threatens to drown out the voice of ordinary people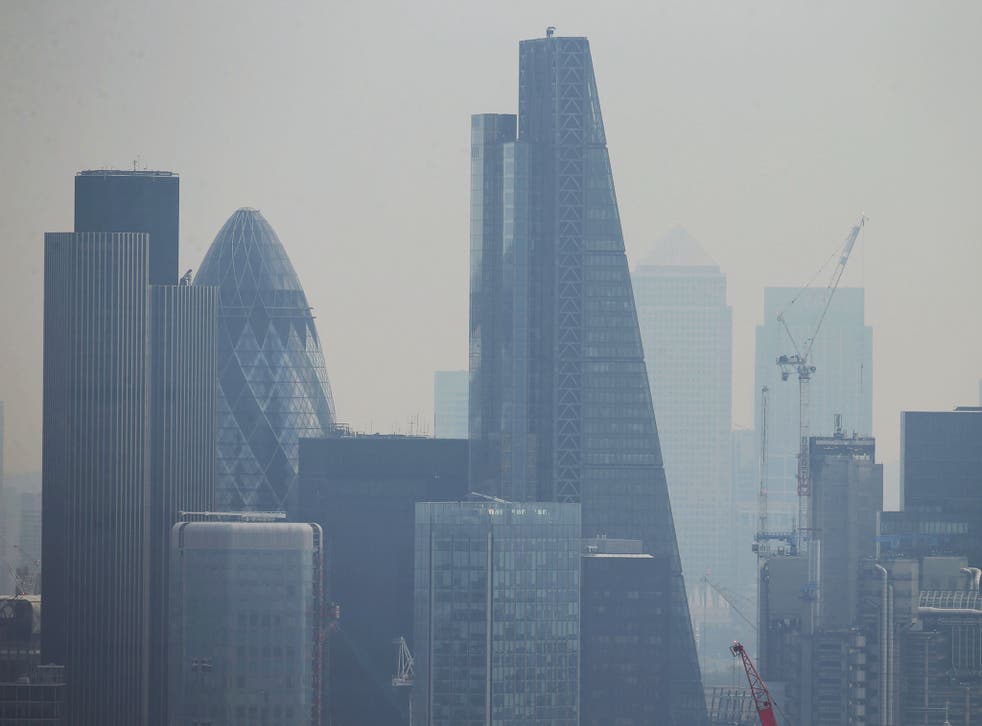 Brexit is being shaped by big business and banks while the interests of ordinary people are being drowned out, a damning new report has concluded.
The analysis of lobbyist activity exposes how big corporations and the finance sector are dominating back-room discussions with negotiators in both London and Brussels.
At the same time small business, labour groups and NGOs are being marginalised, leading campaigners to warn Brexit will be dictated according to a "corporate bias."
The report passed to The Independent highlights how a single investment bank had more meetings with officials from the UK's Department for Exiting the European Union, than Britain's two biggest trade unions put together, representing millions of workers between them.
Groups that have poured money into Conservative party coffers - and even donated to Brexit Secretary David Davis himself - were also granted direct access to the UK's team.
In Brussels business interests also dominated, with officials at the EU's Brexit taskforce three times more likely to meet corporate lobbyists than representatives of civil society.
Details of the new report from the Corporate Observatory Europe and Global Justice come as Mr Davis heads back to Brussels on Monday for talks with the EU's chief negotiator Michel Barnier.
Brexit: the deciders

Show all 8
But the report could be embarrassing for leaders on both sides, with Theresa May having pledged to run Britain for ordinary working people, while European Commission President Jean Claude Juncker is set to emphasise how the EU must be in touch with citizens in a major speech next month.
Analysis of the UK team's meetings show they were dominated by the finance sector, which concerned 46 gatherings at Dexeu in six months. Goldman Sachs - an investment bank heavily criticised for its actions during the financial crash - attended four meetings.
​HSBC, which recently paid £28 million to Swiss authorities to close a money-laundering case, attended six and lobby group TheCityUK was at eight.
In contrast, the UK's two biggest trade unions, Unite and Unison, which together represent some 2.7 million working people, had one meeting each – the same number as attended by think tanks like Policy Exchange and the Legatum Institute, unknown to the wider public.
Other sectors which had meetings included food and agriculture, whose representatives were at 17 meetings; infrastructure industry lobbyists, at 13; the defence industry, at eight, and tech groups, at seven.
The Federation of Small Businesses was present at five "round tables" with other groups but had no one-on-one meetings, despite small firms making up 99 per cent of the UK's private sector.
Mr Davis did hold two meetings in quick succession with Arbuthnot Banking group, which has donated £267,470 to his party since 2009.
Brexit Secretary: UK wants temporary EU customs deal
The cabinet minister himself accepted £50,000 from Arbuthnot in 2005 to fund his unsuccessful leadership campaign against former prime minister David Cameron.
BlackRock, which secured participation in two meetings, has recruited former chancellor George Osborne, while Citigroup, which employs former Conservative foreign secretary Sir William Hague, had three meetings.
JCB, which has given over £3 million to the Conservatives since 2001 met Mr Davis via a roundtable event, while Odey Asset Management, which has given £219,000 to the Conservatives, met Brexit minister Lord Bridges in November last year.
All in all, it meant Mr Davis's Brexit ministers and officials had six meetings with corporate lobbyists for every one held with civil society groups.
Michel Barnier seeks clarification over key issues in Brexit talks
Jean Blaylock, a campaigner at Global Justice Now, said: "The corporate bias that has been exposed in this list of meetings shows that we are veering dangerously towards a 'big business Brexit' rather than a Brexit that might take into account the wider needs of UK society.
"Unless there is some sense of transparency and accountability in this process, there is every chance that the UK Government will use Brexit as an opportunity to do away will all manner of vital protections relating to labour rights, consumer standards and the environment."
The report warns that the lack transparency on the British Government's meetings meant the visible corporate influence may be the "tip of the iceberg".
It added: "The agendas, minutes and papers for all lobby meetings held by both the UK and EU negotiators are secret.
"This is highly problematic as it means it's not known exactly who is in the room and what is being said."
Data for meetings held by the EU's Brexit taskforce show that of 151 meetings held in eight months between October 2016 and May 2017, business lobbyists were present in 71 per cent.
For every one NGO met, the taskforce met ten business lobbyists. For every one trade union met, it also met 15 corporates. Groups that had the most meetings were Business Europe and the Centre for European Reform, funded by corporate donors including Goldman Sachs, JP Morgan, Morgan Stanley, HSBC, Lloyds, Barclays, Centrica, EDF and The Daily Mail.
German interests were prominent in meetings held by Mr Barnier's team. BMW had three, while the country's Association for the Automotive Industry, Deutsche Bank and the German Mechanical Engineering Association had two meetings each.
Jean-Claude Juncker says he has no clear idea of what the UK wants from Brexit
Corporate Europe Observatory's transparency campaigner Vicky Cann said: "Brexit will strongly affect people's private and professional lives in the UK, so it is vital that the process is as transparent as possible and that many different interests are consulted.
"But we observe a strong corporate bias in the lobby meetings of both the UK and the EU Brexit negotiators. Civil society groups and SMEs have had far fewer opportunities to voice their needs, concerns, and proposals around Brexit."
When Ms May first took office she promised to lead a government in the interests of ordinary people, intervening in markets where necessary and tackling corporate irresponsibility.
But questions have been raised about the Prime Minister's commitment since the election, in particular with reports she has abandoned key parts of her corporate responsibility agenda - including measures to control excessive executive pay.
A British Government spokesperson said suggestions of 'corporate bias' made in the report are "wholly inaccurate".
He went on: "We are working hard to deliver an exit deal that works for the whole of society and the papers we published this week on civil judicial cooperation and dispute resolution are evidence of that.
"Ministers have visited small businesses, civil society organisations and a wide range of other stakeholders up and down the country, engaging with them on their priorities for exit.
"We are now intensifying this process as the negotiations proceed."
Mr Juncker is set to deliver his state of the union address on September 13, in which he will flesh out options for Europe's future, stressing that citizens must be at the heart of the EU's decisions.
Asked about its Brexit meetings, the European Commission pointed out that the Brexit taskforce only met lobbyists on the EU's transparency register.
An official said the Commission wanted to understand the impact of Brexit on UK business and that it was important to meet people who had experience of supply chains and the effects of the loss of passporting rights on their business model.
Labour's shadow Brexit secretary Keir Starmer told The Independent: "If we're going to get a Brexit deal that works for all parts of the economy and all regions of the country, it's vital that all voices are heard.
"That means the Government need to do far more to listen to trade unions, NGOs, small businesses and wider community groups. It can't just be big business that has the ear of this government."
Liberal Democrat Brexit spokesperson Tom Brake brands the situation "a disgrace", adding: "In their haste to ram through a hard Brexit, Conservative ministers are only hearing from the best-organised with the biggest pockets."
Register for free to continue reading
Registration is a free and easy way to support our truly independent journalism
By registering, you will also enjoy limited access to Premium articles, exclusive newsletters, commenting, and virtual events with our leading journalists
Already have an account? sign in
Join our new commenting forum
Join thought-provoking conversations, follow other Independent readers and see their replies