Brexit talks will remain deadlocked unless Theresa May stands up to Boris Johnson, says key Merkel ally
'Whatever she is offering, Boris Johnson is saying it's too much'
Rob Merrick
Deputy Political Editor
Tuesday 17 October 2017 09:14 Comments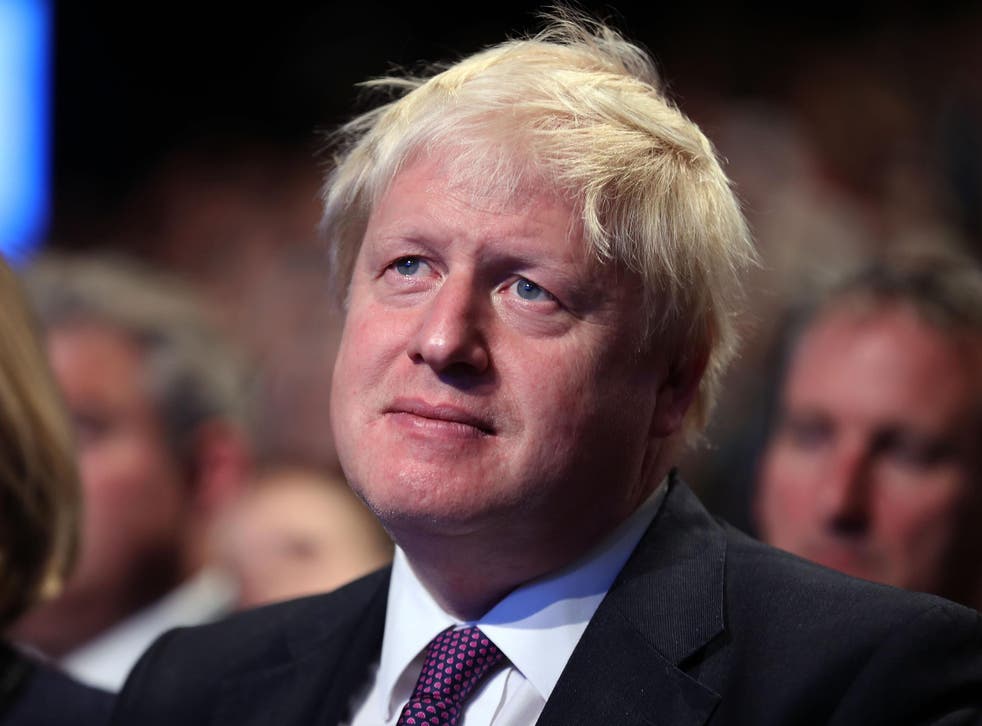 A key ally of Angela Merkel has warned the Brexit talks will remain deadlocked unless Theresa May is brave enough to stand up to Boris Johnson.
Michael Fuchs, the vice chairman of the German Chancellor's party, blamed the Foreign Secretary for the impasse – because he was preventing the Prime Minister from making a proper financial offer.
"Theresa May has to come up with decent proposals," Mr Fuchs said. "Whatever she is offering, Boris Johnson is saying it's too much,"
Theresa May asked if Boris Johnson is unsackable
Arguing that Mr Johnson's influence was "pretty strong", Mr Fuchs said: "Otherwise she would come up with other proposals. The problem is she has internal trouble in the Tories."
He stopped short of suggesting Mr Johnson should be sacked, but added: "What he said was not a single cent to the EU – and that's not, of course, acceptable."
The comments, from such a powerful figure in the Christian Democratic Union (CDU), offer fresh evidence that Ms Merkel is now Britain's toughest opponent in the negotiations.
Senior figures in Brussels were mystified that Ms May's last-gasp dash to try to revive the talks was to join a dinner with the European Commission chief and his negotiator.
In fact, only if Ms Merkel, and French President Emmanuel Macron budge can the talks progress onto a future trading arrangement – and there is no sign they will.
Last night, a 90-minute dinner in the Belgian capital with Jean-Claude Juncker and Michel Barnier failed to achieve any breakthrough.
It produced only a bland statement, saying both sides "reviewed the progress made in the Article 50 negotiations so far and agreed that these efforts should accelerate over the months to come".
Downing Street stressed the Prime Minister had gone no further than her offer to plug any hole in the EU's budget if it agrees a transition period, after Brexit day in 2019, of "about two years".
But this would cover only Britain's "subs", of about £9bn a year – without addressing liabilities, such as for EU programmes and pension costs.
Meanwhile, the latest leak of a draft statement from EU leaders, ahead of a crucial summit on Friday, toughened the language against the British position.
Following pressure from France and Germany, it demanded progress on all three "divorce issues" – including EU citizens' rights and the Irish border – as well as money.
The carrot is that the EU will give Mr Barnier, the chief negotiator, a mandate to open talks on trade in December, if "sufficient progress" is made by then.
Speaking on Radio 4's Today programme, Mr Fuchs insisted Germany did not want a hard Brexit – and, in fact, regretted Britain leaving the EU more than any other country.
But he added: "If you choose this way, it's going to be like this. It's going to be very tough for your country I think. I'm pretty sure we have to find a better solution."
No 10 said it was pleased that the commission had agreed the talks "should accelerate" and an agreement that dinner "took place in a constructive and friendly atmosphere".
Register for free to continue reading
Registration is a free and easy way to support our truly independent journalism
By registering, you will also enjoy limited access to Premium articles, exclusive newsletters, commenting, and virtual events with our leading journalists
Already have an account? sign in
Join our new commenting forum
Join thought-provoking conversations, follow other Independent readers and see their replies