Theresa May and EU President Jean-Claude Juncker want to 'accelerate' Brexit talks
Brexit talks are still deadlocked ahead of a crucial European Council summit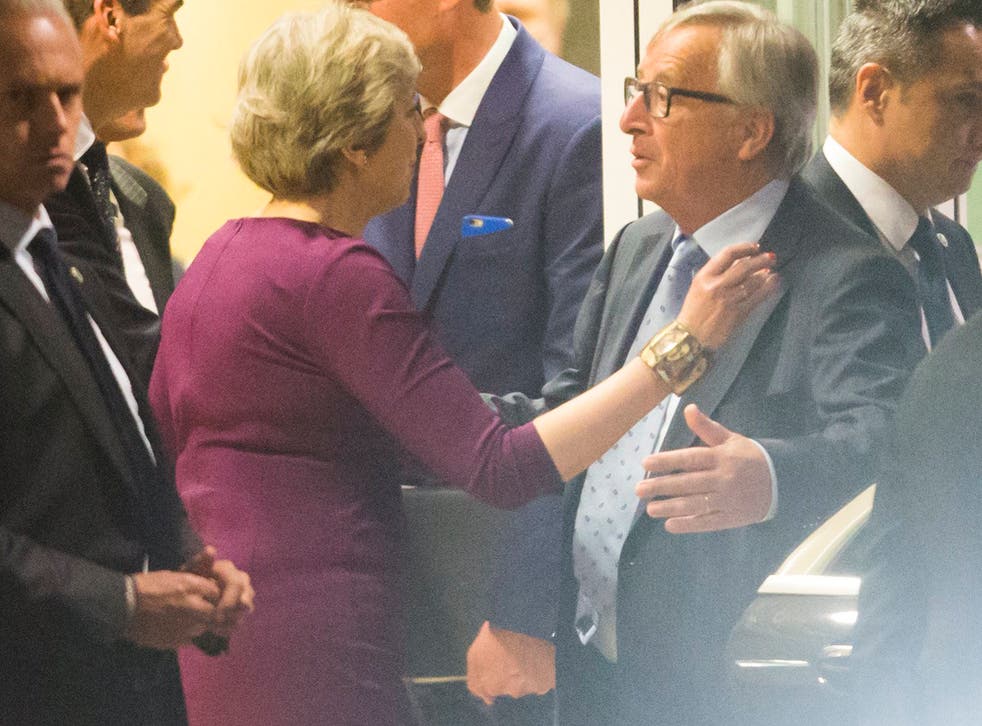 Theresa May and EU President Jean-Claude Juncker have agreed that efforts to reach a deal in Brexit talks should "accelerate" over the coming months.
The Prime Minister and Commission chief made the announcement following a working dinner in Brussels ahead of a crunch European Council summit.
No details were available on what specific measures might be introduced to speed up the negotiations, which have so far happened face-to-face on four days every month.
Despite the limited face-time, the latest round of negotiations was still dogged by "deadlock", according to EU chief negotiator Michel Barnier. There were no formal talks about the UK's divorce bill during the week because of a lack of agreement, while no full negotiations were scheduled for Wednesday, reducing the length of discussions of other matters to three days.
There are currently no further talks scheduled between the two sides, though future dates are expected to be announced after the European Council summit later this week.
At the Council meeting, the other EU states will decide whether the UK has made "sufficient progress" to move to trade talks, which the EU says can only take place after "separation issues" like the divorce bill, citizens' rights, and the Northern Ireland border are settled.
Officials believe it is unlikely that "sufficient progress" will be deemed by the council, after the European Parliament and European Commission both recommended against it.
If sufficient progress is not agreed at the October meeting of the European Council, the next opportunity will be at the December meeting of the body.
In a joint statement, the two leaders said: "The Prime Minister and the President of the European Commission had a broad, constructive exchange on current European and global challenges.
"They discussed their common interest in preserving the Iran nuclear deal and their work on strengthening the security of citizens in Europe, notably on the fight against terrorism. They also prepared for the European Council that will take place later this week.
Brexit: the deciders

Show all 8
"As regards the Article 50 negotiations, both sides agreed that these issues are being discussed in the framework agreed between the EU27 and the United Kingdom, as set out in Article 50 of the Treaty on European Union.
"The Prime Minister and the President of the European Commission reviewed the progress made in the Article 50 negotiations so far and agreed that these efforts should accelerate over the months to come. The working dinner took place in a constructive and friendly atmosphere."
Register for free to continue reading
Registration is a free and easy way to support our truly independent journalism
By registering, you will also enjoy limited access to Premium articles, exclusive newsletters, commenting, and virtual events with our leading journalists
Already have an account? sign in
Join our new commenting forum
Join thought-provoking conversations, follow other Independent readers and see their replies