Brexit: Theresa May adviser warns EU withdrawal could be 'the moment we finally failed as a great nation'
'That I see as a very real prospect and it chills me to the bone,' Conservative Policy Forum chairman confesses
Rob Merrick
Deputy Political Editor
Tuesday 14 November 2017 14:24 Comments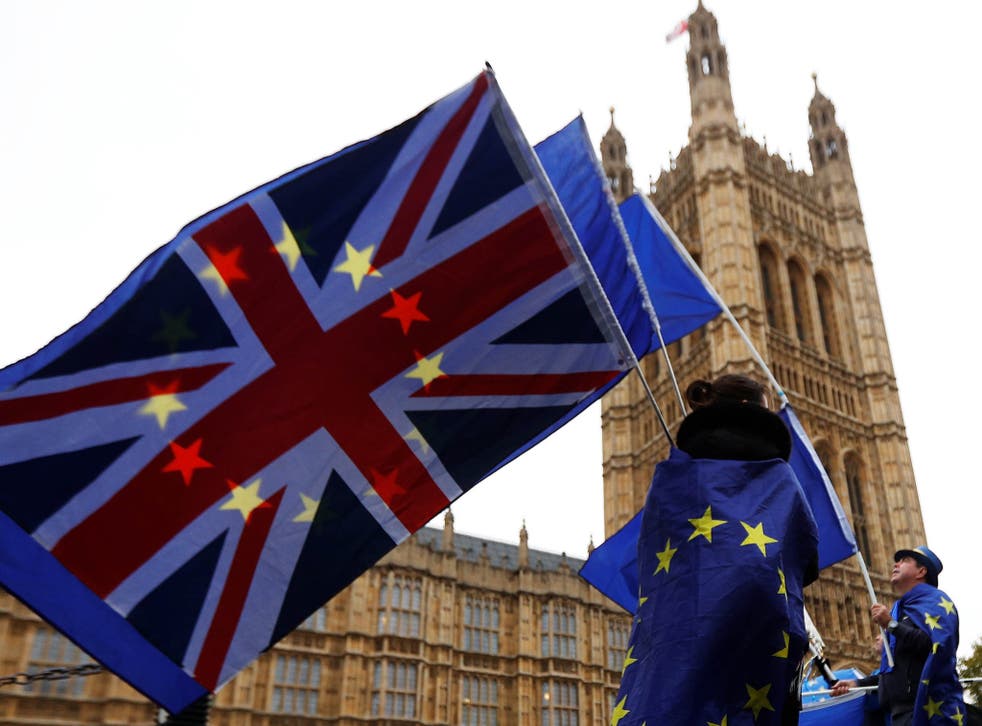 Brexit risks being "the moment we finally failed as a great nation", Theresa May's policy adviser has warned, in an extraordinary attack.
George Freeman said he now feared the troubled exit process would create an impoverished country, like "an old people's home that couldn't pay for itself".
"That I see as a very real prospect and it chills me to the bone," the Tory MP and chairman of the Conservative Policy Forum told a conference.
"It is an extreme choice but I think that is the choice we face as a country and the question whether we as a generation rise to it and grip it."
In a good scenario, EU withdrawal would "unleash a entrepreneurship revolution" in Britain, leading to the exploration of money-spinning new technologies.
But, Mr Freeman said, Brexit could be "the moment we finally failed as a great nation and became a second or third tier nation".
The comments came in a speech delivered to an economics conference staged by the IPPR think tank.
They come the day after business leaders gave the Prime Minister a two-week deadline to break the deadlock in the Brexit talks, allowing them to move on to discussing future trade.
Leading banks and other companies have warned they will start to implement contingency plans to move part of their operations out of Britain, without a breakthrough by the New Year.
Meanwhile, No 10 declined to comment on a report that David Davis, the Brexit Secretary, had admitted the chances of ending the impasses next month were only "50-50".
The comments were seized upon by the pro-EU Open Britain campaign group, as further evidence that the public should "keep an open mind" about continuing to back Brexit.
"The Prime Minister's policy chief – somebody at the very heart of Downing Street – admits that Brexit could be "the moment we finally failed as a great nation", said Phil Wilson, a Labour MP and supporter.
"He is right to sound the alarm about the irreparable damage it could do to our national interests."
In his speech, Mr Freeman said the UK needed more entrepreneurship and localism - such as giving localities control over their NHS budgets - to avoid the dark fate he set out.
A moderniser, Mr Freeman has led calls for a rethink on student fees, which he called "a debt tax on aspiration", and for the Prime Minister to clear out ministers to promote younger talent.
Later, he denied his speech had been intended to set out a grim future for Britain if the Brexit negotiations went wrong.
He tweeted: "Actually, I was making a speech not about Brexit but about how we tackle our deep structural economic challenges of debt, deficit & productivity.
"And highlighting that we face a generation defining choice - of 'managed decline' or National Renewal."
The MP added that Britain faced a "generational choice", even without EU withdrawal, adding: "I wasn't making a point about the Pros or Cons of Brexit."
Register for free to continue reading
Registration is a free and easy way to support our truly independent journalism
By registering, you will also enjoy limited access to Premium articles, exclusive newsletters, commenting, and virtual events with our leading journalists
Already have an account? sign in
Join our new commenting forum
Join thought-provoking conversations, follow other Independent readers and see their replies