Theresa May faces 'legislative swamp' after she triggers Article 50, Tory MPs warn
Exclusive: Tory MPs and peers say the Prime Minister's path in Brussels and the UK will be smoothed if she is 'conciliatory' when triggering Brexit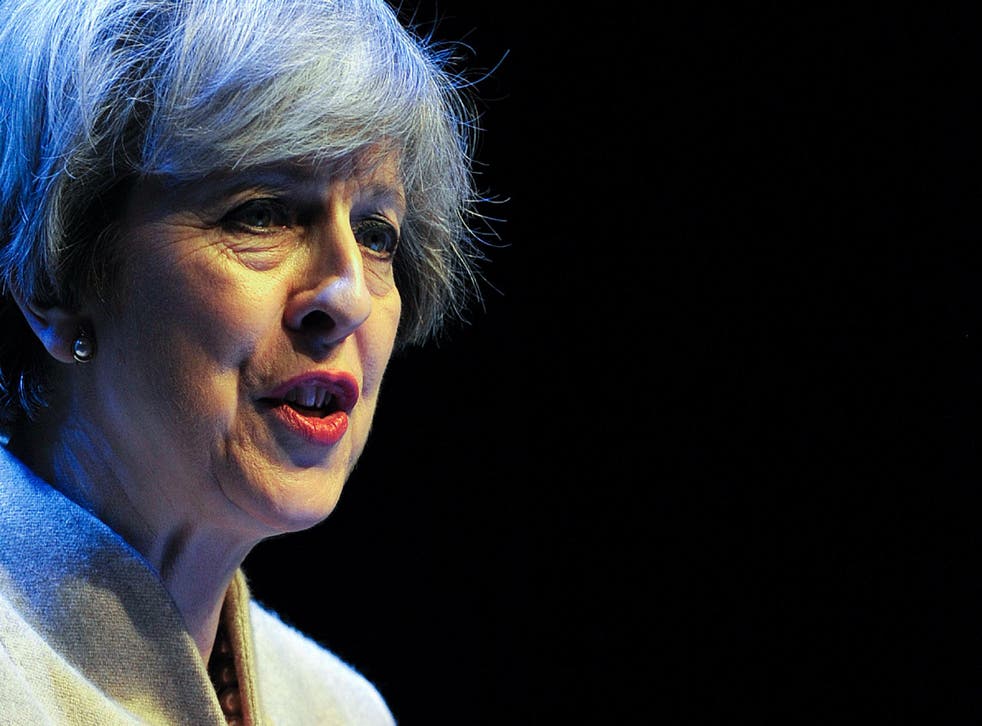 Tories have warned their leader Theresa May that she faces being "swamped" in years of complex parliamentary and legal wrangling once she triggers the Brexit process.
The Conservative MPs and peers that the Prime Minister needs if she wants to make Brexit a reality said they will "maximise any and every opportunity" to ensure her plans do not damage the country.
As she pens the letter to send to European Council President Donald Tusk to officially launch Brexit negotiations, many Conservatives urged her to take a conciliatory approach, saying it would also do less to aggravate tensions in the UK.
The Tory leader will trigger Article 50 on Wednesday, starting a two-year countdown in which she must seal a deal or face the damaging prospect of dropping out of the EU without a deal.
As soon as the letter has been delivered, she faces a gruelling two-headed challenge – negotiating a deal with the EU that lives up to Brexiteers' promises in an already impossibly tight timescale, while also pushing through what is promising to be the most complicated legislative agenda in British political history.
To disbelief on both sides of the channel, Ms May has said she is confident both can be completed in the two-year schedule afforded by the Article 50 process.
But as well as the main Great Repeal Bill, which once passed will see all aspects of EU law affecting Britain pass on to the UK statute book when we leave, the Government will also need to pass around a dozen pieces of complex legislation to prevent commercial and legal chaos on Brexit day.
Richard Branson believes there should be a second Brexit referendum based on 'facts'
There will also then be the herculean task of Parliament sorting through 5,000-odd smaller pieces of secondary legislation, or statutory instruments.
One MP told The Independent: "It's amusing that ministers have indicated for a long time that this is not going to be complex. And now we're hearing there could be a dozen or more pieces of primary legislation on it.
"All of that to deal with repeals and replacements, each on very complex issues – this is going to be a mammoth legislative task. That hasn't fully sunk in yet."
The member said that a group of Tory politicians across Parliament still believe Brexit will have "enormous adverse impacts".
The MP explained: "We will work together to see that we maximise any and every opportunity during this process to mitigate that.
"Not only will there be lots of opportunities, but above all, this process will focus people's mind on the implications of Brexit, people are not focused on that now. They think it's a fantasy. But they will realise it's going to happen."
They added: "There is a moving situation in Europe and there is a moving situation in the UK. We will watch and if new elements arise that should be debated in Parliament, they will be debated. What, for example, does a recession do to public opinion, does it mean they will still want to leave if they see things are not what they anticipated?"
Another Conservative said: "They are going to be swamped. There will be lots going on at once, on many fronts. Completing it all in the few months will be very hard, the Government should appreciate how difficult this is going to be."
David Davis says that he has not quantified the economic outcome of getting no deal for Brexit
Labour peer Baroness Hayter, who successfully joined forces with some Tories to defeat the Government in the Lords during the recent passing of Ms May's Article 50 legislation, said ministers had failed to see the size of the legislative task facing them.
She explained: "They have obviously underestimated it. They never expected the vote to go this way. They hadn't thought about it at all.
"I'm only going to a 100th of the meetings they must be going to with different groups, and everyone is saying how complex it is, saying, 'God, have you thought of this?'
"If it's not family law, it's bankruptcies, or freight movements, enforcement of safe meat packaging, the pharmaceutical industry – everything is very complicated."
Europe's chief negotiator Guy Verhofstadt: Britons should keep EU citizenship rights after Brexit
She added: "The Government must have started to learn that and are now trying to pretend it's all alright. I suppose they can't possibly say we are up the creek without a paddle.
"But, in a sense, if they are not panicking a bit and being realistic about how difficult this will be, then that's even more worrying."
Broxtowe Conservative MP Anna Soubry said there is a "pile of delegated legislation to get through", adding, "it's an enormous task."
The former business minister went on: "People are starting to appreciate Brexit reality, that it is extremely difficult to disentangle ourselves – legally, economically, politically – from the EU."
Conservative peer Patience Wheatcroft said plans to try and pass lots of new legislation by statutory instrument will "not go down well in the Lords", but she said Ms May's main worry was the threat of another Brexit court battle as she tries to keep her plans on schedule.
How Brexit affected Britain's favourite foods from Weetabix to Marmite

Show all 8
The Baroness said: "What is almost inevitable now is that there will be another legal challenge.
"The legal opinion which has resonated with legal minds in the Lords is that existing legislation gives the Government the power to trigger Article 50 and to negotiate, but it does not give them the power to do a deal.
"They will need an act of Parliament for that."
Ms May has already lost one court battle bought by a group headed by entrepreneur Gina Miller, who has threatened a second case if the Prime Minister does not allow Parliament a proper vote on her course once negotiations end.
Baroness Wheatcroft added: "I would absolutely support Gina Miller if she brought it forward. Not because I wish to frustrate Brexit, but because I wish to uphold the sovereignty of Parliament."
Others said the initial tone set out by Ms May's Article 50 letter on Wednesday would be crucial in smoothing her political path in both Brussels and London.
Stroud MP Neil Carmichael said: "The tone has to be conciliatory, that we want to negotiate together for the best outcome for both ourselves and Europe.
"I think it would be extremely wise at the start of negotiations to set a scene based on friendliness and cooperation and try and see things from the other side of the argument too."
He said he hoped that Ms May's threat to leave the EU with no deal if she cannot get what she wants is "a negotiating position rather than a statement of intent".
European negotiators are expected to make an early demand for the UK to settle its financial liabilities, which some estimates have put as high as €60bn (£52bn).
The Tory MP went on: "The letter should mention the [divorce bill]. We should not ignore that element of the negotiations or try to bypass it."
Former attorney general Dominic Grieve also urged the Prime Minister to avoid taking a provocative approach.
He said: "The best way of negotiating a successful exit on Article 50 is a conciliatory approach, recognising our objectives and the legitimate objectives of our European partners.
"It would be an approach that ensures the discussions that follow are conducted in moderate terms."
Mr Tusk revealed earlier this week that once the letter is received it will be a month before EU leaders meet to discuss the mandate given to chief negotiator Michel Barnier.
Meanwhile, several months must also be allowed at the end of the two-year Article 50 process for every EU state to ratify any deal agreed, meaning time for negotiating will be squeezed further.
A Government spokesperson said: "The Government is confident that the UK can reach a positive agreement about our future relationship with the EU in the timetable set out in Article 50.
"Alongside this, our plans for a Great Repeal Bill will end the supremacy of EU law in the UK, converting it into UK law and helping to ensure a smooth and orderly exit from the EU.
"Parliament will have every opportunity to debate and scrutinise the Great Repeal Bill during its passage. We have also been clear that we expect legislation in other areas, such as customs and immigration, and will set out plans for that in due course."
Register for free to continue reading
Registration is a free and easy way to support our truly independent journalism
By registering, you will also enjoy limited access to Premium articles, exclusive newsletters, commenting, and virtual events with our leading journalists
Already have an account? sign in
Register for free to continue reading
Registration is a free and easy way to support our truly independent journalism
By registering, you will also enjoy limited access to Premium articles, exclusive newsletters, commenting, and virtual events with our leading journalists
Already have an account? sign in
Join our new commenting forum
Join thought-provoking conversations, follow other Independent readers and see their replies