Brexit: Theresa May forced into embarrassing climbdown over Article 50 negotiations security 'threat'
Two of the most senior EU politicians said they would accept it was a 'misunderstanding'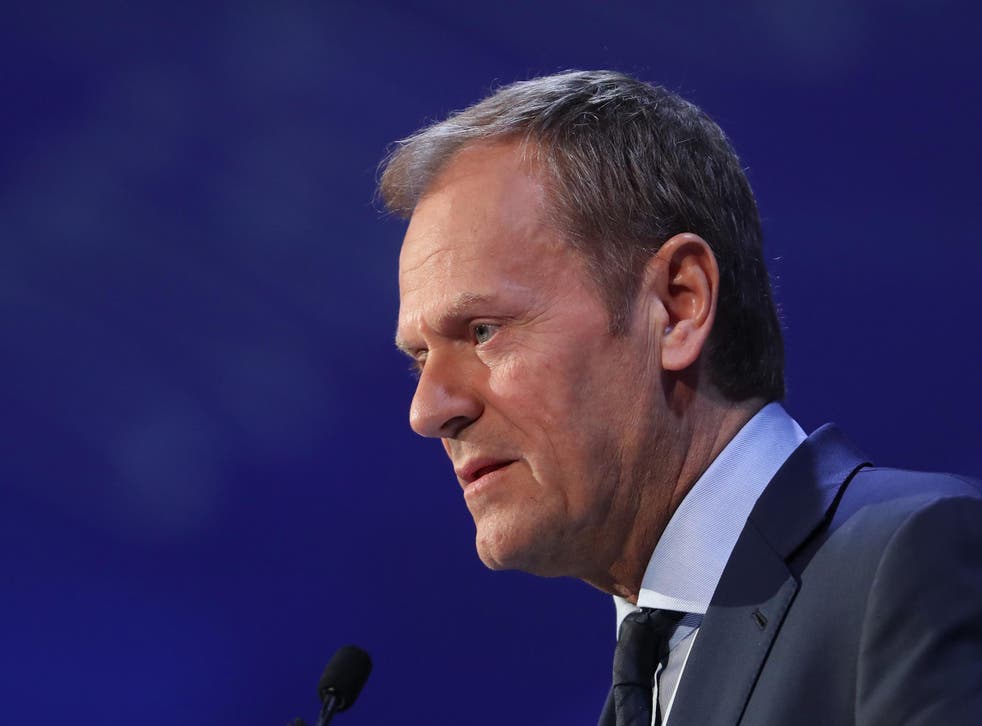 Theresa May has been forced to explain herself to top European politicians after her plan to link security cooperation to trade bargaining with the EU sparked anger on the continent.
Current holder of the EU rotating presidency Joseph Muscat and President of the European Council Donald Tusk said that following calls from London, they would take the British Government's word that it had been a "misunderstanding".
Ms May's repeated connecting of security and trade issues in her letter triggering Article 50 led political leaders in both Brussels and London to claim that she was threatening to withdraw help in the fight against terrorism, in a bid to extract good trade terms. Downing Street later denied it.
But speaking as the EU formally responded to the launch of Brexit talks, Mr Muscat said: "I would like to confirm that, even though it was something that hit the headlines, and many people including ourselves noted, we have had reassurances from the British Government that this is a misinterpretation.
"We will take, at least my government will take, the British Government's word."
Mr Muscat, who is also the Prime Minister of Malta, added: "We do believe that they are decent partners, people who will not bargain on the security of any of our citizens and I do believe that we will start these negotiations in a spirit of sincere cooperation."
Mr Tusk, pointed to the terror attack on Wednesday last week, emphasising how it showed that extremism and security is "our common problem".
Donald Tusk on Brexit negotiations: 'We will not pursue a punitive approach'
"I know Theresa May well enough and I know her approach to this issue. This is why I rule out this kind of interpretation and speculation that security cooperation is used as bargaining chip," he said.
"It must be a misunderstanding, our partners are wise and decent partners. This is why I'm absolutely sure that no-one is interested in using security cooperation as a bargaining chip."
Ms May's Article 50 letter to Brussels frequently tied security to any future agreement, repeating the word security eleven times, and warned that the "fight against crime and terrorism would be weakened" if one cannot be struck.
Downing Street officials later said that the Prime Minister was merely making "a simple statement of fact" that if no deal is reached, it would mean existing arrangements on security cooperation would lapse.
Donald Tusk reveals Brexit strategy: 'It's about damage control'
Asked if he thought Ms May was engaged in "blackmail", European Parliament negotiator Guy Verhofstadt said at the time: "I try to be a gentleman, so towards a lady I don't even use or think about the word 'blackmail'."
He added: "What we shall never accept is that there is a trade-off between the one and other. Saying, oh, we can do a good deal on security – internal and external – but there is also a deal that we want on trade and economics.
"I think the security of our citizens is far too important to start a trade-off from one to the other."
The Liberal Democrats branded Ms May's letter a "blatant threat", while Labour Chair of the Commons Home Affairs Committee Yvette Cooper said withdrawing security cooperation would be "an act of self-harm", adding: "She should not be trying to use this as a bargaining chip in the negotiations."
Register for free to continue reading
Registration is a free and easy way to support our truly independent journalism
By registering, you will also enjoy limited access to Premium articles, exclusive newsletters, commenting, and virtual events with our leading journalists
Already have an account? sign in
Register for free to continue reading
Registration is a free and easy way to support our truly independent journalism
By registering, you will also enjoy limited access to Premium articles, exclusive newsletters, commenting, and virtual events with our leading journalists
Already have an account? sign in
Join our new commenting forum
Join thought-provoking conversations, follow other Independent readers and see their replies