Brexit: Theresa May reveals UK willing to pay to remain part of European agencies for medicine, chemicals and aviation
PM says she would seek 'associate membership' of the bodies in the negotiations with Brussels
Ashley Cowburn
Political Correspondent
Friday 02 March 2018 16:58 Comments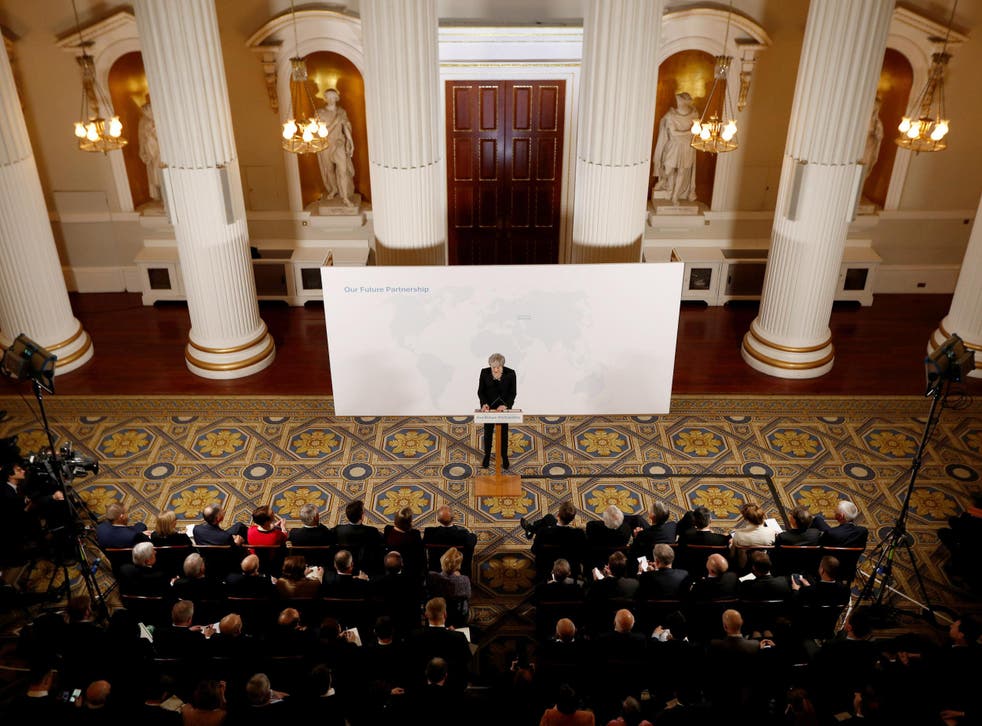 Theresa May has revealed Britain would be willing to pay to remain part of a series of European agencies relating to medicines, chemicals and aviation after the UK's exit from the EU.
In a major speech at Mansion House – outlining her vision for the future UK-EU relationship – the Prime Minister said she would seek "associate membership" of the bodies in the negotiations with Brussels.
She identified three organisations, the European Medicines Agency (EMA), the European Chemicals Agency and the European Aviation Safety Agency.
The EMA began operating in 1995 and is responsible for the "scientific evaluation, supervision and safety monitoring" of medicines developed by pharmaceutical companies for use in the the EU.
The Prime Minister told an audience gathered in central London: "We would, of course, accept that this would mean abiding by the rules of those agencies and making an appropriate financial contribution."
She continued: "Associate membership of these agencies is the only way to meet our objective of ensuring that these products only need to undergo one series of approvals, in one country.
"Second, these agencies have a critical role in setting and enforcing revenant rules. And if we were able to negotiate associate membership we would be able to ensure that we could continue to provide our technical expertise."
"Third, associate membership could permit UK firms to resolve certain challenges related to the agencies through UK courts rather than the ECJ [European Court of Justice]."
Responding to the Prime Minister's speech, Dr Andrew Dearden, the British Medical Association (BMA) treasurer, welcomed the decision to explore associate membership of the medicines agency.
He added: "The EMA helps the UK with timely and safe access to medicines, and likewise helps the EU access medicines that are developed here in the UK. We want to see the Government work closely with the EMA through a formal agreement to continue to support and participate in their assessments for medicines approvals."
UK news in pictures

Show all 50
The Association of the British Pharmaceutical Industry (ABPI) – a body representing pharmaceutical companies in the UK – added that every month, 45 million packs of medicine move from the UK to the EU and 37 million come the other way.
"That is why the Prime Minister's commitment to seek cooperation on medicines regulation would be the best outcome for patients, not just in the UK but across Europe," the organisation said
"It is now critical that both sides prioritise patient safety in phase two of the negotiations. Delivering close cooperation on the regulation of medicines is only one part of the challenge.
"Making sure the supply of medicines is uninterrupted is essential to ensure patients in the UK and EU can get the medicines they need from day one of Brexit."
Register for free to continue reading
Registration is a free and easy way to support our truly independent journalism
By registering, you will also enjoy limited access to Premium articles, exclusive newsletters, commenting, and virtual events with our leading journalists
Already have an account? sign in
Join our new commenting forum
Join thought-provoking conversations, follow other Independent readers and see their replies