Brexit: Theresa May warned that slashing food standards to win US trade deal could spell disaster for farmers
Peers raise alarm over 'race to the bottom for welfare standards' that would 'undermine the sustainability' of British farming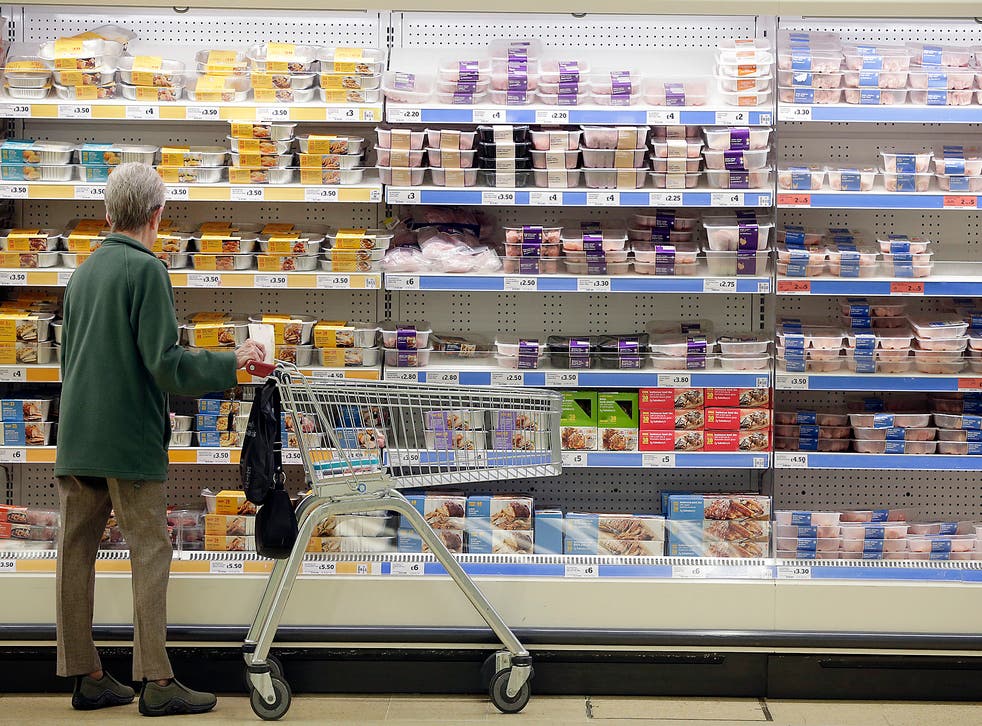 Theresa May is warned today that opening the door to low-quality food from the United States after Brexit could spell disaster for both British farmers and animal protection.
Slashing food regulations in order to strike a quick trade deal with Washington would spark "a race to the bottom for welfare standards", says a report by a House of Lords committee.
Such a deal could also "undermine the sustainability of the industry" – making UK farmers "uncompetitive" against cheap, imported food produced without the same rules on quality.
The stark warning comes after Liam Fox, the International Trade Secretary, mocked fears about the sale of chlorine-soaked chickens in Britain after Brexit – describing the prospect as "a detail".
Speaking in Washington, Mr Fox confirmed a cabinet split, dismissing protests that US farmers use the chemical washes to make up for inadequate hygiene on farms and abattoirs.
Other concerns surround US practices such as the use of hormones in beef and the growth of genetically modified crops.
Now the cross-party House of Lords EU Energy and Environment Sub-Committee has called for all Brussels animal welfare laws to be transposed into domestic law "to be effective on day one after Brexit" – to prevent undercutting.
Liam Fox rejects idea that potential reduction in meat safety is important factor in current trade negotiations
Mr Fox's comments also sparked criticism from the National Farmers Union (NFU), which warned that "public trust" in the high quality of British food was at stake.
It was vital that "any discussions about future trade deals do not serve to allow cheap food imports which undermine the high standards that British farmers are proud to produce food to", said Meurig Raymond, the NFU's president.
Mr Raymond added: "The public trusts that this food is world-leading in traceability and safety, from the farm right through to the fork."
Meanwhile, the pro-EU campaign group Open Britain challenged Dr Fox to back up his words by eating a chlorine-washed chicken in front of the cameras during his US trade visit.
"The proof of the chicken is in the eating and if Mr Fox thinks it's safe, he should put his money where his mouth is," said James McGrory, the group's executive director.
In London, Downing Street stoked fears about low-quality US food imports in British supermarkets by refusing to say food quality regulations will be maintained after EU withdrawal.
Asked if Britain could allow chlorine-washed chicken in a trade deal with the US, Theresa May's official spokesman described the controversy as "hypothetical".
No 10's evasion came despite two key Brexiteers in the Cabinet, Michael Gove and Andrea Leadsom, both coming out firmly against lower food and farming standards.
In today's report, the peers point out that "high farm animal welfare standards can be a selling point for UK producers" and enjoy universal support as a "public good".
Ministers "must negotiate to include provisions regarding farm animal welfare in future free trade agreements" and clear up whether the World Trade Organisation allows imports to be restricted on those grounds.
The report concludes: "The greatest threat to farm animal welfare standards post-Brexit would come from UK farmers competing against cheap, imported food from countries that produce to lower standards than the UK.
"Unless consumers are willing to pay for higher welfare products, UK farmers could become uncompetitive and welfare standards in the UK could come under pressure."
It points out that in February the Prime Minister herself told the Commons: "We should be proud that in the UK we have some of the highest animal welfare standards in the world – indeed, one of the highest scores for animal protection in the world. Leaving the EU will not change that."
Yet, in Washington, Mr Fox dismissed any fears, saying: "The British media are obsessed with chlorine-washed chickens – a detail of the very end stage of one sector of a potential free trade agreement."
He added, sarcastically: "We work on the premise that the British press corps in Washington never eat American chicken or beef when they are here due to their health worries."
Britons should instead be concerned about "how we make our contribution to global liberalisation and the increased prosperity of both the UK, the US and our trading partners", Mr Fox added.
In pictures: European parliament Brexit discussions

Show all 12
Opposition politicians seized on the comments. Ben Bradshaw, a senior pro-EU Labour MP, said: "The Government is putting the Fox in charge of the hen coop when it comes to food safety.
"They are so desperate for new trade deals to make up for some of the losses that they seem ready to compromise on the safety of the food we eat."
And Tim Farron, the former Liberal Democrat leader, said: "Parliament will not back a reduction to food standards as part of the Repeal Bill.
"This is a betrayal of British poultry farmers who currently work to the highest standards in the world. Liam Fox's dangerous grovelling to the US is only going to see his chickens come home to roost."
The No 10 spokesman said: "Our position when it comes to food, is that maintaining safety and public confidence in the food we eat is of the highest priority," the spokesman said.
"Any future trade deal must work for UK famers, businesses and consumers."
Earlier this month, US President Donald Trump said he hoped the US could quickly seal a bilateral trade deal with the UK.
"We're working on a trade deal which will be a very, very big deal, a very powerful deal, great for both countries," he told reporters as he met with Ms May during the G20 summit in Germany.
Join our new commenting forum
Join thought-provoking conversations, follow other Independent readers and see their replies