UK politicians more interested in ousting Theresa May than solving Brexit, EU president Juncker says
'I don't like what is happening,' Jean-Claude Juncker said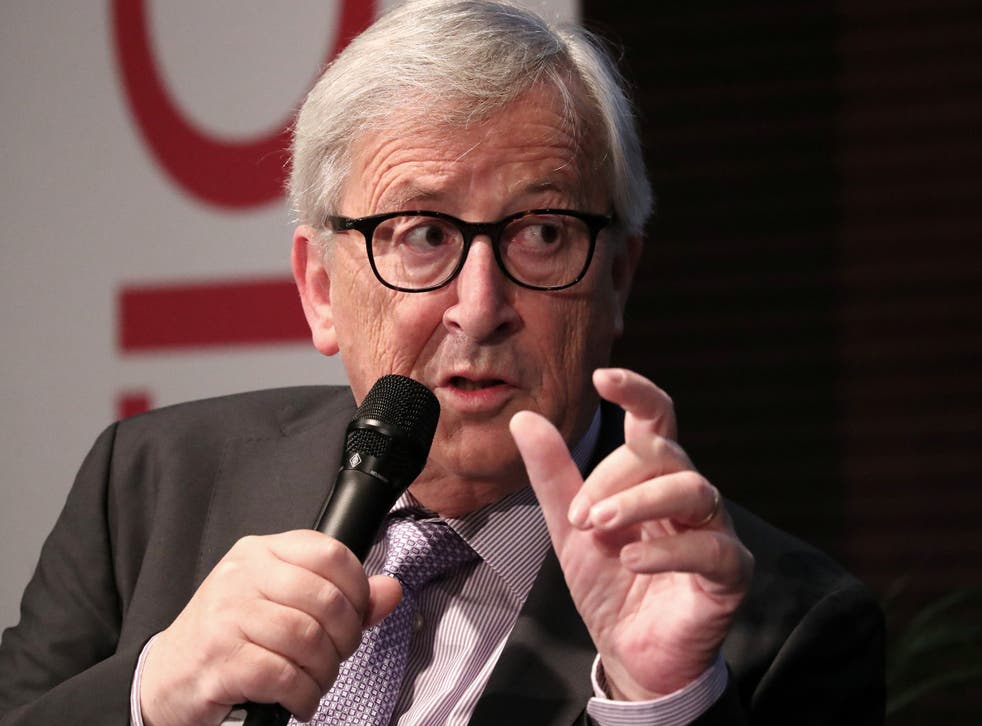 The president of the European Commission has criticised the British political class for being more interested in ousting Theresa May than finding a solution to Brexit.
Speaking in Brussels on Tuesday, Jean-Claude Juncker said the withdrawal agreement could not be changed and was not open to negotiation by future Tory leaders.
"I don't like what is happening ... I have the impression for months now that the main interest for the British political society was how to replace Theresa May and not how to find an arrangement with the European Union," he told Politico in a live interview.
The commission president added: "We have concluded the withdrawal agreement: this is not a treaty between Theresa May and Juncker, it is a treaty between the United Kingdom and the European Union. It has to be respected."
Mr Juncker's comments echo a warning from a commission spokesperson earlier on Tuesday that a new prime minister would not be able to renegotiate the withdrawal agreement. A spokesperson had told reporters at lunchtime in Brussels that "the election of a new prime minister will of course not change the parameters of what is on the table".
The spokesperson added that Brussels was on a "Brexit break" and that it would also "refrain from any positions or opinions that would risk interfering with the ongoing leadership contest in the Conservative Party".
Asked whether he had a favourite in the Tory leadership contest Mr Juncker simply responded: "No." He later added: "It's not our choice and nobody asked our opinion."
"The withdrawal agreement will not be negotiated. It's the decision of the Conservative Party to appoint the new prime minister. We have to work with the incoming prime minister like we did with the outgoing prime minister."
He also explicitly ruled-out a time limit on the controversial Northern Irish backstop.
The intervention by Brussels comes as Tory leadership candidates pledge various strategies to change or circumvent the withdrawal agreement, which was rejected by parliament three times.
Opposing protesters flock to parliament on would be date of Brexit

Show all 30
Back in Westminster, Boris Johnson had claimed he could withhold payment of the Brexit divorce bill in order to force the EU's hand and change the deal. Michael Gove has said he would bring a "full stop" to the controversial Irish backstop plan, while Jeremy Hunt and Sajid Javid have also said they would renegotiate it.
Meanwhile Matt Hancock has said he would push for a time-limit on the policy, which the EU has also ruled out. Mark Harper has said he would replace the withdrawal agreement with the so-called Malthouse compromise, a plan cooked-up by Tory MPs that was met with derision in Brussels when it was first unveiled months ago.
Asked to give a firm prediction of whether Brexit would happen or not, Mr Juncker declined, stressing that he only had a "working assumption" that "the British will leave before 1 November 2019".
In his wide-ranging interview on Tuesday, Mr Juncker also expressed sympathy for US president Donald Trump, stating: "I like him as a person." He said Mr Trump "deserves respect because he's the president of the US", criticising "nasty comments coming from the European side".
"When I went to Washington my wife was telling me, don't kiss Donald Trump," he added.
The commission president also revealed that he does not look at social media because "I don't like to see day after day that I'm drunk, that I'm corrupt, that I'm a nobody". He said he instead had colleagues summarise the best content for his direct consumption.
Join our new commenting forum
Join thought-provoking conversations, follow other Independent readers and see their replies