Theresa May refuses to deny receiving secret legal advice that Brexit can be stopped
Prime Minister's spokesman dodges claims that she has been told the Article 50 notification can be withdrawn – if MPs judge Brexit is heading for disaster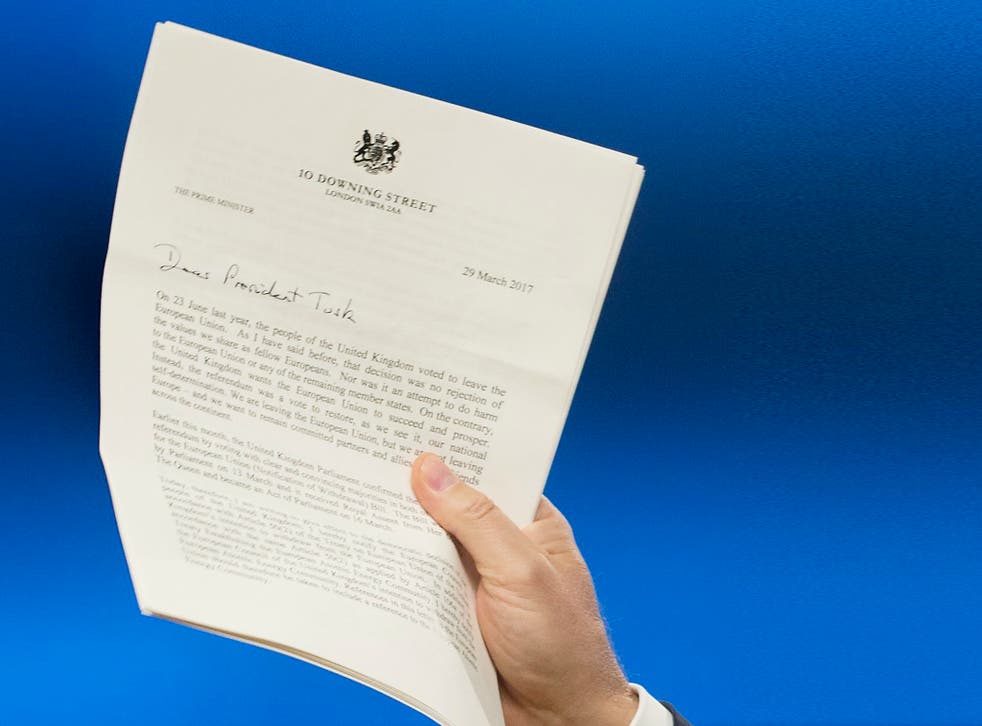 Theresa May is refusing to deny she has received secret legal advice that Brexit can be stopped if MPs vote against any exit deal she secures.
The Prime Minister's spokesman dodged questions about the controversy, insisting the Government does not "comment on government legal advice".
No 10 has been accused of suppressing advice that the Article 50 notification can be withdrawn unilaterally (if necessary), which would leave the UK in the EU on its current terms.
EU hits back at Theresa May: 'Brexit negotiations are not a ball game'
The issue will be crucial if Parliament votes down any Brexit agreement next year, or if there is no deal at all – a growing possibility as the negotiations remain deadlocked in a war of words.
Ms May has declared that a rejection of her deal would simply mean Britain crashing out with no deal, insisting the Article 50 process is unstoppable.
But a prominent QC said she has been told by "two good sources" that the Prime Minister has been advised that the exit notice can be reversed, if MPs judge that to be the best course.
Jessica Simor, from Matrix chambers, has written to Ms May urging her to release the legal advice under the Freedom of Information (FoI) Act.
But Ms May's official spokesman told The Independent: "We never comment on government legal advice. We have always been entirely clear that we are leaving the European Union."
However, he left open the possibility the advice could yet emerge, saying: "If FoIs have been submitted, it will be dealt with in the usual way."
Ms Simor pointed out that Lord Kerr, the author of Article 50 as well as leading EU legal figures, also believed that the Article 50 process could be halted.
And warning there was "no time to waste", she told The Observer: "It is important that this advice is made available to the British public and their representatives in Parliament as soon as possible."
Chris Leslie, a pro-EU Labour MP, said he would also be pursuing the matter, arguing it was vital that the Government comes clean.
He told The Independent: "If the Prime Minister has been told that the Article 50 Notice can be revoked, she has a duty to let the British public know this.
"The ability to withdraw the Article 50 Notice is a lifeline the whole country needs to know is there. It could strengthen our hand in negotiations, and provide an essential insurance policy against a catastrophic cliff-edge hard Brexit."
Nick Clegg, the former deputy Prime Minister, has described the claim that Article 50 is irreversible as "a myth put about by Brexiteers who want to stop the British people from changing their minds".
The issue of whether Article 50 is a one-way street has never been tested in law, after an attempt to take a case to the European Court of Justice was abandoned earlier this year.
However, Brexit Secretary David Davis once admitted it could be possible for the process to be halted, telling MPs: "It may not be revocable – I don't know."
Register for free to continue reading
Registration is a free and easy way to support our truly independent journalism
By registering, you will also enjoy limited access to Premium articles, exclusive newsletters, commenting, and virtual events with our leading journalists
Already have an account? sign in
Register for free to continue reading
Registration is a free and easy way to support our truly independent journalism
By registering, you will also enjoy limited access to Premium articles, exclusive newsletters, commenting, and virtual events with our leading journalists
Already have an account? sign in
Join our new commenting forum
Join thought-provoking conversations, follow other Independent readers and see their replies