Brexit row threatens deep cabinet division as ministers try to play down claims of a split
'If we weren't having lively debates in cabinet, you would be saying 'what's happened to cabinet government',' Jeremy Hunt says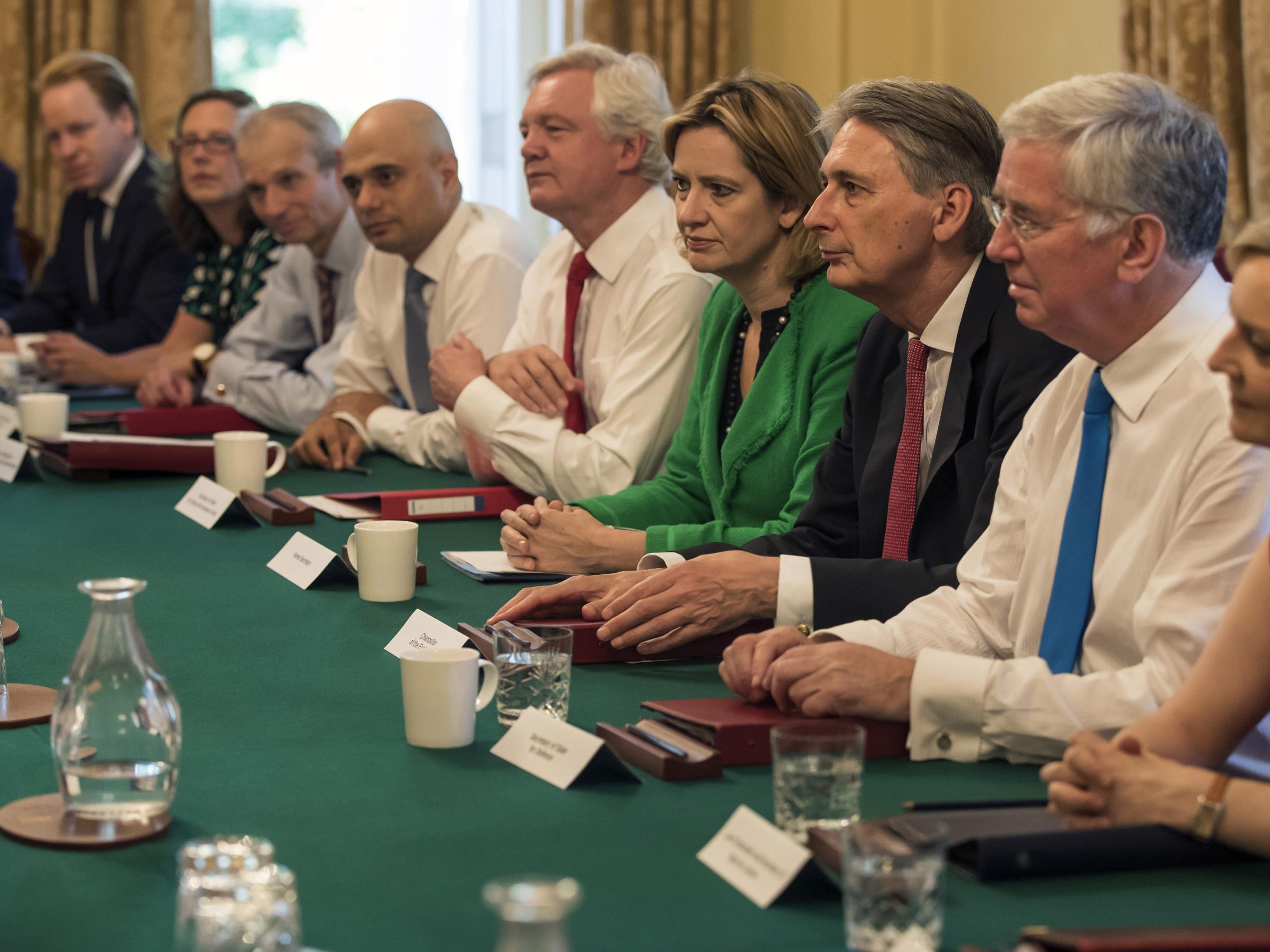 Cabinet minister Jeremy Hunt has tried to play down talk of a cabinet split over Brexit, claiming reports of a rift simply reflect "lively debates" within government.
Mr Hunt spoke out following claims that Chancellor Philip Hammond had angered cabinet Brexiteers by failing to be helpful enough in pursuing the UK's withdrawal from the European Union.
But it also comes after leading Brexit-backer Boris Johnson was forced to defend himself over an unpublished article which showed him presenting arguments for staying in the EU.
Health Secretary Mr Hunt said: "If we weren't having lively debates in cabinet, you would be saying 'what's happened to cabinet government, why aren't you going through incredibly thoroughly, all the different arguments to make sure we end up with the right decision.
"The British people changed the history of our country on the 23rd of June and the cabinet is absolutely united that we must respect that decision."
Speaking to BBC news, he added: "But we need to then go through very thoroughly and carefully, all the different options."
At Tory conference Mr Hammond emerged as a potential champion for people in the Conservatives who favour a softer Brexit, which sees economic considerations put ahead of arbitrary controls on immigration.
But his focus on protecting the economy goes against the tougher line on immigration and the single market taken by Theresa May and others such as Foreign Secretary Mr Johnson, International Trade Secretary Liam Fox and Brexit Secretary David Davis.
Leave voter who wants to 'control our own laws' can't name single EU law
At a cabinet sub-committee meeting last week, Mr Hammond is said to have suggested the government continue to consider other options on immigration control, even after Home Secretary Amber Rudd had brought forward plans for a visa-scheme that would close the door to low skilled migrants.
Business groups have expressed concerns about a block on unskilled labour from the EU, especially for industries such as farming which rely on flexible numbers of seasonal workers.
Following reports of the rift, there have even been some rumours that Mr Hammond may quit, though these have been denied. One source in The Telegraph accused Mr Hammond of arguing "like an accountant seeing the risk of everything, rather than the opportunity."
On Sunday an unpublished column by Mr Johnson emerged in which he argued for continued EU membership, forcing him to explain that it had been written as a tool for his own thought process.
Former cabinet minister Michael Gove used a series of tweets to defend Mr Johnson, with whom he fell out after initially supporting the Foreign Secretary's leadership bid, only to turn against him at the last minute.
Mr Gove said on Twitter: "I am in no doubt Boris Johnson is and was 100% sincere and passionate about Britain leaving the EU – his conviction was clear."
Join our commenting forum
Join thought-provoking conversations, follow other Independent readers and see their replies