Brexit: Theresa May urged to ditch hard exit or face failure
'She needs to go on in a far more consensual manner if she is going to get anything through,' a senior Conservative MP tells The Independent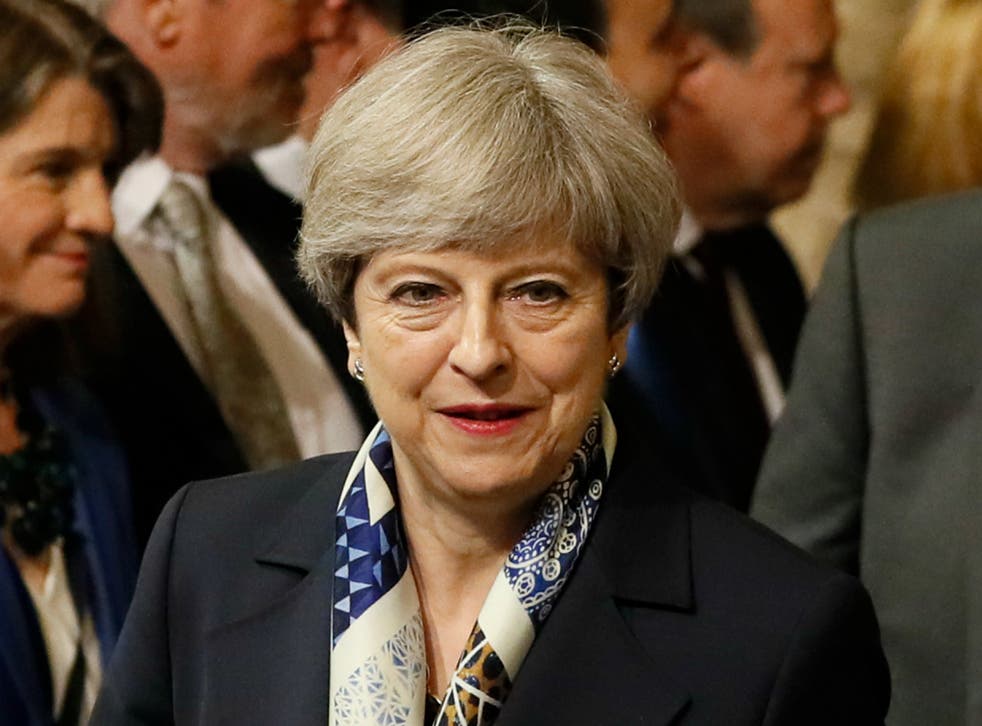 A hobbled Theresa May has been told her Brexit plans face failure unless she rows back from the most extreme parts of her proposals.
MPs in her own and other parties warned they would oppose a move to hard Brexit after she laid out laws needed in the Queen's Speech, without having yet secured a Commons majority.
In the House of Lords where the Tories also have no majority, rivals signalled they would use all powers in their arsenal to stop any hard-Brexit drive damaging the country.
Scottish nationalists also threatened to derail the Government's main piece of Brexit legislation if the Prime Minister failed to obtain their explicit consent.
It comes as she fights a rearguard action in her own Cabinet, under pressure from Chancellor Philip Hammond who is pushing for a jobs-focused Brexit, at odds with the immigration-centred approach adopted by Ms May.
The Prime Minister's rivals had already warned before the election they would bog her down in a "legislative swamp" as she tried to push her hard-Brexit through.
But as she set out the complex array of required laws on Wednesday, and with her botched election campaign leaving her in an even weaker position, they now signalled that the tables had turned.
One senior Conservative MP told The Independent: "She needs to go on in a far more consensual manner if she is going to get anything through.
"The DUP are not even locked in yet. No one knows if she has the numbers to win all the votes that will be needed. Some people have realised that, others haven't. Soon everyone will."
Liberal Democrat chief whip Alastair Carmichael said his party would table an amendment to refocus Brexit on jobs and the economy and vowed to work with a 34-strong group of Labour rebels to that end.
Theresa May and Jeremy Corbyn share exchange after Queen's Speech
He said: "Nobody has a majority. In those circumstances there is an opportunity that Parliament can control the Government, instead of the Government controlling Parliament.
"There is now a weakness in the Government, and they are weak, because of the way she approaches things. Let's see how that changes."
To tear Britain out of the EU, Ms May revealed she must pass one of the most complex legislative agendas faced by a British administration in modern history - including seven Brexit Bills on everything from immigration and trade to fisheries and farming.
There is then also the gargantuan Repeal Bill, which will absorb all EU legislation affecting the UK on to the British statute book and will lead to the Government having to sort through up to 5,000 smaller pieces of secondary legislation.
She must now do this while having to rely on 10 Northern Irish DUP MPs who have already indicated they are willing to embarrass Ms May and push her plans to the brink of failure, to extract concessions.
Ex-Conservative chancellor Ken Clarke suggested channels are already open to the Liberals, the Labour Party and the Scottish nationalists to find a better way forward on Brexit.
UK news in pictures

Show all 50
He said: "We don't really know quite what it is the basis from which we're negotiating this Brexit at the moment.
"I think it's going to have to be carried by what I think is an extremely sensible cross-party majority that this House could easily command."
Meanwhile, former Attorney General Dominic Grieve warned trouble lies ahead if the Government cannot deliver on its promises on Brexit – something he suggested would be unlikely.
He told MPs: "I have to say, personally, after nearly 12 months since Brexit was voted on, I myself have no greater confidence, I'm afraid, that we will achieve such a satisfactory outcome than I had at the time the referendum took place."
He said the Commons would then have to decide if it ditched current successful trading arrangements with its closest partner.
In the Lords, which flexed its muscles as Ms May attempted to trigger Article 50 earlier this year, Labour said it would seek to shape legislation for the good of the country.
A source said: "We will do our work in terms of scrutinising, amending and sending stuff back to the Commons if we feel what has come to us is damaging or flawed legislation."
Both Lib Dems and Labour individuals questioned Brexiteers' claims that parliamentary convention mean the Lords should acquiesce to Government plans.
"There are individuals who have a particular reading of the conventions who feel less bound by them now that there is not a Conservative majority in the Commons," one said.
Ms May admitted that her officials are still looking at whether they need "legislative consent" from the Scottish Parliament.
The SNP's Brexit minister Mike Russell said the UK Government should not seek to avoid the need to gain Holyrood's permission to push ahead with the Repeal Bill, which they argued would affect the rights of people in Scotland.
Scottish Secretary David Mundell confirmed in January that Holyrood's approval was likely to be sought for the legislation.
Meanwhile, Theresa May has been warned that the DUP expects to see more money spent on health and education as the Prime Minister seeks their support to get her legislation through.
Nigel Dodds, the party's leader in Westminster, said: "The electorate sent a very clear message to politicians about austerity at the election, and I think that it's very clear since that election that people have to listen to what the people said."
Register for free to continue reading
Registration is a free and easy way to support our truly independent journalism
By registering, you will also enjoy limited access to Premium articles, exclusive newsletters, commenting, and virtual events with our leading journalists
Already have an account? sign in
Register for free to continue reading
Registration is a free and easy way to support our truly independent journalism
By registering, you will also enjoy limited access to Premium articles, exclusive newsletters, commenting, and virtual events with our leading journalists
Already have an account? sign in
Join our new commenting forum
Join thought-provoking conversations, follow other Independent readers and see their replies