Theresa May faces Brexit battles on two fronts after being sidelined at EU summit
Asked what he made of British Prime Minister's performance at her first EU summit, Commission President Jean Claude Juncker says 'pfff'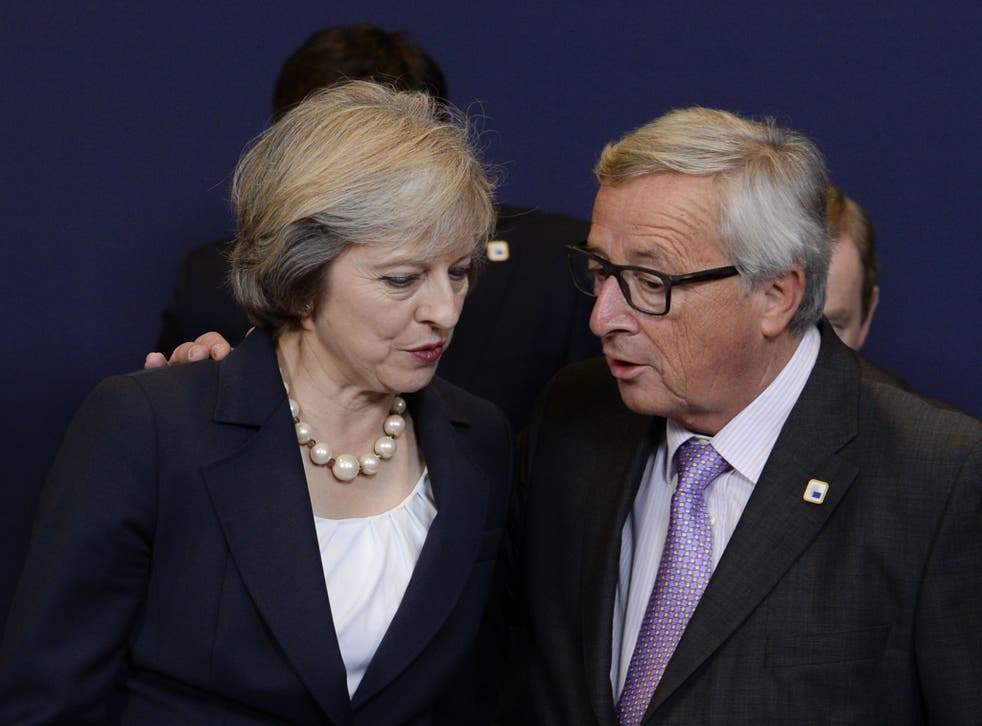 Theresa May faces Brexit battles on two fronts after clashing with the European Union's lead negotiator in Brussels, while fighting off a rebellious Parliament in London.
At Ms May's first European summit as Prime Minister, negotiator Michelle Barnier was said to have called for Brexit talks to be held in French. Downing Street dismissed the idea, but EU leaders further side-lined the UK when Ms May was made to wait until 1am before delivering her speech about Brexit, which then lasted just five minutes.
Asked what he thought of her debut, Commission President Jean Claude Juncker simply said: "Pfff".
In Britain, amid growing tension over whether Parliament will vote on Ms May's negotiating position, a Cabinet minister warned the House of Lords it was risking its future if it tried to block Brexit.
When reports emerged that Mr Barnier was pushing for English to be dropped as the official negotiation language, Downing Street told journalists Ms May would not allow this.
But Mr Barnier, the former foreign minister known in London as the "scourge" of the City for his approach to financial regulation, would not back down.
He denied he had personally backed the use of French – but made clear the language was yet be agreed.
He tweeted: "Never expressed myself on negotiation language. Work as often in EN as FR. Linguistic regime to be set at start – to be agreed btw negotiators."
The prospect of French being used sparked jokes that Brexit Secretary David Davis would have to be replaced by Foreign Secretary Boris Johnson, a fluent French speaker.
French lost its status as the EU's main working language after northern and eastern European states joined over the past two decades. Therefore, the apparent proposal to bring it back was seen as a further signal the EU will play hardball in the two-year Article 50 talks, to be launched by March.
EU sources said Mr Barnier's 15-strong taskforce – which includes no Britons – has already been working mainly in French.
At her press conference at the close of the two-day summit, Ms May was asked if she considered the idea of conducting talks in French as "a gesture of good intent".
Ducking the question, she replied: "We will conduct the negotiations in the way that is going to make sure that we get the right deal for the United Kingdom."
What experts have said about Brexit

Show all 11
Meanwhile, German Chancellor Angela Merkel said there was no official language for the Brexit talks and that "we are all entitled to speak in our native tongue".
The press conference came after Ms May was made to wait to the early hours to deliver a message about Britain's broad aims for Brexit.
Ms May talked up her interaction with EU leaders telling reporters: "I can assure you that I haven't been backwards in coming forwards on issues."
In London, tensions over whether Parliament will vote on Ms May's negotiating position heightened, when a Cabinet minister said the Government may have to "do a Lloyd George" and flood the upper House with friendly peers if members try to block Brexit.
Brexit Concerns

Show all 26
Some Tories in the Lords, where Conservatives are in a minority, have demanded Ms May let Parliament vote on her preferred Brexit deal before talks begin. If she refuses, they have threatened to stymie other pieces of legislation the Government needs to pass to make Brexit happen.
The Cabinet minister told The Independent: "Unelected peers should think very carefully about defying a decision taken by the public in a referendum. We might have to do a Lloyd George and create a thousand peers."
As a Liberal Chancellor, David Lloyd George threatened to flood the Lords with new peers who would pass his "People's Budget" of 1909, when the existing Tory-dominated House refused.
In 1980, left-winger Tony Benn also said that if Labour won an election, it would abolish the Lords by creating 1,000 new peers to vote it out of existence.
Brexit racism and the fightback

Show all 9
Ms May has promised a role for Parliament and the Government admits both Houses may need to ratify any deal at the end of negotiations.
MPs and peers will also get to vote on the Great Repeal Bill, promised by the Prime Minister at the Tory conference. But when it comes to a critical vote at the start of the talks process, either on Ms May's negotiating position or on the triggering of Article 50, the Government has refused.
Tory peer Patience Wheatcroft has accused Ms May of "using the royal prerogative" to decide on her own what Brexit will look like, without giving anyone else a say.
Lords Speaker Norman Fowler has also suggested peers could vote down legislation that comes from the Commons.
Register for free to continue reading
Registration is a free and easy way to support our truly independent journalism
By registering, you will also enjoy limited access to Premium articles, exclusive newsletters, commenting, and virtual events with our leading journalists
Already have an account? sign in
Register for free to continue reading
Registration is a free and easy way to support our truly independent journalism
By registering, you will also enjoy limited access to Premium articles, exclusive newsletters, commenting, and virtual events with our leading journalists
Already have an account? sign in
Join our new commenting forum
Join thought-provoking conversations, follow other Independent readers and see their replies