Brexit: Theresa May assures Tory faithful she is willing to crash out of EU without deal
'On the biggest issue facing the country the Prime Minister had nothing new to say'
Rob Merrick
Deputy Political Editor
Wednesday 04 October 2017 15:56 Comments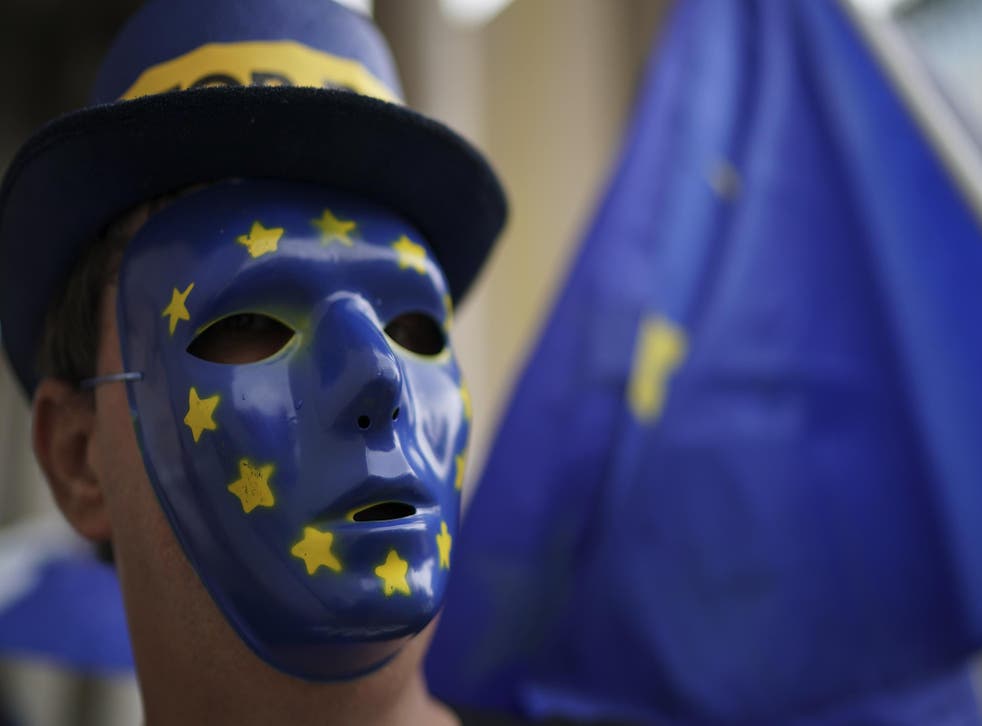 Theresa May sought to "reassure" the Tory faithful that she is still ready to crash out of the EU with no Brexit deal if necessary - and is making preparations.
A pro-EU group criticised the Prime Minister when she used her conference speech to restate her willingness to walk away with no agreement, rather than a bad one.
Ms May said she remained "confident we will find a deal that works for Britain and Europe too", but also said: "I know some find the negotiations frustrating."
And she added: "I believe it is profoundly in all our interests for the negotiations to succeed. I know that some are worried whether we are prepared in the event that they do not.
"It is our responsibility as a government to prepare for every eventuality. And let me reassure everyone in this hall - that is exactly what we are doing."
Ms May also blamed the EU for the failure to agree a guarantee of the future rights of EU citizens - and British ex-pats abroad - calling on Brussels to give "a positive response".
Insisting the 3m EU residents in the UK "are welcome here", the Prime Minister added: "I urge the negotiating teams to reach agreement on this quickly because we want you to stay."
Pat McFadden, a Labour MP supporting the Open Britain group, said: "On the biggest issue facing the country the Prime Minister had nothing new to say.
"Britain needs more than tired, reheated Brexit lines to get the talks off the ground.
"The longer they remain in stalemate, the greater the danger that we leave the EU with no deal."
The Prime Minister dropped her "no deal is better than a bad deal" threat from her recent Florence speech, which was welcomed as a potential fresh start by EU leaders.
But hopes of a breakthrough in the deadlocked talks have since been dashed by different red lines laid down by Boris Johnson.
The Foreign Secretary said the jurisdiction of the European Court of Justice must end immediately at the point of Brexit in 2019 – which the EU has ruled out.
He also demanded that no new EU directives or regulations should apply to Britain after Brexit and that the UK should not pay, or accept EU rules, to gain long-term access to the single market.
Some senior Tories believe that Mr Johnson is deliberately attempting to set Ms May up to fail by making demands that Brussels will never agree to.
On Tuesday, MEPs overwhelmingly backed a motion demanding that talks on a post-Brexit trade deal are delayed because Britain had "seriously impeded" the negotiations.
Register for free to continue reading
Registration is a free and easy way to support our truly independent journalism
By registering, you will also enjoy limited access to Premium articles, exclusive newsletters, commenting, and virtual events with our leading journalists
Already have an account? sign in
Join our new commenting forum
Join thought-provoking conversations, follow other Independent readers and see their replies