Brexit talks deadlock 'exaggerated', European Council president Donald Tusk says
But European Commission defends description of 'deadlock' by chief negotiator Michel Barnier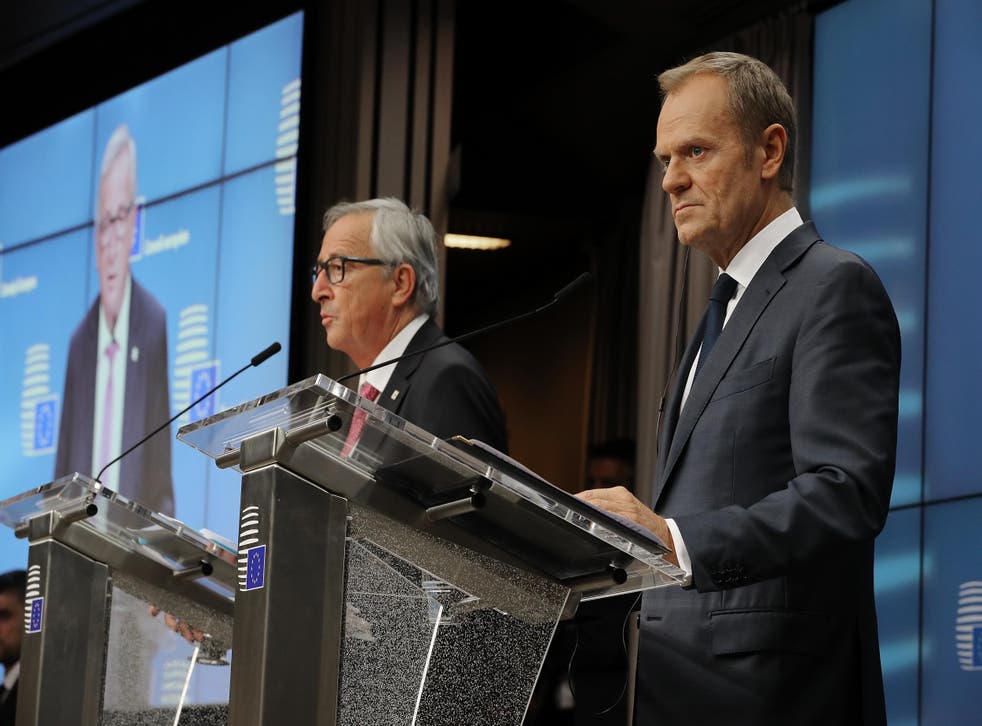 Reports that Brexit talks between Britain and the EU are deadlocked have been "exaggerated", the president of the European Council has said.
Donald Tusk told reporters at the European Council summit in Brussels that there had been progress in talks, even though sufficient progress had not been reached to move to trade negotiations.
But European Commission president Jean-Claude Juncker stood by the urgent description of the situation, first used by his chief negotiator Michel Barnier and coined at the end of the last round of talks this month.
Mr Tusk told reporters in Brussels at a press conference to mark the end of the summit: "After Prime Minister May's intervention last night and our discussion about Brexit this morning my impression is that the reports of the deadlock between the EU and the UK have been exaggerated and while progress is not sufficient it doesn't mean there's no progress at all."
Mr Barnier had used the term "deadlock" three times in a press conference at the conclusion of the last round of talks, specifically in reference to the divorce bill.
Contradicting Mr Tusk and defending his negotiator, Mr Juncker told journalists: "In my rhetoric I would have used the word deadlock four times, not three times … with the British press you have to be as superficial as the British press is."
But Mr Tusk said: "I want to be the positive motivator for the next five or six weeks because our ambition is to achieve the final of the fist phase in December. For this we need, maybe a more positive narrative.
"You can describe our negotiations in a very different words, but my feeling today ... I feel that for sure both sides present only good will and this is why maybe in my rhetoric I am maybe a little bit more optimistic than Michel Barnier, but I am also in a different role."
Mr Tusk matched some action to his words by granting a tiny concession to the UK – allowing the EU side to internally prepare for trade talks with Britain, should that stage of negotiations be reached.
Mr Juncker also used the press conference to state that no British negotiator had yet explained what "no deal" means – though he said the EU understood perfectly well. He insisted the UK would be in for a "collective education" were it to go down the no deal route in talks.
Ms May this morning admitted there was "some way to go" in negotiations, again refusing to put a figure on Britain's divorce bill that other leaders say must be settled before trade negotiations can begin. She said a "final settlement" would come as part of a "final agreement".
Brexit: the deciders

Show all 8
The PM had played down hopes of a breakthrough as she arrived at the summit yesterday, arguing that it was an opportunity to "take stock". She was ultimately not allowed to negotiate face-to-face with EU leaders on Brexit, but was permitted to say her piece in an address over dinner on Thursday evening.
The next round of talks has not yet been scheduled but both sides say they are aiming to make sufficient progress in negotiations before the European Council summit in December this year – the next opportunity for the EU27 to judge whether it is time for trade talks.
Register for free to continue reading
Registration is a free and easy way to support our truly independent journalism
By registering, you will also enjoy limited access to Premium articles, exclusive newsletters, commenting, and virtual events with our leading journalists
Already have an account? sign in
Join our new commenting forum
Join thought-provoking conversations, follow other Independent readers and see their replies