Brexit: There are Tory MPs willing to vote against Article 50, claims Tim Farron
Exclusive: The Liberal Democrat leader told The Independent around half a dozen Tories had said 'encouraging things' to him
Ashley Cowburn
Political Correspondent
Wednesday 16 November 2016 18:44 Comments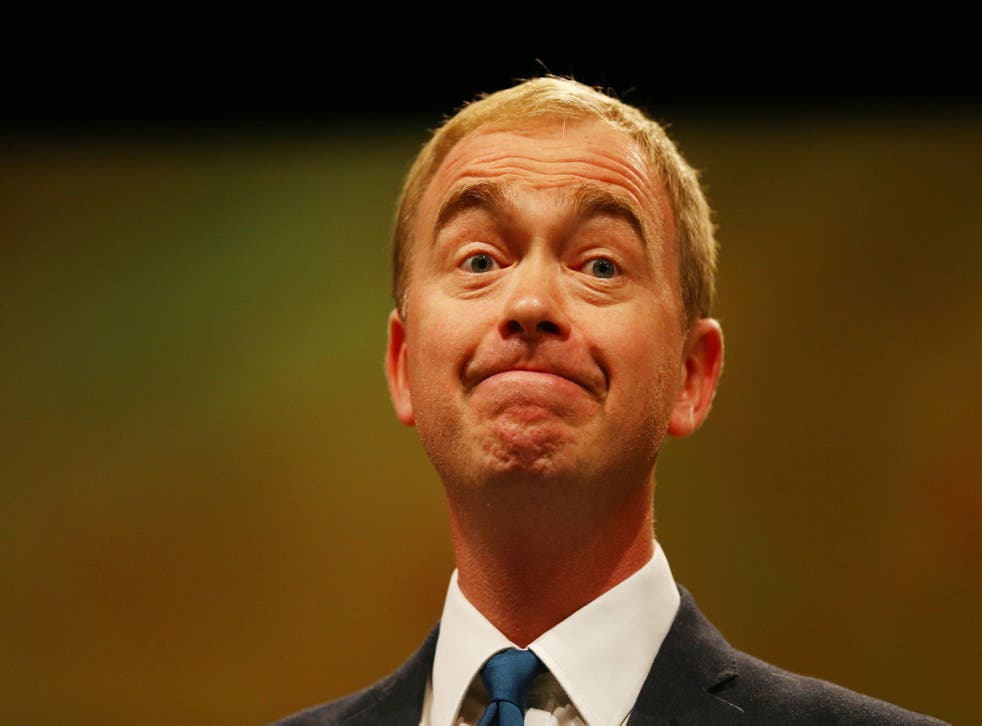 A number of Conservative backbenchers have told Tim Farron they are considering rebelling from the Government line and voting against Article 50 if it is put to a vote in the Commons.
In an interview with The Independent the Liberal Democrat leader also reaffirmed his red line position that if a second referendum is not provided on the terms of Brexit, then he will instruct his parliamentary colleagues to vote against the triggering of Article 50 of the Lisbon Treaty.
But the party leader also revealed he had engaged in discussions with Labour and Conservative MPs, who had approached him voluntarily over the Government's plans for Brexit.
"But I think there are plenty of MPs out there… I have been regularly stopped by Labour MPs telling me they wish their party was saying what we're saying… a lot of people since the weekend. There are some senior people," he said.
Mr Farron added there were around half a dozen Conservative MP "saying encouraging things to me as well".
"They think our position is logical and democratic and there's sense of great sorrow they feel they can't do anything about it. I think there are a lot of people in the other parties, especially the Tory party who could break ranks."
Asked whether they would vote against Article 50 being triggered in the Commons, he replied: "Oh yeah. I wouldn't like to put a number on it but there's certainly quite a few."
"All these people voluntarily speak to us about these things. No one is saying we're going to defect to the Liberal Democrats but they are pretty clear they are disappointed in their leadership."
In the interview Mr Farron also hit out at Labour's "shambolic" and "defeatist" stance on Article 50 - the untested protocol for a member state leaving the EU. It is widely expected that if the Government loses its appeal at the Supreme Court in January then a vote will be held in the Commons before Article 50 is triggered.
And in what appeared to be a plea to Labour MPs to bolster his position on Brexit, he continued: "If you really do care about internationalism, about Britain's standing in the world, about prosperity, about the ability to have sufficient funds to support public services then you don't want us in this isolated, impoverished position that we are heading towards. If you're not up for this fight, what fight are you up for."
What experts have said about Brexit

Show all 11
His comments come after John McDonnell had ruled out a parliamentary fight to block a so-called 'hard Brexit' and insisted Labour would rely on "moral pressure" instead.
The Shadow Chancellor used a speech on the economy to urge his colleagues to be "positive" about the "enormous opportunities" for Brexit and to give up any thoughts of delaying the triggering of Article 50.
Mr Farron added: "Despite the massive damage it [Brexit] is going to do the country – talking yesterday about being positive about Brexit. It seems quite clear to me that the leadership of the Labour party wants to move on, want to get Brexit dealt with."
The Lib Dem leader added he would continue to push for a second referendum. "I think it's the right thing to do," he added. "Sometimes it takes a while to get momentum behind it. We're not pushing this to make a point, we're pushing it because we think it's right."
Register for free to continue reading
Registration is a free and easy way to support our truly independent journalism
By registering, you will also enjoy limited access to Premium articles, exclusive newsletters, commenting, and virtual events with our leading journalists
Already have an account? sign in
Join our new commenting forum
Join thought-provoking conversations, follow other Independent readers and see their replies