Tim Farron calls on Owen Smith supporters to vote Liberal Democrat and prevent Brexit
The Liberal Democrat leader claims Labour under Corbyn will be incapable of winning seats from the Tories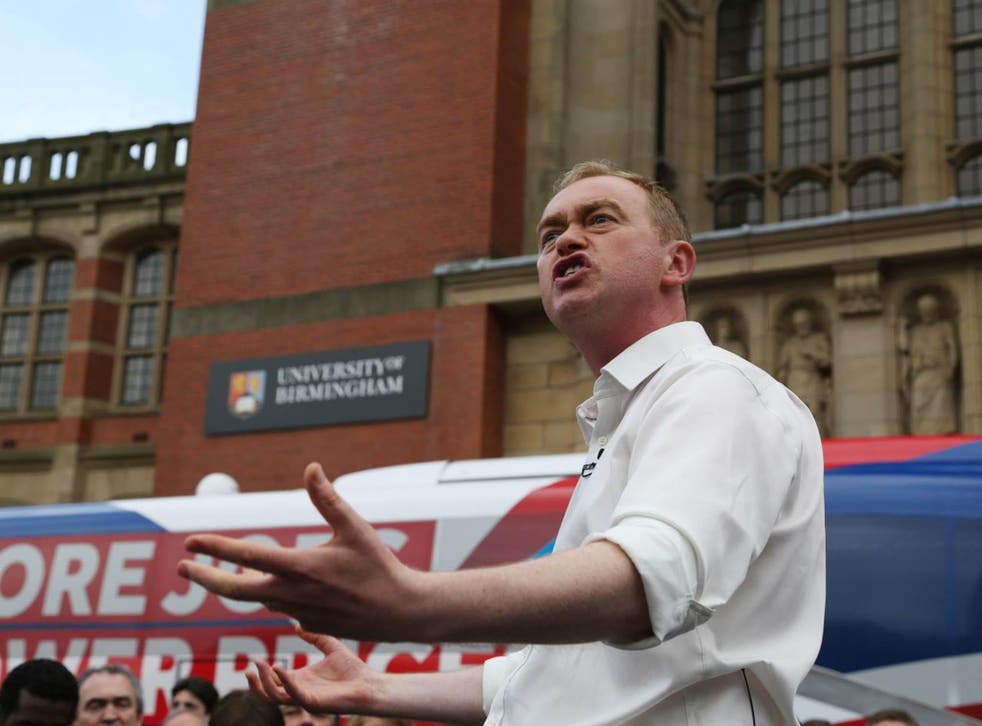 Liberal Democrat Leader Tim Farron has made a direct call to people voting for Owen Smith in the Labour leadership contest to "get alongside" him to stop Britain falling out of the EU.
Mr Farron warned that if Jeremy Corbyn wins as expected, then it will be left to his party in England to stop Brexit and the problems he believes it will bring for low income families.
In an exclusive interview with The Independent, he said: "With me you will not have some dogmatic lurch to the left, somebody who believes protesting and rallies is more important than holding power and making a difference."
The Lib Dem Leader claims that Labour has abandoned mainstream politics and the idea of being a serious opposition and has little chance of winning any seats from the Tories.
But he points to a string of Lib Dem/Tory marginals in the South West of England and elsewhere, arguing that his party could win in the small number of constituencies needed to leave Mrs May without a Commons majority.
On the eve of his party's conference in Brighton, he said the Lib Dems are the only ones offering the British people a referendum on the Brexit deal that will be struck between the UK and EU states.
Mr Farron said he would be willing to work with Mr Smith, who has also pledged a vote, if he wins Labour's leadership contest, but said if he did not then that chance would be lost.
In a message to the Labour contender's supporters, the Lib Dem leader said: "I fully respect the really difficult situation they are going through.
"I respect the fact that people will have great loyalty to the Labour party. Loyalty is a virtue normally. I'm going to be careful not to behave like a home-wrecker.
Tim Farron attacks Michael Gove
"But these are serious times. As things stand we are going to limp out of the European Union, out of the single market and into a very difficult place economically for all of us.
"At the same time we are going to face nearly a quarter of a century of Tory rule. No tribal loyalty can get in the way of stopping that surely."
Less help for low-income families, protection for refugees, the environment, a better NHS and a return to the 11-plus are things he said Mr Smith's supporters risk, if Mr Corbyn wins the contest.
He added: "Frankly I need them to get alongside me."
He claimed that a lack of proper opposition to the Tories had allowed Mrs May free rein to bring forward a more right-wing agenda than David Cameron.
In particular he pinned Mrs May's plan to bring in new grammar schools on the problem.
He added: "You don't come up with something as daft and as evidence-free as that if you are being properly held to account by an opposition that is on its game."
Grammar schools dominate PMQs
He argued Mrs May's plans would mean the majority of young people are "relegated to the second division at the age of 11", with most coming from less well-off backgrounds.
The Lib Dem leader then warned that the political path Labour will chose under a victorious Mr Corbyn will render it incapable of winning the centre-ground voters it needs to beat the Tories.
He then said: "It is the case that in the South West and in other parts of the country the Liberal Democrats are definitely in the market to gain the seats we would need to take the Tories out of majority."
He added: "Lots of people who voted Conservative last time round consider themselves to be moderate, liberal conservatives and they see Theresa May is taking the party into a more authoritarian place."
Register for free to continue reading
Registration is a free and easy way to support our truly independent journalism
By registering, you will also enjoy limited access to Premium articles, exclusive newsletters, commenting, and virtual events with our leading journalists
Already have an account? sign in
Join our new commenting forum
Join thought-provoking conversations, follow other Independent readers and see their replies