Brexit 'shockwaves' could derail TTIP trade deal, campaigners say
Opposition to the controversial deal with the US could threaten the existence of the European Union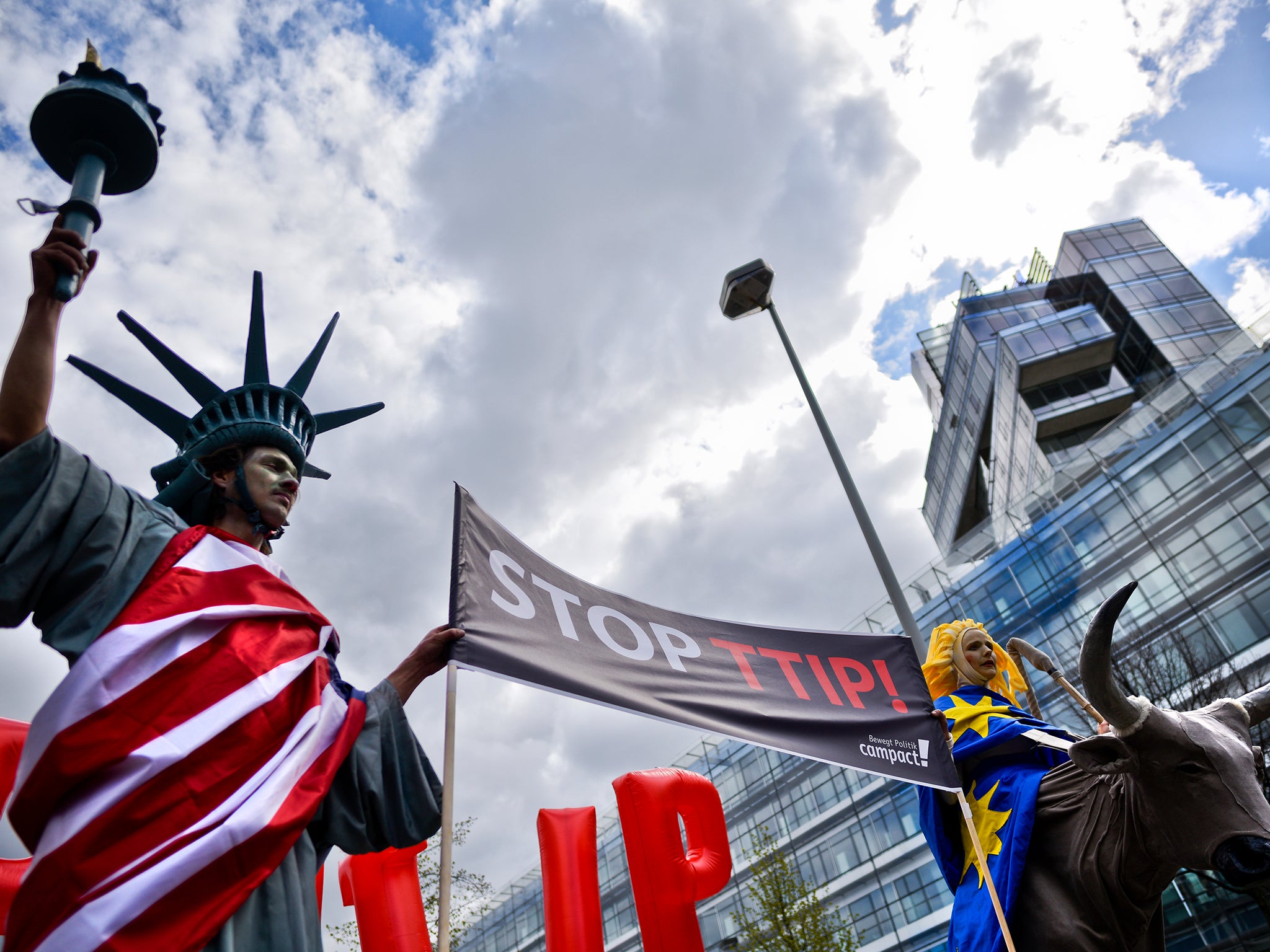 Brexit should finally kill off the controversial TTIP trade deal being negotiated between the European Union and United States, campaigners have said.
The 14th round of negotiations between American and EU officials is due to begin in Brussels on Monday.
Critics of TTIP have claimed it could allow US companies to avoid having to meet various EU health, safety and environment regulations by challenging them in a quasi-court set up to resolve disputes between investors and states.
Multinational corporations would also be able to sue over Government policies that harm their profits or contravene trade rules, according to leaks from the secretive discussions. This has led to fears that workers' rights could be undermined and private healthcare companies could use the court to essentially privatise the NHS.
The talks are thought to be in trouble with a number of leading European politicians expressing concern about TTIP's effects and the US's reluctance to accept changes to the proposed deal.
Nick Dearden, the director of Global Justice Now, said trying to implement the deal could threaten the existence of EU following Britain's referendum vote to leave.
"The TTIP negotiations were already on pretty shaky ground before the EU referendum, and now the shockwaves of Brexit are threatening to derail the deal entirely," he said.
"With senior political figures from France and Italy signalling that the deal is dead in the water, surely it's time for [EU trade commissioner] Celia Malmström to call time on this failed corporate coup.
"The toxic trade deals being pushed by Brussels would only benefit tiny financial elites, while the ordinary people of the EU would be stripped of legal protections of labour rights, consumer standards and public services.
"If the EU is going to prevent further disintegration after Brexit, it needs to stop prioritising corporate power grabs and start addressing issues such as rising inequality and social exclusion."
The UK was seen as one of the strongest supporters of TTIP in the EU, so its departure would remove one of the US's closest allies in the talks.
Campaigners have warned previously that the UK may end up with "TTIP on steroids" if it does leave the EU.
British politicians have been among the most in favour of the deal during the EU negotiations. The UK would also have less bargaining power in any talks with the US because of the smaller size of its market compared to the EU.
Join our commenting forum
Join thought-provoking conversations, follow other Independent readers and see their replies