UK and Ireland will 'take time' to find solutions to Brexit, says Theresa May
The Prime Minister insists that the priority is maintaining the 'closest possible relationship' after talks with Irish Taoiseach Enda Kenny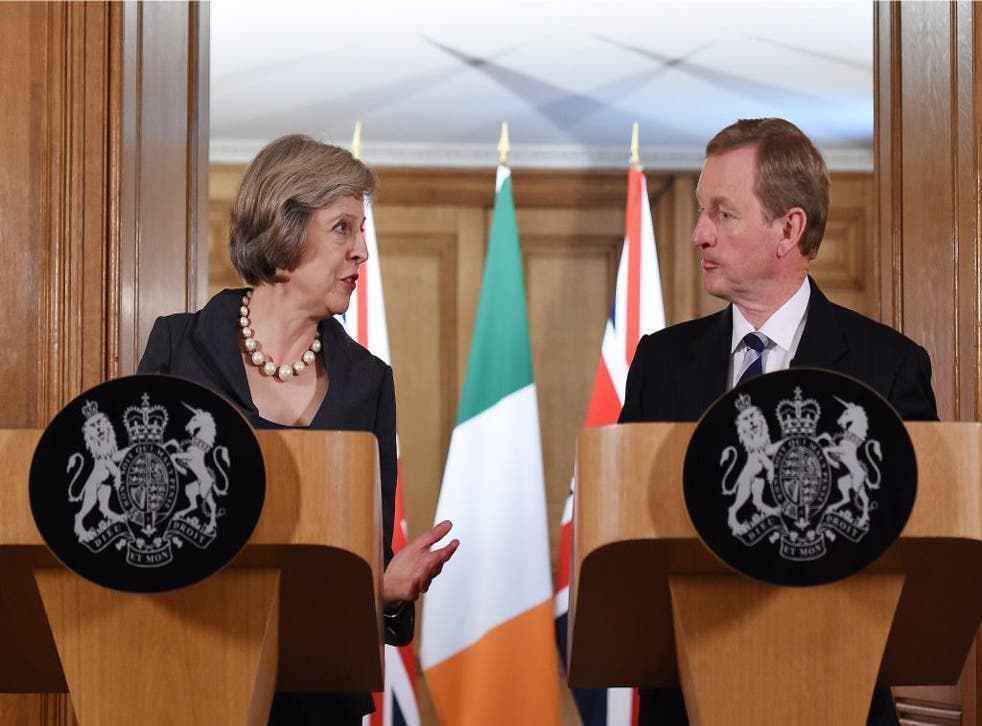 Britain and Ireland will "take time" to find solutions to a number of "complex issues" arising from the decision to exit the European Union, Theresa May has said.
Speaking after talks with Irish Taoiseach Enda Kenny at 10 Downing Street, she said she was determined to maintain "the closest possible relationship" between the UK and the Republic following Britain's withdrawal from the EU.
Ms May added there was a "strong will" to preserve free travel across the border between Northern Ireland and the Republic after Britain leaves the EU, and suggested that this could involve a common approach to the use of data on passengers arriving from outside the British Isles.
"I recognise that one of the biggest concerns for people is the common travel area," she said. "As I said yesterday, we benefited from a common travel area between the UK and the Republic of Ireland for many years before either country was a member of the EU.
"There is a strong will on both sides to preserve it and so we must now focus on securing a deal that is in the interests of both of us. Alongside this, we should continue our efforts to strengthen the external borders of the common travel area; for example, through a common approach to the use of passenger data."
On the peace process, Ms May said: "It is in all our interests to work together to safeguard our national security and the outcome of the referendum will not undermine it. We are both fully committed to working together in support of the Northern Ireland Executive to build a better, stronger, safer future for the people of Northern Ireland.
"Indeed, it is vital that we keep up the momentum on tackling paramilitary groups and building a shared future. And today we have reaffirmed our commitment to establishing a new Independent Reporting Commission by the end of this year, which will support these efforts."
Brexit protest: Thousands march in London

Show all 12
Ms May concluded: "It is precisely because the relationship between the United Kingdom and Ireland is so deep and so important that there are many issues to resolve as the UK leaves the European Union. But I firmly believe that we can make a success of Brexit and take our relationship forwards not backwards."
Register for free to continue reading
Registration is a free and easy way to support our truly independent journalism
By registering, you will also enjoy limited access to Premium articles, exclusive newsletters, commenting, and virtual events with our leading journalists
Already have an account? sign in
Register for free to continue reading
Registration is a free and easy way to support our truly independent journalism
By registering, you will also enjoy limited access to Premium articles, exclusive newsletters, commenting, and virtual events with our leading journalists
Already have an account? sign in
Join our new commenting forum
Join thought-provoking conversations, follow other Independent readers and see their replies