European Court ruling 'shows how Brexit will be a disaster for workers' rights'
As European Court of Justice sides with British gig economy worker, union calls it 'a striking reminder of the impending disaster for worker rights that is Brexit'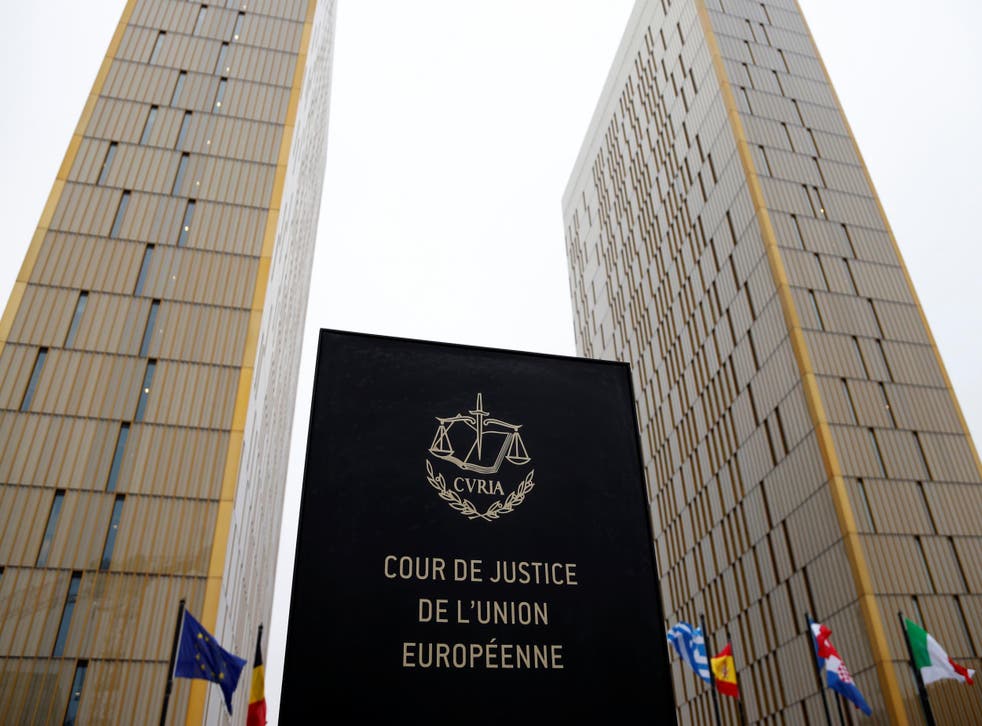 A European court ruling in favour of a gig economy worker who never got a paid holiday in 13 years has been declared an example of how Brexit would be "a disaster for workers' rights".
The union representing those in the gig economy said the European Court of Justice (ECJ) verdict that salesman Conley King was entitled to lieu payments for his untaken leave proved the EU court was vital for guaranteeing workers' rights.
And Jason Moyer-Lee, General Secretary of the Independent Workers' Union of Great Britain (IWGB) also pointed out that the ECJ has become a favourite target of Brexiteers.
"Today's judgement is a striking reminder of the impending disaster for worker rights that is Brexit," he said.
"It is cases like this one - where the Tories are told that their manoeuvres to protect big business to the detriment of workers are a step too far - that help one understand why they have such an obsessive hatred for the ECJ."
Brexiteers have been itching to remove the UK from the jurisdiction of the ECJ ever since the Leave campaign promised to "take back control" of British laws.
In her October 2016 Conservative Party conference speech, Theresa May delighted many in the hall by promising: "Let's state one thing loud and clear: We are not leaving the European Union only to give up control of immigration all over again. And we are not leaving only to return to the jurisdiction of the European Court of Justice. That's not going to happen."
When in October 2017 Ms May admitted that, actually, it might be necessary to let the ECJ have jurisdiction over the UK during a Brexit "implementation period", some Eurosceptic Conservative MPs were aghast.
Jacob Rees-Mogg, the Brexit cheerleader who has also supported zero hours contracts as 'convenient' for employers and for workers, told reporters: "If the ECJ still has jurisdiction, we will not have left the EU. It is perhaps the most important red line in ensuring the leave vote is honoured."
But Dr Moyer-Lee and others are now saying that Mr King's rights have been safeguarded by the ECJ.
Brexit Concerns

Show all 26
The salesman worked for The Sash Window Workshop on a commission-only contract from 1999 until he reached the age of 65 in October 2012.
When he took the company to a UK employment tribunal, it was ruled he should have been treated as a full-time worker and was entitled to holiday pay.
The company agreed to accept some of Mr King's £27,000 holiday pay claim, but appealed against the tribunal's order to make a payment in lieu of untaken leave, arguing that Mr King was not entitled to carry this over each year.
In its judgement on Wednesday, however, the ECJ sided with Mr King and the original UK tribunal ruling.
In doing so it relied heavily on the EU Working Time Directive, itself the target of Eurosceptic complaints about "Brussels red tape".
The ECJ argued: "The very existence of the right to paid annual leave cannot be subject to any preconditions whatsoever, that right being conferred directly on the worker by Directive 2003/88 [the Working Time Directive].
"It follows that an employer that does not allow a worker to exercise his right to paid annual leave must bear the consequences."
First passed by the EU in 1993 and amended and consolidated in 2003, the Working Time Directive stipulates that an employee's average weekly working time should not exceed 48 hours and they should have paid annual leave of at least four weeks.
It was incorporated into UK law in 1998, but only after John Major's Conservative Government had appealed against it in 1996, arguing that setting limits on how long someone worked was not a health and safety matter.
The appeal was rejected, by the ECJ.
Mr King's case has now been referred by the ECJ back to the UK Court of Appeal where it will be decided at a further hearing.
Dr Moyer-Lee said that as well as showing the value of the EU court, the ruling was of vital importance to workers in the gig economy, where people are paid per job or shift rather than receiving a regular wage.
Dr Moyer-Lee, whose union is representing two drivers in a long-running legal battle to secure workers' rights from Uber, said: "Today's bombshell judgement from the ECJ is a game changer for the so-called 'gig economy'.
"The law is now recognising the massive unpaid debt of 'gig economy' companies to their workers - IWGB members will be coming to collect."
James Williams, the lawyer who represented Mr King, also said the judgement meant that bosses who had incorrectly treated workers as self-employed could be liable for backdated payments in lieu of holidays when their staff's employment was terminated.
Crowley Woodford, head of European employment at international law firm Ashurst said: "This latest judgment will be a fatal body blow to gig economy employers who are already on the ropes after the Uber worker status decision.
"It is now hard to see how the current self-employed labour model operated by these companies can survive."
Some Brexiteers have stated that workers' rights will not be diminished after Brexit.
During the referendum campaign, Tory MP Andrea Leadsom, who is now Leader of the House of Commons, stated: "In the area of employment law I wouldn't expect to see deregulation."
Writing in the Financial Times during this year's election campaign, Theresa May said: "At this great moment of national change, it is the Conservative party that is the voice of ordinary working people once again. I will use the UK's departure from the EU to strengthen and enhance workers' rights.
Register for free to continue reading
Registration is a free and easy way to support our truly independent journalism
By registering, you will also enjoy limited access to Premium articles, exclusive newsletters, commenting, and virtual events with our leading journalists
Already have an account? sign in
Register for free to continue reading
Registration is a free and easy way to support our truly independent journalism
By registering, you will also enjoy limited access to Premium articles, exclusive newsletters, commenting, and virtual events with our leading journalists
Already have an account? sign in
Join our new commenting forum
Join thought-provoking conversations, follow other Independent readers and see their replies