Brexit: DUP's Arlene Foster and Sinn Fein politician trade blows in fresh row over Northern Ireland protocol
Heated exchanges came during first minister's questions in NI Assembly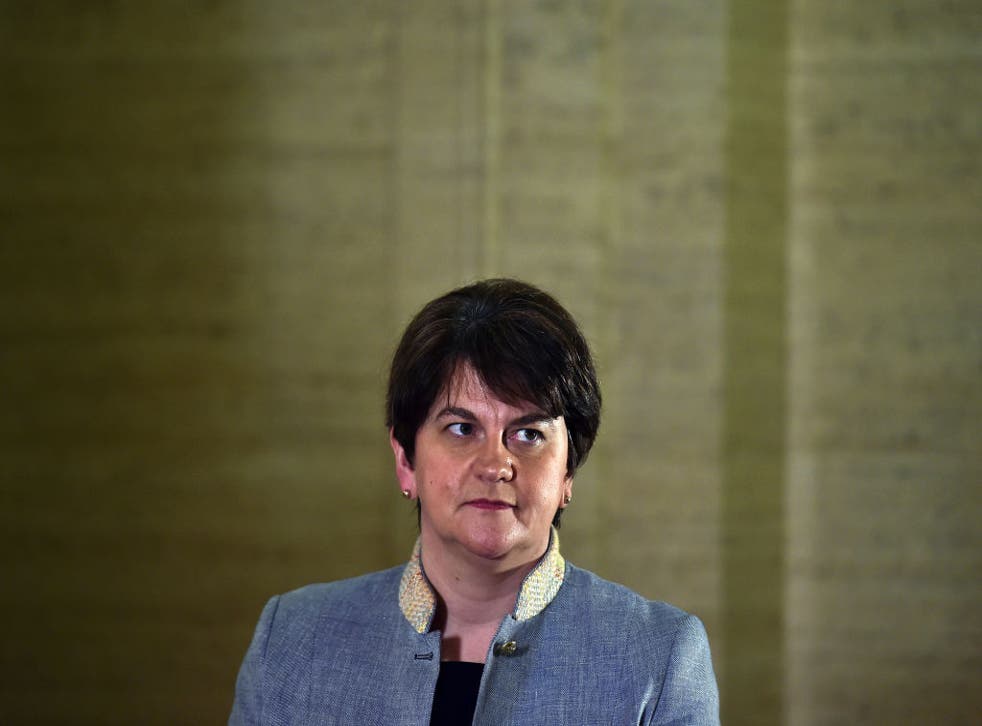 A fresh row has broken out over the Northern Ireland protocol after a senior Sinn Fein politician accused Arlene Foster of colluding with loyalist paramilitaries in an attempt to have the post-Brexit trading arrangements scrapped.
The first minister and DUP leader, her deputy Lord Nigel Dodds and East Belfast MP Gavin Robinson held talks with the Loyalist Communities Council (LCC) last month to discuss opposition to the protocol, which they say has undermined NI's constitutional place in the UK.
The LCC is an organisation that represents the views of the UVF, the UDA and the Red Hand Commandos – all of which are loyalist paramilitaries the UK Home Office has outlawed due to their links to terrorism.
Days after the meeting, the banned groups announced through the LCC that they were withdrawing their support for NI's historic Good Friday peace deal, which brought to an end three decades of bloody violence between loyalist and republican paramilitaries.
In a heated exchange during first minister's questions in the NI Assembly on Monday, John O'Dowd, MLA for Upper Bann, questioned whether it was appropriate for the first minister and senior DUP figures to hold a meeting with the LCC.
He said: "Do you not think the fact that you met representatives of these gangs that are actively now involved in criminality, drug dealing and murder undermines the message from the executive?"
He added: "You sat down with them seeking common cause in your opposition against the protocol."
Ms Foster responded by pointing out that Mr O'Dowd's own party has been linked to the IRA – a republican paramilitary that is also outlawed due to its links to terrorism. "I find it astounding to hear criticism from Sinn Fein when the Army Council is still in existence," she said.
She added: "That is not my assessment, that is the assessment of the chief constable of the PSNI [Simon Byrne].
"It is very hard to take criticism from sources that should know better. What we want to do is to encourage everybody to engage in peaceful and constitutional politics... It really is astounding to hear members of Sinn Fein come out and criticise this party which has always condemned violence of any source."
The DUP and other unionist parties are pushing for the protocol to be axed, claiming it has driven an economic wedge between NI and the rest of the UK, thereby undermining the union.
NI's three pro-remain parties – Mr O'Dowd's Sinn Fein, the cross-community Alliance Party and the Social Democratic and Labour Party – are in favour of keeping the protocol.
They have accused unionist parties of failing to find workable solutions to some of the trade issues presented by the protocol. But unionists argue that it is unworkable in the long run and must be replaced.
Join our new commenting forum
Join thought-provoking conversations, follow other Independent readers and see their replies