UK is ramping up arms sales to Egypt's military dictatorship, figures show
Britain is selling armoured vehicles to the country despite a military coup and crackdown on dissent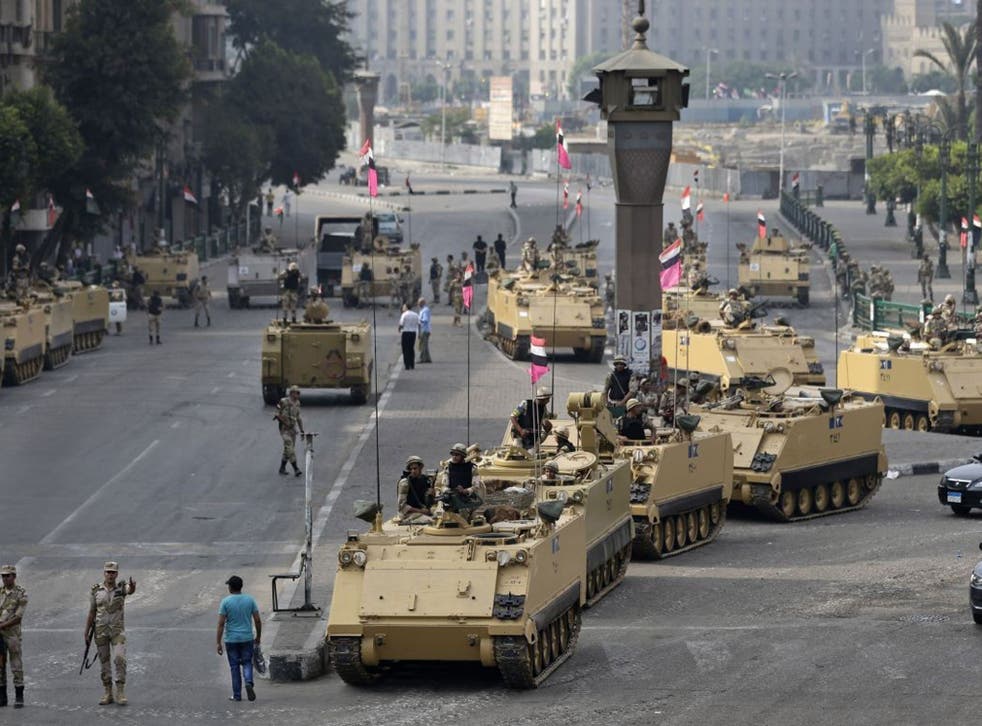 Britain has been ramping up its arms sales to Egypt's military dictatorship in recent years, figures collated ahead of a UK visit by the country's premier show.
David Cameron is meeting the country's dictator Abdel Fattah el-Sisi as he visits the UK this week following an invite from Downing Street.
Mr Sisi, previously head of the army, sized control of Egypt's presidency in 2013 in a military coup. He later won widely-boycotted elections with 96.91 per cent of the vote.
More than 1,000 people have been killed since Mr Sisi came to power and 40,000 dissenters are believed to have been jailed, according to human rights groups.
But business department figures on arms export licences from the UK to Egypt show a sharp increase in weapons and controlled military hardware sales
The British government must give consent for all arms exports and has allowed millions of pounds in sales to the Egyptian dictatorship.
A £40m licence for armoured vehicles to the regime was granted by the Government in March 2015, compared to a total of £156m in licences to Egypt throughout the whole of the Coalition government.
Andrew Smith frp, Campaign Against Arms Trade, which collated the figures, said: "The Sisi government has an appalling human rights record.
"It has locked up journalists, tortured opponents and clamped down on all dissent. The UK should be calling out for change, not rolling out the red carpet and arming his regime."
Mr Sisi was forced to defend new security laws in an interview with the BBC before the start of his visit.
Amnesty International described the invitation to Sisi by the PM as "astonishing".
"Thousands have been detained and many languish in jail, including journalists, in an apparent attempt to quash all dissenting voices," Hassiba Hadj Sahraoui, the group's regional director, said.
On Wednesday Foreign Office minister Baroness Anelay said the UK government discussed human rights issues with the Egyptian government.
"We raise our human rights concerns regularly with representatives of the Egyptian government," she said.
The Government was also criticised by human rights groups last month for hosting Chinese president Xi Jinping - who also leads an effective one-party authoritarian state.
Register for free to continue reading
Registration is a free and easy way to support our truly independent journalism
By registering, you will also enjoy limited access to Premium articles, exclusive newsletters, commenting, and virtual events with our leading journalists
Already have an account? sign in
Register for free to continue reading
Registration is a free and easy way to support our truly independent journalism
By registering, you will also enjoy limited access to Premium articles, exclusive newsletters, commenting, and virtual events with our leading journalists
Already have an account? sign in
Join our new commenting forum
Join thought-provoking conversations, follow other Independent readers and see their replies