Britain's tactics from Operation Shader in Iraq will be repeated in Syria following Commons vote
MoD says methods used in Iraq have resulted in zero civilian casualties.
Raids will be launched from Italy and, possibly, Scotland.
Laser guided Brimstone missiles will be used for great accuracy.
Kim Sengupta
Defence Editor
Wednesday 02 December 2015 20:42 Comments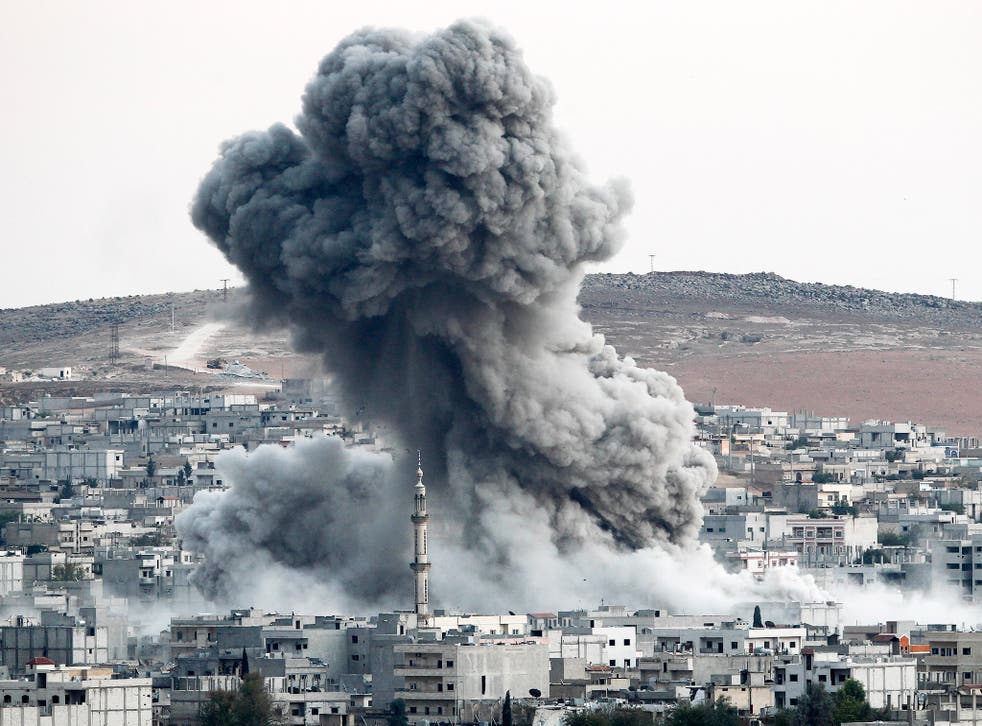 The name Operation Shader does not bring instant recognition to even those who take an interest in British foreign policy, but it is the only war in which this country is currently engaged in, using conventional weapons.
The RAF has been carrying out an air campaign in Iraq now since September last year – around 100 miles east of where the projected hugely controversial strikes in Syria are imminent. The mission has carried out around 340 air strikes, killed more than 350 fighters and destroyed dozens of bases, combat vehicles, ammunition dumps, and communications and training facilities, according to the defence officials.
Civilian casualties, says the Ministry of Defence, have been zero. This claim, which could be viewed as contentious, has not been subject to scrutiny and neither has anything much else about the mission which was approved by a Commons vote of 524 to 43. The only time serious questions were asked about deaths on the ground followed the use of a British drone to kill jihadists, Reyaad Khan and Ruhul Amin, both British citizens, in Syria.
Overall, the Syrian mission is an extension of the one in Iraq. Attacks will begin within hours of the Commons vote, with flights taking off from Italy and, possibly, Scotland. The operations will be run from the US led coalition's Combined Air Operations Centre (CAOC) at Al Udeid in Qatar with overall command from PJHQ (Permanent Joint Headquarters) at Northwood, Middlesex.
Two Tornado GR4s are being sent to join eight being used in Iraq at present from their base at RAF Akrotiri and six Typhoons will be deployed from RAF Lossiemouth. The Tornados carry Paveway IV bombs and Brimstone missiles: the Typhoons use Paveways.
What it's like to be near an air strike
This is of significance because Paveways are normally used to hit large targets, smashing through buildings and thus increasing the risk of collateral damage.The Brimstone is laser guided and its millimetric-wave radar seeker can be used with great accuracy against moving targets and also precision strikes on buildings. The warhead is much smaller than similar weapons such as the US made Hellfire and thus reduces the chance of collateral damage. The UK's supply of Brimstones, however, has been running low, with stocks reportedly down to around just 10 only two months ago.
The UK's rules of engagement state that "dynamic targets" such as Isis fighters on the move can be hit at the pilot's discretion, static ones by CAOC. After an initial burst of raids, British combat operations in Syria are likely to be at the same level as that of Iraq – about eight per cent of the total strikes carried out by the coalition. The RAF, however, supply up to 30 per cent of intelligence, surveillance and reconnaissance (ISR) mission for the coalition from its MQ-9 Reaper drones. They have been used over Syria for this purpose for many months and their role would not be affected by the Commons vote.
Corbyn makes terror warning
A difference would be made if the government decided to arm more of the Reapers with Hellfire missiles and there are further killings of British jihadists – who are mostly in Syria rather than Iraq – by the British state, especially following the views expressed on "shoot to kill" by leader of the Opposition Jeremy Corbyn.
David Cameron took a robust stance in the row which followed the killings of Reyaad Khan and Ruhul Amin, declaring that he would be ready to authorise more such attacks to protect national security. He was quick, subsequently, to claim that Britain played a full part in the American operation to kill Mohammed Emwazi, the masked murderer given the name, in some quarters, "Jihadi John".
Overall, Western contribution to the air campaign is likely to increase rather than decrease in the future. The regional partners in the coalition are beginning to slip away. Saudi Arabia and the UAE have moved most of their aircraft to the campaign against Iranian backed Houthi rebels in Yemen. Jordan, which carried out a surge of strikes following the burning to death of one of its pilots by Isis, have done the same. Bahrain last carried out strikes in February; the Qataris are still flying missions over Syria, but their role is limited. Turkey continues to focus more on hitting Kurdish separatists than Isis.
There is no suggestion at present that the UK air campaign would become one on land. The experience of Operation Shader certainly does not point towards having sizeable numbers of boots on the ground. MPs from the Commons' defence committee on a visit to Iraq earlier this year complained about the paucity of UK troops and how far back most of them were from the frontline. The total of US forces in Iraq is about to reach 3,500; even Australia has a force of around 600, about to be augmented by another 330. The British total is just 275.
Register for free to continue reading
Registration is a free and easy way to support our truly independent journalism
By registering, you will also enjoy limited access to Premium articles, exclusive newsletters, commenting, and virtual events with our leading journalists
Already have an account? sign in
Join our new commenting forum
Join thought-provoking conversations, follow other Independent readers and see their replies