British government criticised for hosting businessmen linked to Mugabe regime
Zimbabwean trade delegation is said to include vocal supporters of indigenisation laws and violence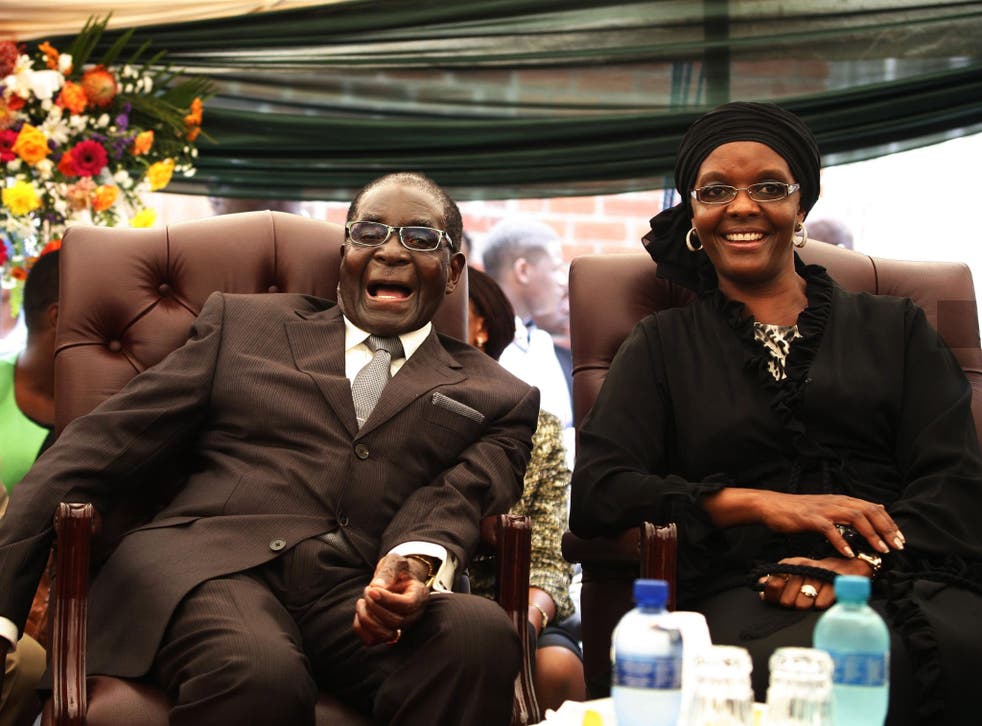 The British government today came under fire for playing host to a delegation of Zimbabwean businessmen, some of whom are closely linked to the regime of Robert Mugabe.
Wealthy tycoons from the country will meet with officials and British businesses at the Foreign and Commonwealth Office this afternoon to discuss ways of improving trade with British investors.
Sanctions still apply to Mr Mugabe, his wife Grace and a number of other top Zimbabweans due to corruption and human rights abuses.
Meanwhile, British farmers in the country – many of whom were invited by the Mugabe regime in happier times – continue to have their farms forcibly possessed under the so-called "indigenisation" laws. This allows for white-owned businesses to be seized by local black Africans and is now said to be extending to smaller firms and smallholdings.
Opposition activists argue Charles Msipa, one of the delegates in London, is connected to some of the Mugabe regime's most notorious members including Saviour Kasukuwere, previous minister for indigenisation, who is alleged to have been involved in the violent repossession of white farms. The son of Mr Mugabe's friend and former Zanu PF provincial governor Cephas Msipa, Mr Msipa is also said to be linked to the feared Emmerson Mnangagwa, the former head of Zimbabwe's Central Intelligence Organisation. Mr Mnangagwa was widely blamed for the brutality during the 2008 presidential election.
Mr Msipa runs Schweppes Zimbabwe after reportedly being handed the position following the company's seizure by Mr Mnangagwa's faction.
Another delegate, Kumbirayi Katsande, the manager of Nestle Zimbabwe, is the brother of Colonel Christian Katsande. Shingai Mutasa, also due in London today, has been a loud and vocal advocate of the seizure of assets from whites, declaring last year: "Indigenisation has removed the biggest barriers for empowerment and we should all be part of it."
Mike Johnson, a 52-year-old white farmer in Zimbabwe warned new investors of his experiences: "Anyone can take a pot-shot at you, from the local MP, to brigadier so-and-so, to your employees." A representative of white British farmers in Zimbabwe said: "Since the invasion of white-owned farms in 2000, Zimbabwe has become, and remains, one of the most hostile countries for business in the world."
White farmers feel their experiences should serve as a warning to new potential British investors. One pointed out that the country had been ranked 170 out of 189 in the World Bank's assessment in 2014, Ease of Doing Business.
"From the constitution down," said Roy Bennett, a senior member of the Zimbabwean opposition, "Zimbabwean law is blatantly and flagrantly racist."
However, the west has rapidly unwound many of the sanctions on the country in the past year due to a constitutional referendum, followed by a general election, which Mr Mugabe's Zanu PF won amid opposition claims of vote rigging.
The Zimbabwean businessmen are in London as part of a tour of EU capitals. A British foreign and commonwealth office spokesman said: "We have made clear to senior members of Zanu-PF that whilst economic empowerment is important, the manner in which indigenisation is implemented in Zimbabwe may act as a deterrent to much-needed foreign investment."
However, he added that promoting trade with the outside world would benefit the lives of Zimbabwe's citizens by offering employment and business taxes.
Register for free to continue reading
Registration is a free and easy way to support our truly independent journalism
By registering, you will also enjoy limited access to Premium articles, exclusive newsletters, commenting, and virtual events with our leading journalists
Already have an account? sign in
Register for free to continue reading
Registration is a free and easy way to support our truly independent journalism
By registering, you will also enjoy limited access to Premium articles, exclusive newsletters, commenting, and virtual events with our leading journalists
Already have an account? sign in
Join our new commenting forum
Join thought-provoking conversations, follow other Independent readers and see their replies