British public loses faith in Coalition's austerity plan as voters run out of patience with Plan A – but they still aren't convinced by the alternative
More people support Ed Miliband's 'time for a change' message than the Conservatives' likely pitch at the next general election
Andrew Grice
Wednesday 01 May 2013 17:27 Comments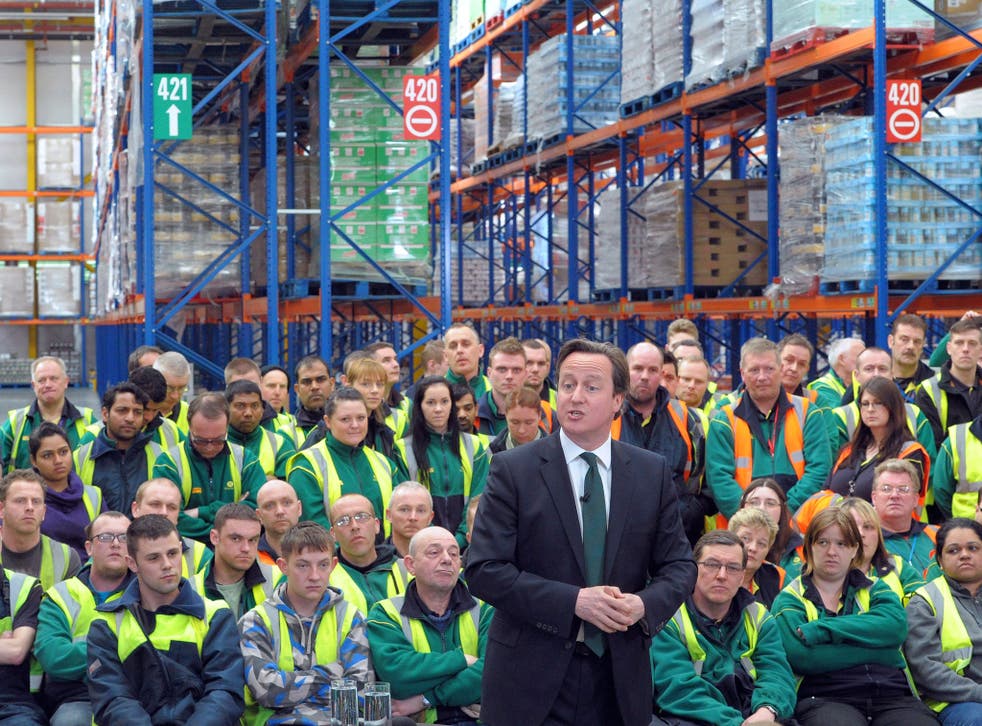 A majority of the public believes the Government's economic plan has failed and that it will be "time for a change" in 2015, according to a ComRes survey for The Independent.
In a boost for Labour, more people support Ed Miliband's "time for a change" message than the Conservatives' likely pitch at the next general election – that they should be allowed to "finish the job" of reviving Britain's economic fortunes. This is expected to be the crucial battle between the two biggest parties at the 2015 election.
The finding that "time for change" trumps "let us finish the job" will raise Labour spirits, although other surveys show it trailing the Conservatives on economic credibility and that is still blamed by many voters for causing the deficit during its 13 years in power.
According to ComRes, 58 per cent of people agree that the Government's economic plan has failed and so it will be time for a change of government in 2015, while 31 per cent disagree with this statement. Some 85 per cent of Labour supporters, 73 per cent of Liberal Democrat voters and 67 per cent of UK Independence Party supporters think it will be time for change in 2015 and that the Government's economic plan has failed –as does one in four (23 per cent) current Conservative voters.
The public is divided over whether the Tories should be given the chance to finish the job of restoring Britain's economic prospects. They disagree by a margin of 46 per cent to 44 per cent. Some 68 per cent of Ukip supporters do not believe the Tories should be given another chance.
However, there is better news for the Conservatives in the party ratings. They have cut Labour's 10–point lead to six points since the last ComRes survey for this newspaper a month ago. Labour is now on 38 per cent (no change); the Conservatives on 32 per cent (up four points); Ukip still in third place on 13 per cent (down one point); the Lib Dems on 9 per cent (down three points) and other parties on 8 per cent (no change). One in 10 people (10 per cent) who voted Tory at the last general election now say they support Ukip. Only one in three people (34 per cent) who voted Lib Dem in 2010 say they would do so now. About four in 10 (39 per cent) of the party's 2010 voters now back Labour.
These figures would give Labour an overall majority of 78 at a general election. However, they will raise Tory hopes of a mini-revival in the polls after the party united following Margaret Thatcher's death and Labour came under pressure to explain how it would keep welfare spending under control.
The Tories accused Mr Miliband of being "too weak" to admit that borrowing would rise under a Labour Government. In an ill-tempered interview, he told BBC Radio 4's World at One that Labour's policies would result in lower government borrowing "in the medium term" and insisted his plan for a temporary VAT cut would boost growth and increase revenues. Mr Miliband said Labour would consider whether wealthy pensioners should continue to receive winter fuel allowances, free TV licences and free bus travel. But later Labour sources made clear he still supported universal benefits as "part of the bedrock" of the welfare system.
The Labour leader said: "This country has deep and serious problems. The big question facing this country is how we get out of it. People are asking this very profound question, which is 'can anyone sort out the mess the economy is in?'. My emphatic answer to that is 'yes' but that has to be proved and that is what we are proving."
Setting out Labour's alternative Queen's Speech, Mr Miliband proposed a compulsory jobs guarantee, the return of a 10p income tax rate,and measures to tackle "rip-off" energy bills and train fares.
Ahead of Thursday's local elections, Nick Clegg claimed Labour had lurched to the left and the Tories to the right after reversing their modernisation projects, leaving the Lib Dems are the only party still on the centre ground. The Lib Dem leader argued that his party had stopped the Tories privatising the NHS, allowing state schools to be run for profit and diluting workers' rights.
In a sideswipe at David Cameron, Mr Clegg claimed the Tories had shifted away from attempts to "detoxify" the party by "hugging hoodies and frolicking with huskies." He said: "The Tories are pulling to the right in an attempt to appease their base. Compassionate conservatism has been sidelined. So-called benefits scroungers have been back in the firing line, along with the European Convention on Human Rights. The blue team used to claim to have gone green, yet have now publicly denounced the importance of environmental protections."
Writing on the Lib Dem Voice website, Mr Clegg said: "If you agree we need responsible action taken on the deficit, but you believe the burden should be spread fairly, there is still a party that speaks for you."
ComRes interviewed 1,001 GB adults by telephone between April 2628. Data were weighted to be demographically representative of all GB adults. Data were also weighted by past vote recall. ComRes is a member of the British Polling Council and abides by its rules.
Register for free to continue reading
Registration is a free and easy way to support our truly independent journalism
By registering, you will also enjoy limited access to Premium articles, exclusive newsletters, commenting, and virtual events with our leading journalists
Already have an account? sign in
Join our new commenting forum
Join thought-provoking conversations, follow other Independent readers and see their replies