British support for EU membership grows, despite Ukip popularity
A YouGov survey found that 43 per cent of people would vote to stay in the EU in a referendum, while 38 per cent would vote to leave
Andrew Grice
Monday 26 January 2015 21:00 Comments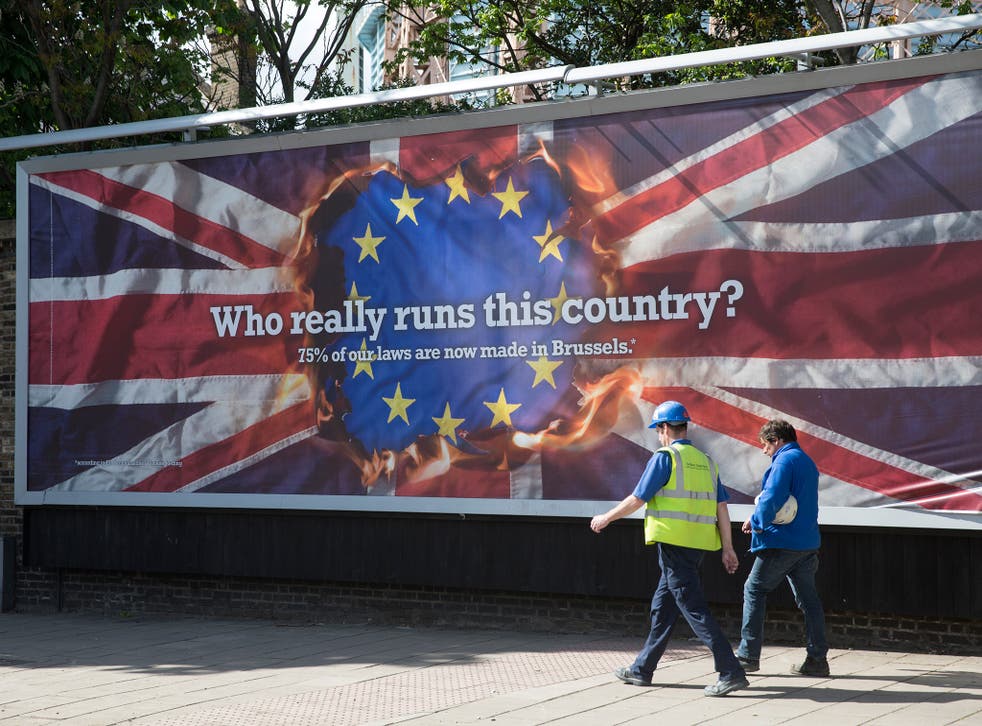 Public support for British membership of the EU has increased in the past year despite the growing popularity of Ukip, according to a report to be published tomorrow.
A YouGov survey for the pro-EU British Influence group found that 43 per cent of people would vote to stay in the EU in a referendum, while 38 per cent would vote to leave. The tables have turned since a year ago, when 46 per cent said they would vote to withdraw and 36 per cent to remain.
The findings will boost hopes among supporters of EU membership that people realise its benefits when the issue is in the spotlight -- which the rise of Nigel Farage's anti-EU party has ensured.
The poll suggested that David Cameron could persuade a significant number of people to vote to stay in if, as he intends, he negotiates and recommends a new EU deal for Britain. Some 57 per cent said they would vote to remain in such circumstances, while only 21 per cent would support withdrawal.
According to YouGov, only one in four people (25 per cent) believes Britain enjoys influence in Europe, while 60 per cent think it does not. But only 8 per cent think Britain would secure more influence by threatening to leave, a tactic favoured by some Tory Eurosceptics. Some 39 per cent say the Government should seek allies for its position.
The survey is part of British Influence's annual "scorecard" on whether the Government is getting its way inside the EU. Lord Hannay of Chiswick, a former UK ambassador to the EU and crossbench peer who chaired the panel compiling the "scorecard," warned of a "potentially dangerous vacuum" in the European Parliament following the elections to it last May. He suggested the loss of 11 of the 12 Liberal Democrat MEPs and election of 24 Ukip MEPs who made "little positive contribution" could "negatively effect progress on the positive reform agenda supported by all the main parties in the UK."
The panel said 2014 was a "relatively light year" for EU legislation. Its "scorecard" of British wins in Europe showed little change on the previous year. There were four "red light" issues on which the UK failed to achieve its objectives; 17 "amber lights" when it partially succeeded and 23 "green lights" when it succeeded.
Tomorrow's report will sound the alarm that the UK risks losing influence in Europe because fewer young "Brits" are being appointed to institutions such as the European Commission at a time when senior British officials are retiring.
Peter Wilding, the director of British Influence, said: "Our polling shows very clearly that there is a problem of leadership and communication at play. Sixty per cent of people we recently polled think that Britain has no influence in Europe. This is a very dangerous and self-defeating myth."
He added: "Our scorecard shows that the UK did indeed win in a majority of policy areas through working with its allies. Deepening the single market is services, for instance, is essential to our prosperity because the service sector makes up 84 per cent of workforce jobs in England alone. European police cooperation is essential for our security. But it also shows that it is weaker in areas where the Government's approach has been to issue threats and red lines - such as on immigration. Our allies support us on immigration reforms but not at any price."
Laetitia van den Assum, the Dutch ambassador to the UK, said: "The prospects for EU reform are so much better with the UK inside rather than outside the EU. You cannot reform the EU by leaving the room. You can only reform it if you are prepared to sit down with other members and institutions as partners, prepared to move the common agenda forward. Engagement is key."
EU referendum in numbers
43% of people would vote to stay in the EU in a referendum, according to a YouGov poll for pro-EU British Influence group
57% would vote to stay in if David Cameron negotiates a new EU deal for Britain
8% think Britain would secure more influence by threatening to leave the EU
Register for free to continue reading
Registration is a free and easy way to support our truly independent journalism
By registering, you will also enjoy limited access to Premium articles, exclusive newsletters, commenting, and virtual events with our leading journalists
Already have an account? sign in
Join our new commenting forum
Join thought-provoking conversations, follow other Independent readers and see their replies