British weapons could be arming Somali pirates
Review into the quantity of guns sent to help UK firms after fears that some will end up in the wrong hands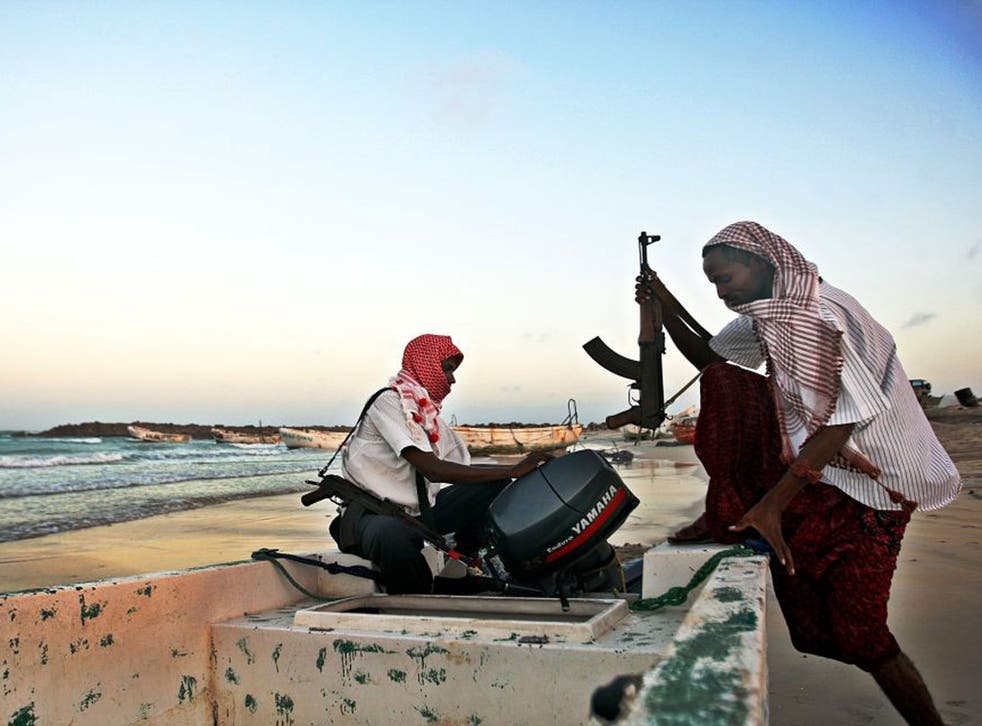 The Government has been forced into an urgent review over why nearly 44,000 guns in only 15 months were sent to tackle piracy in East Africa and a number of repressive regimes.
MPs have accused the Business Department of a potential security risk, by approving the exports while failing to look into why British security firms needed so many assault rifles and pistols in countries with poor human rights records, such as Sri Lanka, Egypt and the Maldives.
The weapons are supposed to be used by the security firms for services such as protecting ships from Somali pirates. But the sheer volume that was authorised for exports between April 2012 to June 2013 has raised fears among members of the House of Commons Arms Export Controls Committee that the guns could have ended up in the hands of the pirates themselves or of dictatorial regimes.
Pressed to explain the numbers, the head of the Export Control Organisation at the Business Department, Edward Bell, told MPs: "I understand the concern about the volumes … having now heard about the volumes, I would like to do a bit more digging around that. I have no concerns that anything untoward has happened, but I certainly will have a closer look at the volumes involved."
Government data shows that the arms exports comprised 30,000 assault rifles, 2,536 pistols and 11,000 rifles, and the countries they ended up in also include Russia and South Africa. Sources on the committee say they want to know why British firms would need such a large stash of fresh guns, given that they will have had thousands of weapons in their armoury prior to April 2012.
Ann McKechin, a committee member and Labour MP, said: "The evidence provided to us by Mr Bell seems to suggest that the department did not have a process of looking at the cumulative number of weapons and whether those exports fitted the scenario on the ground needed for protection." A Business Department spokeswoman confirmed that a review is under way.
The development is part of a wide-ranging inquiry into arms exports. This has already seen the Business Secretary, Vince Cable, pushed to publicly reveal names of British companies granted licences to export products to Syria that could potentially be turned into chemical weapons. Mr Cable has refused.
The Foreign Secretary, William Hague, faces the committee on Wednesday and will come under pressure over the Government's increasingly close relationship with China, which was cemented by a David Cameron-led trade mission towards the end of last year. China has been widely accused of state-sponsored cyber-terrorism.
A second committee member, Katy Clark, said: "China is one of the countries the Government is prioritising for the development of trade links. This raises questions over whether we've got the balance right between the arms trade, surveillance equipment and our economic interests."
Register for free to continue reading
Registration is a free and easy way to support our truly independent journalism
By registering, you will also enjoy limited access to Premium articles, exclusive newsletters, commenting, and virtual events with our leading journalists
Already have an account? sign in
Register for free to continue reading
Registration is a free and easy way to support our truly independent journalism
By registering, you will also enjoy limited access to Premium articles, exclusive newsletters, commenting, and virtual events with our leading journalists
Already have an account? sign in
Join our new commenting forum
Join thought-provoking conversations, follow other Independent readers and see their replies