Budget 2014: Ed Balls admits Labour will not oppose George Osborne's proposed welfare cap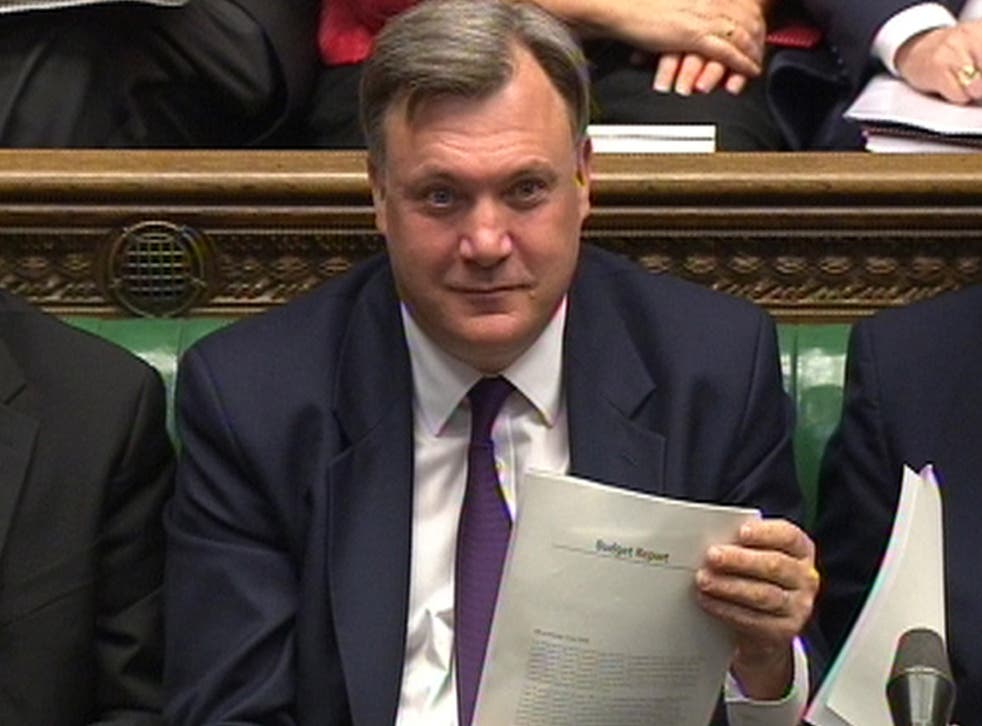 Labour will not oppose plans to set an overall cap on the amount that future Governments can spend on welfare, it has admitted, as the party sought to side-step George Osborne's bid to portray them as soft on benefits.
Under measures set out today, welfare payments - except the state pension and benefits linked to cyclical unemployment rates - will be not be able to exceed £119.5 billion in 2015/16.
Any party wanting to breach the limit would have to go back to Parliament for approval.
Mr Osborne is likely to go into the election promising to reduce the cap further. Aides signalled that this will allow him to create "clear blue water" from other parties.
But Ed Balls, the Shadow Chancellor, said he was not opposed to the principle of the cap as currently set down and pointed out that Labour was already committed to reducing the welfare bill.
He said the move would not affect Labour's plans to abolish the bedroom tax as the party had already stated how it would pay for the move.
"Yes, we'll vote for that next Wednesday," Mr Balls said. "We've supported the idea of a welfare cap. We have said that we should keep out the basic pension but include pensioner benefits.
"Clearly, we will do things differently from the Government. For example we have said we will abolish the bedroom tax. We've shown how we will pay for that. We actually think our measures on housing and on young people and jobs can get the wider bill down. We'll do things in a fairer way, but the idea of a welfare cap was proposed by Ed Miliband and we'll support it next Wednesday."
The idea of a cap on overall state spending on welfare, to come into effect from April 2015, was first put forward by Mr Osborne in his spending review in June last year.
Yesterday he set the level for the first four years, based on current spending levels, which have been agreed with the Liberal Democrats. It rises in line with inflation from £119.5 billion in 2015/16 to £122 billion in 2016/17, £124.6 billion in 2017/18 and £126.7 billion in 2018/19.
The figures are in line with forecast levels of welfare spending under current policies from the Office of Budget Responsibility.
Mr Osborne believes the policy will stop the welfare bill running out of control, by requiring any government which is set to breach the cap either to find savings elsewhere in the social security budget or to go to Parliament and seek MPs' approval to increase it.
The Chancellor told MPs: "Britain should always be proud of having a welfare system that helps those most in need.
"But never again should we allow its costs to spiral out of control and its incentives to become so distorted that it pays not to work.
"In future, any government that wants to spend more on benefits will: have to be honest with the public about the costs, need the approval of Parliament, and will be held to account by this permanent cap on welfare."
But Children's Society chief executive Matthew Reed said: "Applying an arbitrary cap to welfare spending takes no account of changing circumstances of families caught up in poverty facing rising living costs beyond their control, including childcare and rocketing rents. The Government is effectively transferring the risk of rising costs to children and families already struggling to make ends meet."
Birmingham University professor of social policy Karen Rowlingson said the idea that welfare spending had spiralled out of control was a "myth".
She said: "In reality... the period 1995-2011 saw expenditure on benefits, as a proportion of GDP, falling sharply and then remaining stable for the longest period since the foundation of the welfare state after the Second World War."
Join our new commenting forum
Join thought-provoking conversations, follow other Independent readers and see their replies