Budget 2015 bingo: Buzzwords to watch out for in George Osborne's speech
Will Osborne and Balls be two fat ladies or two little ducks? Let's play Budget bingo
Matt Dathan
Wednesday 18 March 2015 10:43 Comments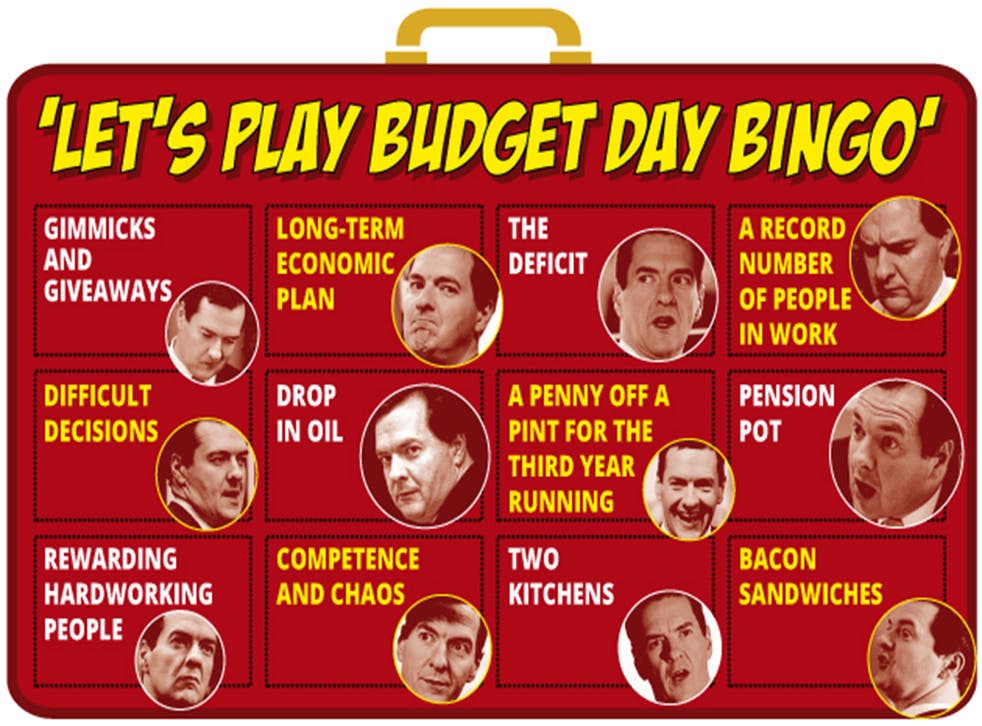 With the Labour and the Tories fighting it out in one of the closest elections in history, George Osborne's final budget will be one of the most political on record, so expect a deluge of Tory buzzwords.
But he won't want to bore viewers too much so look out for references to recent cock-ups from the opposition as George tries to keep the older MPs awake and stir up some cheers from his backbenchers.
Kitchen tables - and how many you're lucky to have - is a topic likely to pop up, while Labour's lack of business backers and "Bill Somebody" would be greeted with rapturous applause from the Tory benches.
But expect most of the speech to be littered with the the same old boring lines we hear every time a Tory minister goes on the TV: "long-term economic plan", and the groans that accompany them.
Budget 2015: George Osborne unveils pre-election package

Show all 7
And if we're lucky (or unlucky, depending on whether you're turned on by Ed Balls), we may even get a reference to Ed Balls's sex life (last month he boasted he was "long, slow burner").
So, eyes down, let's play Budget bingo.
Register for free to continue reading
Registration is a free and easy way to support our truly independent journalism
By registering, you will also enjoy limited access to Premium articles, exclusive newsletters, commenting, and virtual events with our leading journalists
Already have an account? sign in
Join our new commenting forum
Join thought-provoking conversations, follow other Independent readers and see their replies