Budget 2016: George Osborne's sugar tax hides £55bn black hole in public finances
Chancellor's surprise announcement obscures the barrage of grim economic news contained in the Budget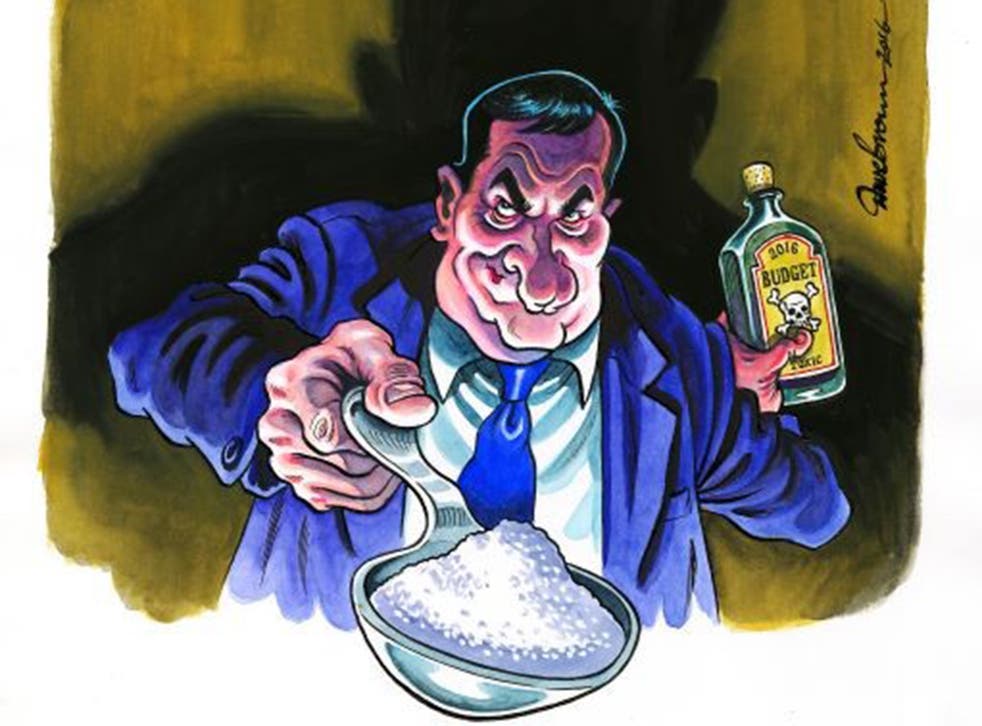 Britain is to become one of the first countries in the world to introduce a tax on sugary drinks in an eye-catching budget initiative accompanied by some of the gloomiest economic news of George Osborne's Chancellorship.
In a surprise announcement that delighted health campaigners, Mr Osborne unveiled plans for a new 24p-a-litre tax on drinks such a Coca Cola, Iron Bru and Ribena that contain the highest concentrations of sugar. Tonic water and lower sugar fizzy drinks such as Fanta will face an 18p a litre rate when the tax comes into force in two years time.
The new levy, which Mr Osborne predicted would reduce childhood obesity and "put the next generation first", will raise around £500 million that will go towards investment in school sports.
But Mr Osborne's centrepiece announcement could do little to deflect from the grim economic news that accompanied the Budget.
The Chancellor was forced to admit that the economy was now "materially weaker" than it was just four months ago – with GDP growth, productivity and wages all expected to be significantly lower than was predicted in November.
As a result Mr Osborne now faces a £55 billion black hole in the public finances and will be forced to impose further swinging public sector spending cuts or tax rises if he is to fulfill his pledge to eliminate the deficit by 2020. This compares to a £27 billion fiscal 'windfall' that Mr Osborne trumpeted in November.
Osborne announces sugar tax
But in a high-risk strategy the Chancellor effectively ignored warnings from the independent Office of Budget Responsibility that the deteriorating economic outlook meant that he needed to reassess his tax and spending plans.
Instead he pushed back the pain – penciling in plans to cut Government spending by £5 billion in a single year at the end of the decade to balance the books if the economy doesn't improve. Such a move could prove politically disastrous so close to the next election.
Among other initiatives, Mr Osborne announced:
• Personal tax allowance will rise to £11,500 next year and the higher 40p rate will go up to £45,000.
• Fuel duty will be frozen for the sixth year in a row while beer duty has also been put on hold.
• A new 'lifetime ISA' for the under-40s with the Government contributing £1 to every £4 set aside by those saving towards a house or a pension.
• There will also be a new 0.5 per cent increase to insurance premium tax – paid on home, car and holiday insurance - that will generate £700 million to boost flood defenses.
In the wake of the Google tax bill row Mr Osborne also announced a fresh £12 billion crackdown on tax dodging by firms and individuals. Small business were big winners with plans to exempt over 600,000 shops and firms from paying any local business rates whatsoever.
But other than the dire economic news the budget is likely to be remembered as a landmark moment when sugar joined other vices such as smoking and drinking as a target for punitive Government taxation.
While the Chancellor said he hoped the tax would force manufacturers to cut the amount of sugar in their products, the independent Office for Budget Responsibility said it expected the cost to be "passed entirely onto the price paid by consumers".
Public health experts and campaigners hailed the move as a radical intervention that would protect children from diabetes, cancer and other health conditions linked to obesity.
Jamie Oliver, who has lobbied the Government over the sugar tax, said it was a "profound move that will ripple around the world". "I never thought we were going to get this," he said.
But Ian Wright, director general of the Food and Drink Federation, said the levy would result "less innovation and product reformulation" and could cost jobs.
"We are extremely disappointed by today's announcement of a new tax on some of the UK's most successful and innovative companies. For nearly a year we have waited for an holistic strategy to tackle obesity. What we've got today instead is a piece of political theatre," he said.
Announcing the new measure in the Budget statement Mr Osborne said that experts predicted half of boys and 70 per cent of girls would be overweight or obese within a generation, and that sugary drinks were on of the biggest contributors.
"I am not prepared to look back at my time here in this Parliament, doing this job, and say to my children's generation, 'I'm sorry. We knew there was a problem with sugary drinks. We knew it caused disease, but we ducked the difficult decisions and we did nothing,'" he told MPs.
The tax, which will be introduced from 2018, is expected to raise £520m in its first year, a figure which the OBR predicts will fall over subsequent years as manufacturers reformulate their products to contain less sugar.
It will affect all sugary drinks manufactured or imported for UK consumption. Pure fruit juices and milk-based drinks will be exempt but any other product containing more than 5g of sugar per 100ml could be subject to the levy.
The announcement took the House of Commons by surprise, and risks opposition by many Conservative MPs who opposed previous calls for a sugar tax. There will be fears that the measure could become a tax on the poor if the costs are passed on by the industry.
England chief executive Simon Stevens said the "bold" move was a "major first step to what must be a comprehensive childhood obesity strategy that will help us shed pounds off our waistlines, and save pounds on future NHS costs".
Register for free to continue reading
Registration is a free and easy way to support our truly independent journalism
By registering, you will also enjoy limited access to Premium articles, exclusive newsletters, commenting, and virtual events with our leading journalists
Already have an account? sign in
Register for free to continue reading
Registration is a free and easy way to support our truly independent journalism
By registering, you will also enjoy limited access to Premium articles, exclusive newsletters, commenting, and virtual events with our leading journalists
Already have an account? sign in
Join our new commenting forum
Join thought-provoking conversations, follow other Independent readers and see their replies