Budget latest: Britain's deficit won't be cleared until 2031 under Tory plans, says OBR
Office for Budget Responsibility suggests books will not be balanced until 2030-31 – and warns it could be even later
Rob Merrick
Deputy Political Editor
Wednesday 22 November 2017 17:51 Comments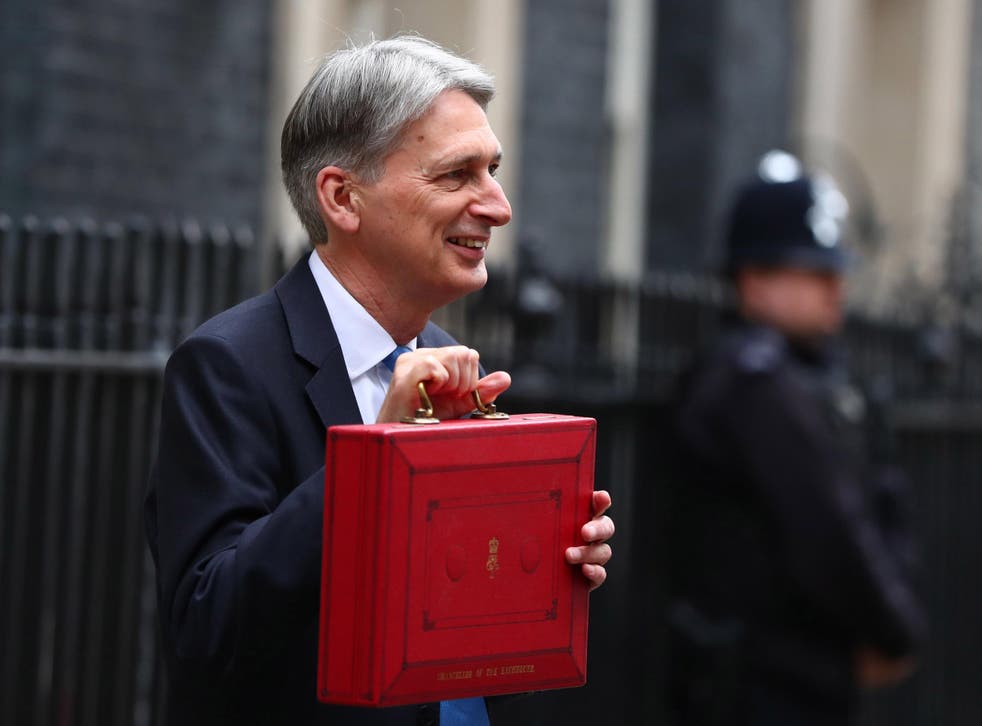 The Budget deficit will not be wiped out until 2031, the Treasury watchdog has suggested – a staggering 16 years later than George Osborne originally pledged.
The Office for Budget Responsibility (OBR) rejected Philip Hammond's claim that he was still on course to balance the books by about 2025 as increasingly "unlikely".
Instead, it suggested the most likely year was now 2030-31 – warning it could be even later, as Britain's ageing population piles more pressure on the NHS.
The cause was an economy "weaker" than the OBR forecast just nine months ago, with growth and productivity growth shrinking and borrowing set to rise as a result.
The verdict is a big blow to the Chancellor, who had rebuffed pre-Budget pressure to publicly accept that the 2025 date to eliminate the deficit was doomed.
In his speech, Mr Hammond did not mention the target, set out in the Conservative election manifesto – but, speaking later, his aides insisted it remained in place.
But, said OBR chairman Robert Chote, the books "would not reach balance until 2030-31", if the deficit fell at the trend rate of reduction.
"And over this period, there is also likely to be upward pressure on spending from the ageing of the population and other cost pressures on the health service," he warned.
Furthermore, the forecast ignores Brexit, because – with no clarity on Britain's exit terms – it is impossible to calculate the impact of EU withdrawal.
When the Coalition came to power in 2010, after the financial crash had created a record deficit of 11 per cent of GDP, it pledged to eliminate it in just five years.
But Mr Osborne failed spectacularly, extending the target to nearly a decade, before Mr Hammond put it back to the mid-2020s following the Brexit referendum
The OBR's latest forecast came after the auditor slashed its GDP growth forecast for this year, from 2 per cent to 1.5 per cent.
Growth will also be slower in the years to follow, it warned, at 1.4 per cent in 2018, 1.3 per cent in the following two years, and 1.5 per cent in 2021, before expanding by 1.6 per cent in 2022.
The OBR also delivered the biggest downgrade to productivity growth in its history, with output per hour expected to be 4.6 per cent lower in 2022 than thought in March.
This was the sort of growth that was "experienced pre-industrial revolution," the OBR said. Only a period at the end of the 19th century had been as poor.
As a result, borrowing – although £8.4bn lower this year than expected – would be a total of £90bn higher over the next five years as a whole.
GDP would also take a 0.2 per cent hit by 2021-22 because of lower immigration than previously forecast, especially of younger workers, following the Brexit vote.
Meanwhile, earnings were set to grow at just 0.6 per cent a year in real terms, through to 2022, with disposable income after tax-and-benefit changes even more sluggish, at 0.3 per cent.
The Resolution Foundation think tank said GDP was now set to be £500 lower per person by 2022 than was expected even as recently as March.
"For context, that's just over 1/4 of the drop in GDP per person recorded between 2008 & 2010," tweeted Matt Whittaker, its chief economist.
Mr Hammond was still on target to hit his fiscal rule that borrowing will be below 2 per cent of GDP by 2021, but by a smaller margin.
He was helped by the surprise decision to take tens of billions of pounds of housing association debt off the state balance sheet – which the OBR questioned.
Register for free to continue reading
Registration is a free and easy way to support our truly independent journalism
By registering, you will also enjoy limited access to Premium articles, exclusive newsletters, commenting, and virtual events with our leading journalists
Already have an account? sign in
Join our new commenting forum
Join thought-provoking conversations, follow other Independent readers and see their replies