Budget 2017: Philip Hammond downgrades UK economic growth while Brexit takes place
The independent Office for Budget Responsibility (OBR) now expects lower growth in 2018-19 (1.6 per cent), in 2019-20 (1.7 per cent) and in 2020-21 (1.9 per cent)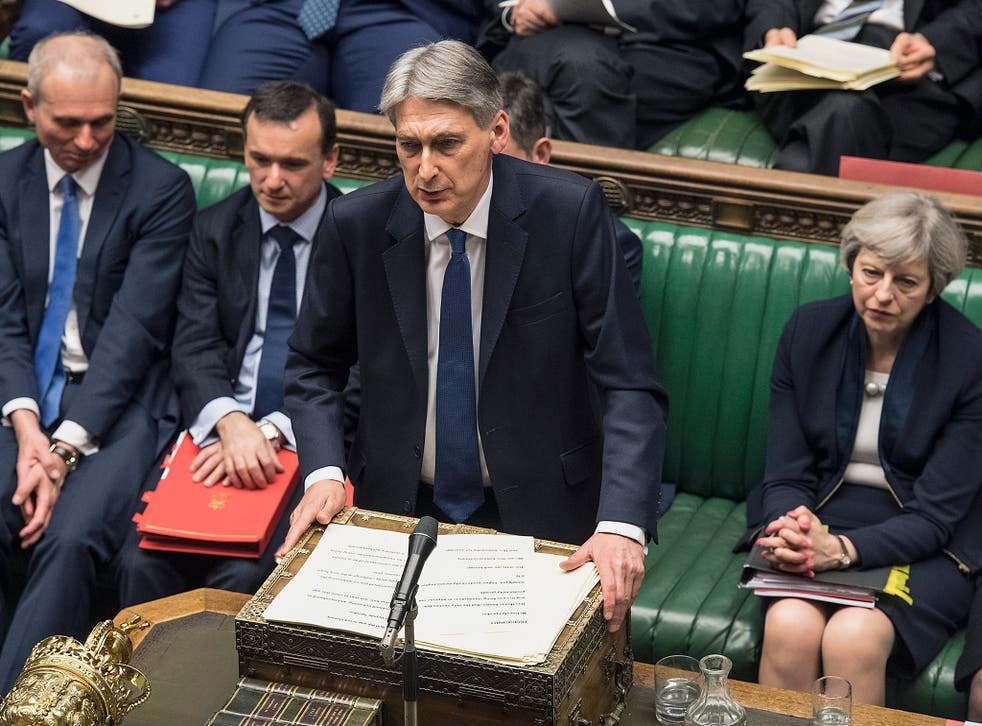 The Chancellor was forced to slash his official economic growth forecasts while the Brexit talks take place, as he delivered his first Budget.
Philip Hammond told MPs that Britain's economy would grow faster than previously expected in the next financial year – by 2 per cent, up from 1.4 per cent.
But he said the independent Office for Budget Responsibility (OBR) now expected lower growth in 2018-19 (1.6 per cent), in 2019-20 (1.7 per cent) and in 2020-21 (1.9 per cent).
It means the British economy is now expected to grow at a slower rate than before the Brexit referendum, all the way through to EU withdrawal and beyond.
Britain can no longer claim to be the fastest-growing in the G7 group of the largest economies, but is now "second only to Germany", the Chancellor said.
However, Mr Hammond said real wages are forecast to rise in every year of the period – which means workers would feel better off.
During his speech, the Chancellor also announced that inflation is forecast to be 2.4 per cent this year, 2 per cent next year and 2 per cent in 2019 – so above the Bank of England's 2 per cent inflation target for three years.
Borrowing will also dip £16.7bn lower than originally forecast at £51.7bn, falling to £58.3bn in 2017-18, then £40.8bn, £21.4bn and £20.6bn in 2020-21. Overall debt is forecast to be 86.8 per cent this year, peaking at 88.8 per cent next year – 1.4 per cent lower than forecast.
There was mixed news for workers, with the National Living Wage set to rise again to £7.50 in April – but tax hikes for the self-employed. The rate of Class 4 National Insurance Contributions for the self-employed will rise by 1 per cent to 10 per cent from April 2018, with a further 1 per cent increase in 2019.
The move immediately sparked criticism that the Chancellor had explicitly broken the 2015 Tory general election manifesto pledge not to raise direct personal taxes.
Analysing the changes in forecasts, OBR chair Robert Chote said: "The changes to our economy forecast are relatively modest. The ONS's initial estimate of real GDP growth for 2016 was slightly weaker than we anticipated in November, but with momentum building through the year rather than slowing.
"The recent strength largely reflects consumer spending, which grew much more strongly than incomes through last year. But we expect GDP growth to slow through this year as higher inflation squeezes household budgets and as the saving ratio stabilises.
UK news in pictures

Show all 50
"The strong start to the year should be sufficient to deliver 2 per cent growth for 2017 as a whole, with small downward revisions in later years as the economy will have less spare capacity to use up. Cumulative growth over the whole forecast is little changed."
The Chancellor dismissed arguments that the lower borrowing forecasts should mean "more unfunded spending" – warning "each year, we are spending £50bn on debt interest".
The only responsible course of action, he argued, was to continue with austerity, saying: "We will not saddle our children with ever-increasing debts."
Join our new commenting forum
Join thought-provoking conversations, follow other Independent readers and see their replies