Chancellor Rishi Sunak will have to raise taxes or entrench austerity to pay for Budget spending splurge, IFS warns
Sunak must 'recognise that more spending must require more tax', says respected thinktank
Lizzy Buchan
Political Correspondent
Wednesday 26 February 2020 08:53 Comments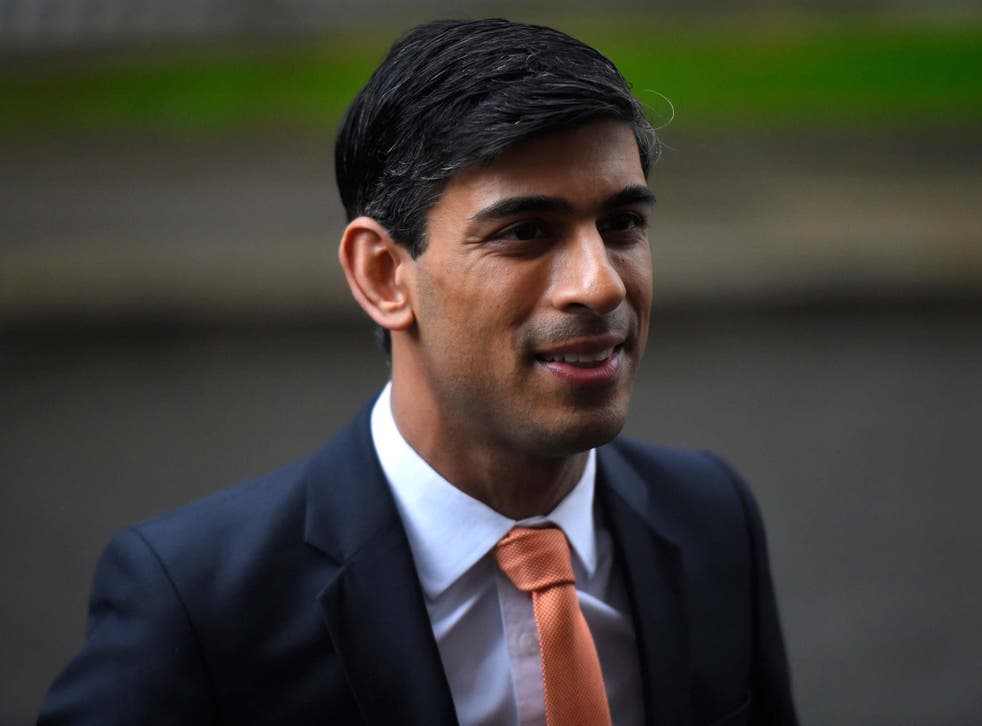 New chancellor Rishi Sunak will have to hike taxes or entrench austerity to pay for a spending splurge in the upcoming Budget, according to a respected thinktank.
The Institute for Fiscal Studies (IFS) said Mr Sunak will have to abandon fiscal commitments in the Tory manifesto or increase taxes next month if he wants to avoid cuts to day-to-day spending.
The new chancellor will present his first Budget on 11 March, only weeks after a rapid promotion in the wake of the shock resignation of his predecessor Sajid Javid.
Mr Javid's sensationally quit the Treasury during the cabinet reshuffle over demands by No 10 that he sack his aides, an ultimatum he said "no self-respecting minister" could accept.
His departure also came after tensions over No 10's desire to boost spending, which was at odds with Mr Javid's fiscal rules announced during the election campaign.
Boris Johnson and Mr Sunak are now said to be considering loosening day-to-day spending constraints to allow the prime minister to deliver on his promise to "level up" the north.
In its pre-Budget analysis, the IFS said the chancellor was "hemmed in by a rising deficit and fiscal targets" and he must recognise that "more spending must require more tax".
The thinktank suggested hiking council tax for bills for the most expensive homes and abolishing entrepreneurs relief, which only benefitted 5,000 people in 2017/18.
Continuing with the freeze on fuel duty will cost £4 billion a year by the end of this parliament, the IFS noted. However any attempt to scrap the freeze, which has been in place since 2010, will enrage Tory MPs.
Some £54bn would be needed to reverse cuts to public spending outside of health since 2010, the thinktank said, which is still 26 per cent lower than a decade ago.
The IFS also warned that cuts to some benefits that would leave poorer families worse off were working their way through the system. Removing additional tax credits for the first child will see 3.2 million households £550 poorer.
The two-child limit in means-tested benefits will eventually lead to around 750,000 households losing an average of £3,600 per year.
Boris Johnson's cabinet reshuffle: Who's in and who's out

Show all 17
In a challenge to the PM's plans for the north, the IFS pointed to stark regional inequalities, with annual per-person investment spending over 60 per cent higher in London (£1,456) than across the rest of the UK (£891).
Paul Johnson, director at the IFS, said the budget could be the "most important fiscal event in years" and suggested that any radical changes to taxes were most likely early in the parliament.
"The chancellor is hemmed in by a rising deficit and fiscal targets set out in the Conservative manifesto," he said.
"They will allow him to increase investment spending, which will be welcome if well targeted. But they will not allow substantial increases in current spending, or tax cuts, to be funded by more borrowing."
Mr Johnson said fiscal targets "should not just be for Christmas", urging the chancellor to "resist the temptation to announce another and instead recognise that more spending must require more tax."
It comes as 18 MPs from the Blue Collar Conservatives group wrote to Mr Sunak to say that "clobbering" voters over fuel duty - including many who backed the Tories for the first time in December's general election - would "send the wrong message".
They said: "Any decision to scrap the fuel duty freeze must be seen for what it is: a tax rise which would hit our blue collar communities hardest
"Increasing fuel duty would show these communities that this people's government does not actually have, at its heart, the priorities of the people."
Register for free to continue reading
Registration is a free and easy way to support our truly independent journalism
By registering, you will also enjoy limited access to Premium articles, exclusive newsletters, commenting, and virtual events with our leading journalists
Already have an account? sign in
Join our new commenting forum
Join thought-provoking conversations, follow other Independent readers and see their replies