Business chiefs: We're losing faith in Tories
Independent survey reveals new pessimism among executives who used to back Osborne
Andrew Grice
Saturday 06 October 2012 15:53 Comments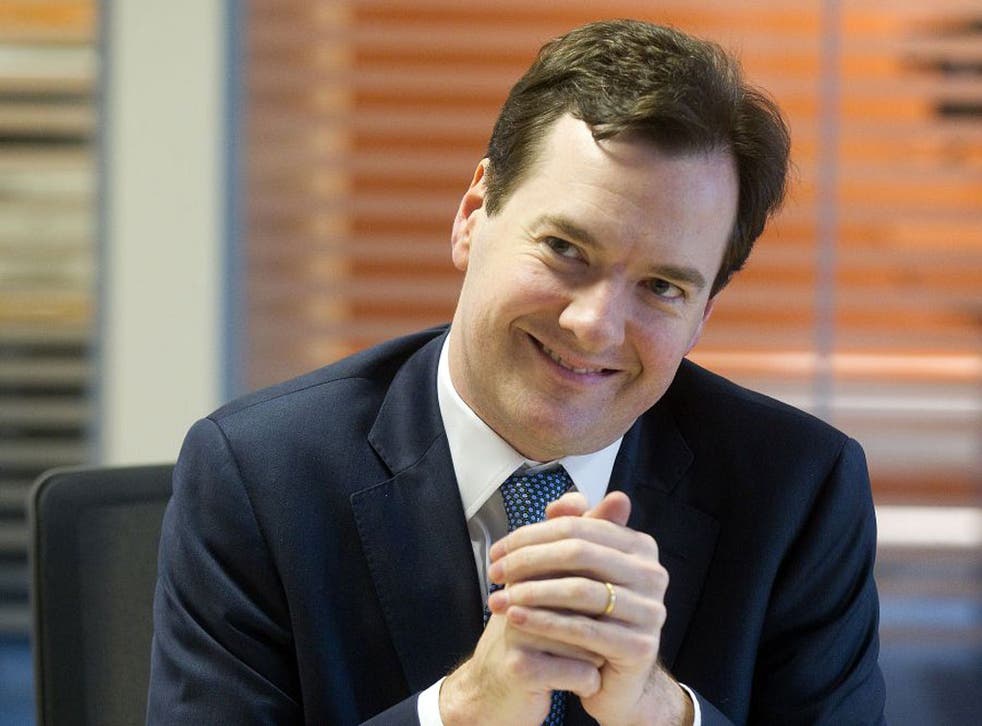 David Cameron and George Osborne have suffered a dramatic loss of trust among business leaders as they prepare to paint a more optimistic picture of the economy at the Conservative conference starting tomorrow.
A ComRes survey of 166 prominent businessmen and women for The Independent shows their hopes of persuading the public the economy is finally "healing" have been dealt a blow, with a majority of business leaders detecting no "green shoots".
At the 2010 election, 77 per cent of business leaders had confidence in the ability of the Prime Minister, a figure that has now slumped to 55 per cent.
Mr Osborne's confidence rating has dropped from 63 per cent to 43 per cent. The Chancellor is seen as "out of his depth" by 50 per cent of those surveyed (up from 40 per cent in 2010). Some 51 per cent believe he "seems like he understands business", down from 71 per cent two years ago. Two out of three businessmen think he still "lacks experience" after two and a half years at the Treasury. The proportion who believe he has "the right ideas" about the economy has dropped from 68 per cent to 52 per cent since the election.
The slogan for the Birmingham conference will be "Britain can deliver". Although Mr Cameron and his ministers will avoid falling into the trap of proclaiming "green shoots", they will speak about "an economy that is starting to heal" because of their tough medicine on the deficit and will again rule out a change of course.
Ministers will praise businessmen and the "strivers" in their workforces who, they say, will together create a private sector-led recovery. The move reflects Tory fears that the party is seen as "out of touch" with ordinary people and no longer standing up for "the aspiring classes" who want to better themselves. One senior Tory source said last night: "The message will be that we are taking the tough decisions that will allow Britain to succeed in a fiercely competitive world. The world is changing and we must change with it. We cannot be left behind."
But according to ComRes, only 28 per cent of business leaders say economic growth is increasing in their sector, while 32 per cent believe it is decreasing and 37 per cent think it is staying the same. The survey has one silver lining for the Tories, who are still well ahead of Labour's economic team. Only 15 per cent of business leaders have confidence in Ed Miliband and 22 per cent in Ed Balls, the shadow Chancellor. Labour, however, will point out that it has closed the gap on economic competence in polls of the general public.
According to ComRes, twice as many businessmen (44 per cent) have confidence in Vince Cable, the Liberal Democrat Business Secretary, as Nick Clegg (22 per cent), although they have both suffered a dramatic slide in confidence since the election.
At the Tory gathering, ministers will hit back at Mr Miliband after his successful conference speech by attacking Labour's plans to increase borrowing to get the economy moving.
Last night Labour launched a pre-emptive strike by publishing an ICM poll it commissioned showing that seven out of 10 people believe the Government should reverse its decision to cut the top rate of income tax from 50p to 45p in the pound next April. Some 65 per cent of those who voted Tory at the last election favour a rethink.
Michael Dugher, a Labour frontbencher, said: "In tough times David Cameron has chosen to give 8,000 people earning over £1m a tax cut of at least £40,000. Meanwhile millions pay more and his failed economic plan has taken us into the longest double-dip recession since the Second World War. This isn't fair. We need a One Nation prime minister who will take decisions in the interests of the whole of Britain, not one who puts millionaires before the millions."
He added: "It's about the principle of giving tax cuts to millionaires while millions pay more."
According to Labour, government borrowing is up 22 per cent so far this year compared to last.
The Labour-commissioned poll also found that a majority (64 per cent) of people believe Mr Cameron should make clear whether he personally benefits from the tax cut on earnings over £150,000 a year, while 20 per cent disagree. Those who voted Tory in 2010 agree he should come clean by a margin of 46 per cent to 40 per cent.
Mr Miliband was accused of misleading the public last week by suggesting that Mr Cameron would benefit from what Labour calls the Government's "tax cut for millionaires". It was pointed out that the tax cut would be worth £40,000 only if someone's annual income was more than £1m, not their wealth.
Although Mr Cameron is believed to be a 50p-rate taxpayer, that means he earns more than £150,000 a year, not more than £1m.
The Labour leader refused to say whether he was worth £1m thanks to his London house, but has made clear he is not a top-rate taxpayer.
Chairman under pressure from Tories and Labour
The Conservative chairman Grant Shapps was under growing Tory and Labour pressure last night over his past business dealings.
After The Independent reported he was being investigated by the advertising watchdog over claims a website he ran misled users, a leading Tory grass-roots activist warned that the episode was damaging the party.
John Strafford, founder of the Campaign for Conservative Democracy, said: "If we had an elected chairman, we would not have an embarrassing situation like this.
"If there was an election we would wheedle out the truth about the candidates to become chairman."
A senior Tory told The Independent that the controversy over Mr Shapps – as well as the publicity about Chief Whip Andrew Mitchell's tirade at Downing Street police – was "undermining our efforts to detoxify the party".
Meanwhile, Labour is to write to David Cameron challenging him to break his silence over the former business activities of his new party chairman.
The Advertising Standards Authority has confirmed it is studying a complaint about the HowToCorp website, which used to be run by Mr Shapps, featuring get-rich-quick advice from supposedly successful businessmen Sebastian Fox and Michael Green.
A Conservative spokesman said Mr Shapps had not been involved with the company for four-and-a-half years and the complaint to the ASA was "bogus".
Register for free to continue reading
Registration is a free and easy way to support our truly independent journalism
By registering, you will also enjoy limited access to Premium articles, exclusive newsletters, commenting, and virtual events with our leading journalists
Already have an account? sign in
Join our new commenting forum
Join thought-provoking conversations, follow other Independent readers and see their replies