Busy Nottingham food bank to close in protest at harsh council cuts
NG7 has accused city council of using food banks to justify benefit cuts
Jonathan Owen
Wednesday 26 November 2014 19:50 Comments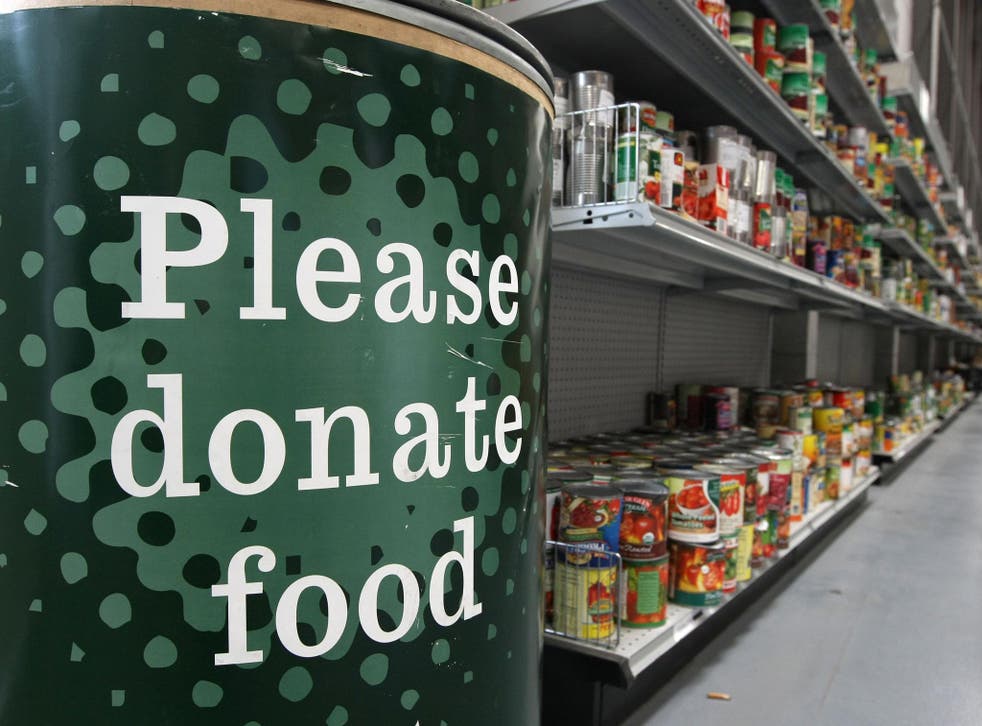 A busy food bank is shutting down in protest against the local council allegedly using its existence as a reason to deny hardship funds to local people who cannot afford to pay for basics.
The NG7 food bank in Nottingham has fed more than 5,000 people since it opened two and a half years ago. But it will shut its doors after Christmas because the organisers are upset that the city council is justifying welfare cuts on the grounds that desperate people can turn to food banks instead.
The volunteers behind the food bank say that "other approaches" are now required to help those in need without legitimising council spending cuts. "The setting up and development of this food bank has been underpinned by a specific ethos. In particular, we have been concerned with the way punitive welfare reforms and further draconian immigration policy has affected already vulnerable groups," the food bank said in a statement issued this week.
"Regrettably and disappointingly, in meeting with senior NCC [Nottingham City Council] managers they have advocated the co-opting of food banks, as part of their strategies in avoidance of using their own funds.
"Given these facts and despite our best ongoing efforts, we have recognised that we are not being used as a temporary service of last resort, but rather being seen as a part of the long term strategy of replacement for statutory services, who have a duty and the resources to address a large part of the need."
In pictures: Food banks

Show all 9
The food bank was set up in the summer of 2012 by local volunteers and community groups.
The local authority has insisted that it was doing everything it could to help vulnerable residents pay their fuel, food and household bills.
Councillor Graham Chapman, deputy leader of the City Council, said: "Food banks are never the first point of call for people who require help but we are recognised across the city, together with a number of faith and community groups, as being an accepted point of referral.
"We have good relationships with a number of food banks, but have made no direct referrals to NG7 since July 2013 at the specific request of volunteers behind the scheme, who asked they were diverted through other agencies.
"Unlike a number of councils, we have ring-fenced all available funding to help with financial hardship. This will be cut by the Government next year but we will continue to make that support available to families in the city."
Chris Mould, chairman of the Trussell Trust, which supports more than 400 food banks across Britain, said he was unaware of the problems in Nottingham. But he added: "It is vitally important for food banks and local councils to talk regularly and to liaise over the operation of the local welfare assistance scheme."
Almost half of those who resort to food banks to survive are doing so because of delays or changes to their benefits, according to the charity.
Last year welfare minister Lord Freud was criticised for suggesting that the rise of food banks was led by supply as much as demand - implying they would exist even without the Government's squeeze on benefits
Register for free to continue reading
Registration is a free and easy way to support our truly independent journalism
By registering, you will also enjoy limited access to Premium articles, exclusive newsletters, commenting, and virtual events with our leading journalists
Already have an account? sign in
Join our new commenting forum
Join thought-provoking conversations, follow other Independent readers and see their replies