Byers, Hoon and Hewitt suspended from party
Former ministers have whip withdrawn over lobbying claims
Nigel Morris
,
Deputy Political Editor
Tuesday 23 March 2010 01:00 Comments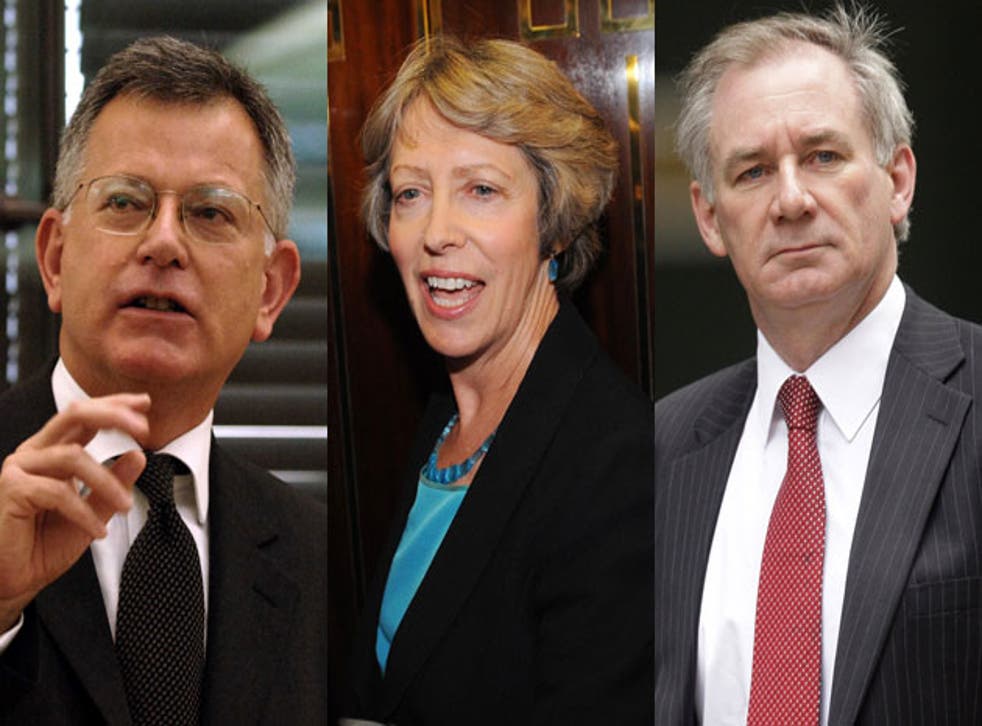 Three former Cabinet ministers were suspended from the Labour Party last night over accusations they were ready to use their position to influence government policy in return for money.
Stephen Byers, Patricia Hewitt and Geoff Hoon had the parliamentary whip removed from them by party chiefs after they were caught on camera by an undercover television investigation into lobbying by politicians.
The "cash for access" storm, which has overshadowed Labour's election preparations, took a dramatic turn after the programme was broadcast last night. Immediately afterwards, the Labour Chief Whip, Nick Brown, and the party's general secretary, Ray Collins, ordered their suspension pending a full investigation into the claims. Margaret Moran, the MP for Luton South, who featured in the programme, was also suspended last night by the party.
Mr Byers, a former Transport Secretary, was filmed boasting that he had influenced government policy affecting three Whitehall departments.
He described himself as a "sort of a cab for hire" at rates of up to £5,000 a day and claimed he had reached secret deals with Lord Adonis, the Transport Secretary, over a rail franchise contract, and with Lord Mandelson, the Business Secretary, over food labelling regulation. He later withdrew the claims, saying he had "exaggerated" his influence. Ms Hewitt and Mr Hoon, who met a reporter pretending to work for a US lobbying company, suggested they would charge £3,000 a day for their services.
Ms Hewitt, a former Health Secretary, outlined five ways of meeting a minister, while Mr Hoon said he wanted to use his international knowledge and contacts in a way that "makes money".
Both have denied any wrongdoing and stressed they were discussing work that might arise after they stepped down as MPs. The disclosures in Channel 4's Dispatches programme have been a severe set-back to Labour hopes of building momentum ahead of the election due in just over six weeks' time.
Backbench MPs demanded action against the former ministers in angry scenes at last night's weekly meeting of the Parliamentary Labour Party.
In a day of frenzied activity, the Prime Minister and senior colleagues denied there had been any "impropriety" by Lord Mandelson or Lord Adonis in their contacts with Mr Byers.
The former minister yesterday referred himself to the Parliamentary Standards Commissioner, John Lyon, and insisted he was confident he would be cleared. But Mr Brown rejected a demand from David Cameron, the Conservative leader, for an investigation by Cabinet Secretary Sir Gus O'Donnell into Mr Byers' claim that he influenced policy.
His spokesman said he had accepted assurances from the permanent secretaries of three Whitehall departments that there had been "no improper influence" on government decisions.
Mr Cameron said: "These ministers, Hewitt and Byers, were claiming they changed Government policy, they got people appointed, they cost the taxpayer money. They are making these claims and that goes to the heart of the issue of the integrity of the Government."
Eric Pickles, the Tory chairman, added: "This looks increasingly like a cover-up at the heart of government."
Lord Adonis told the Lords yesterday he had a "brief conversation" with Mr Byers over the rail franchise, but said there was "no truth whatsoever" in suggestions that he changed his policy as a result. Lord Mandelson said he had "no recollection" of speaking to Mr Byers about food labelling.
In the Commons yesterday, the Labour MP Gordon Prentice said colleagues were "scandalised" by his "absolutely shaming" behaviour. Another MP, Colin Burgon expressed "revulsion" about the "attitudes of so-called Labour colleagues". Harriet Harman, the deputy Labour leader, confirmed the party would back a statutory register of MPs' links with lobbyists, rather than the existing voluntary code of conduct that currently exists.
Meanwhile Conservative sources said Tory MP John Butterfill, who was also featured in the programme, had referred himself to Mr Lyon.
Last night, Sir Ian Kennedy, head of the new MPs' expenses watchdog, said further parliamentary reforms might be needed to bring an end to the scandals that have cast a shadow over Westminster over the last year.
n More than 20 MPs broken Commons rules by failing fully to declare overseas trips paid for by foreign governments, the BBC claimed last night. The politicians have visited holiday destinations such as the Maldives, the Cayman Islands, British Virgin Islands, Mauritius, Gibraltar and Cyprus, but on many occasions they failed to mention the hospitality received when tabling questions and participating in Parliamentary debates.
Labour MP Andrew Dismore, a member of the Standards and Privileges Committee, is alleged to have breached the regulations it enforces more than 90 times in relation to annual trips to Cyprus.
Tory David Amess is said to have called a debate on the Maldives in 2007, telling the House that his "splendid visit" had given him "an early taste of paradise", but failed to declare his interest.
A controversial history: MPs for hire
The new...
Stephen Byers
The former Trade and Transport secretary told an undercover Sunday Times reporter that he could use his government contacts to change policies in favour of businesses. He was secretly recorded offering himself "like a cab for hire" for up £5,000 a day, and also said he could bring Tony Blair to meet clients. He later said that he had exaggerated his claims, and had retracted them the day after the meeting in an email.
Patricia Hewitt
The former Health Secretary claimed she had helped to obtain a key seat on a government advisory group for a client paying her £3,000 a day. She said later she had only offered to do the work after leaving the Commons.
Geoff Hoon
The former Defence Secretary offered to lead delegations to ministers, telling the reporter that he was looking to turn his international knowledge and contacts into "something that frankly makes money" for £3,000 a day after he stepped down as an MP. He later denied ever offering to hand over confidential information.
...and the old
Neil Hamilton
The Conservative MP for Tatton was one of those implicated in the "cash for questions" scandal in 1994. He was accused of accepting envelopes stuffed with cash from the boss of Harrods department store, Mohamed Al-Fayed, in exchange for asking parliamentary questions. Hamilton refused to admit any wrongdoing, and the Tory Prime Minister John Major had to ask for his resignation. He blamed the media for his fall from grace, saying at the time: "I think it is sad and deeply disturbing that I have been forced to leave office because of foully motivated rumour and a media witchhunt."
In 1997 he was defeated by the former BBC journalist Martin Bell, who ran as an independent candidate on an anti-corruption ticket. Mr Hamilton took Mr Fayed to court to contest the claims in the hope of salvaging his reputation, which had become synonymous with Tory "sleaze". But his bid failed after a five-week trial at the High Court, leaving him with an estimated £2m costs bill.
David Tredinnick
The Tory MP for Bosworth was suspended by John Major after he told an undercover reporter he would accept £1,000 in return for submitting parliamentary questions about a fictitious drug. He was obliged to resign from his role as a parliamentary private secretary and was suspended from the Commons for 20 sitting days, but remains an enthusiastic supporter of complementary and alternative health medicines, including homeopathic remedies.
Graham Riddick
The Conservative MP for Colne Valley fell for the same fake drug ruse as Tredinnick, agreeing to accept £1,000 for asking questions. He contested his seat at the 1997 general election but lost to Labour's Kali Mountford.
Register for free to continue reading
Registration is a free and easy way to support our truly independent journalism
By registering, you will also enjoy limited access to Premium articles, exclusive newsletters, commenting, and virtual events with our leading journalists
Already have an account? sign in
Join our new commenting forum
Join thought-provoking conversations, follow other Independent readers and see their replies