Cameron announces 'funding' for English classes six months after £45 million cuts
PM accused of 'isolating' the group he wants to help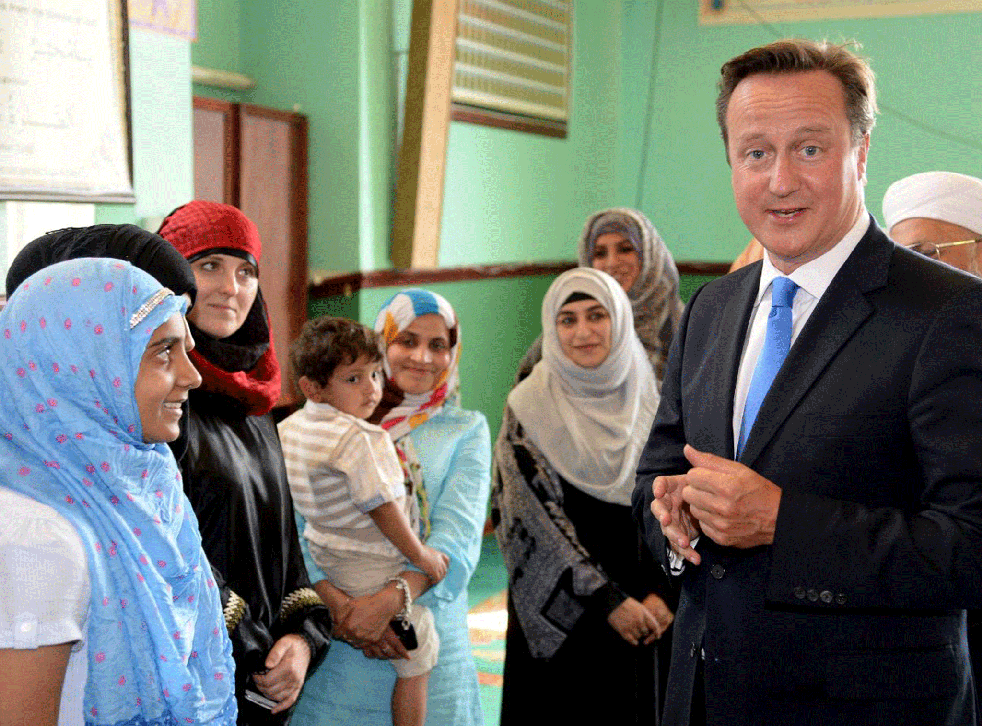 David Cameron has been condemned over his warning that Muslim women must learn English or risk being deported - after having overseen £45 million cuts to English classes six months ago.
The Prime Minister's pledge of £20 million funding for English language classes to prevent radicalisation in Muslim communities is actually a "dressing up" of much larger cuts to the same programmes, opposition politicians claim.
He told BBC Radio Four that 22 per cent of Muslim women in the UK cannot speak English, and as such may be "more susceptible to the extremist message that comes from (Isis)."
Yet Dal Babu, former chief superintendant at the Metropolitan Police, claimed only six percent of Muslim women might not speak English.
Muslims gather in Makkah for the Hajj in 2015

Show all 27
"David Cameron has deliberately used the issues around English as a second language and extremism in the same speech," he told the Evening Standard.
The biggest challenge in preventing radicalisation was the internet and social media, not knowing English, said Mr Babu.
"I've worked with some of the families whose children have gone to Syria. Their families speak English," he said.
The Government's pledge of £20 million funding for English for speakers of other languages (Esol) classes has also been criticised- after £45 million was cut from those same classes less than a year ago.
In July last year, the Department of Business, Innovation and Skills announced all funding for Esol programmes would be cut.
In a document on changes to funding allocations, the chief executive of the government's Skills Funding Agency, Peter Lauener, wrote: "On participation budgets, I can confirm that with immediate effect we will implement the following: withdrawal of funding for ESOL Plus Mandation in full for the 2015 to 2016 funding year [...]".
Tim Farron, leader of the Liberal Democrats, has said his ministers blocked the cuts to these English classes when they were in coalition with the Conservatives.
He has now accused Mr Cameron of cynical political messaging.
"This announcement is dog-whistle politics at its best," he said.
"David Cameron cut the budget for English language classes in August last year by £45 million. Now the Prime Minister is dressing up a massive cut as a £20 million funding commitment."
Targeting Muslim women in the debate about terrorism "only serves to isolate the very people Cameron says he is trying to help," said Mr Farron.
Former Conservative party chair Baroness Warsi echoed the Liberal Democrat's concern about singling out Muslims.
She added that her own mother spoke poor English, but had produced a lawyer, accountant, teacher, pharmacist and cabinet minister.
The Government's new rules mean that people arriving in the UK on a five-year spousal visa will have to take a test after two and a half years to show they are trying to improve their English.
Register for free to continue reading
Registration is a free and easy way to support our truly independent journalism
By registering, you will also enjoy limited access to Premium articles, exclusive newsletters, commenting, and virtual events with our leading journalists
Already have an account? sign in
Register for free to continue reading
Registration is a free and easy way to support our truly independent journalism
By registering, you will also enjoy limited access to Premium articles, exclusive newsletters, commenting, and virtual events with our leading journalists
Already have an account? sign in
Join our new commenting forum
Join thought-provoking conversations, follow other Independent readers and see their replies