Cameron is 'not my boss', says new Scottish Tory leader
Davidson puts distance between herself and PM as poll shows Scots do not back full independence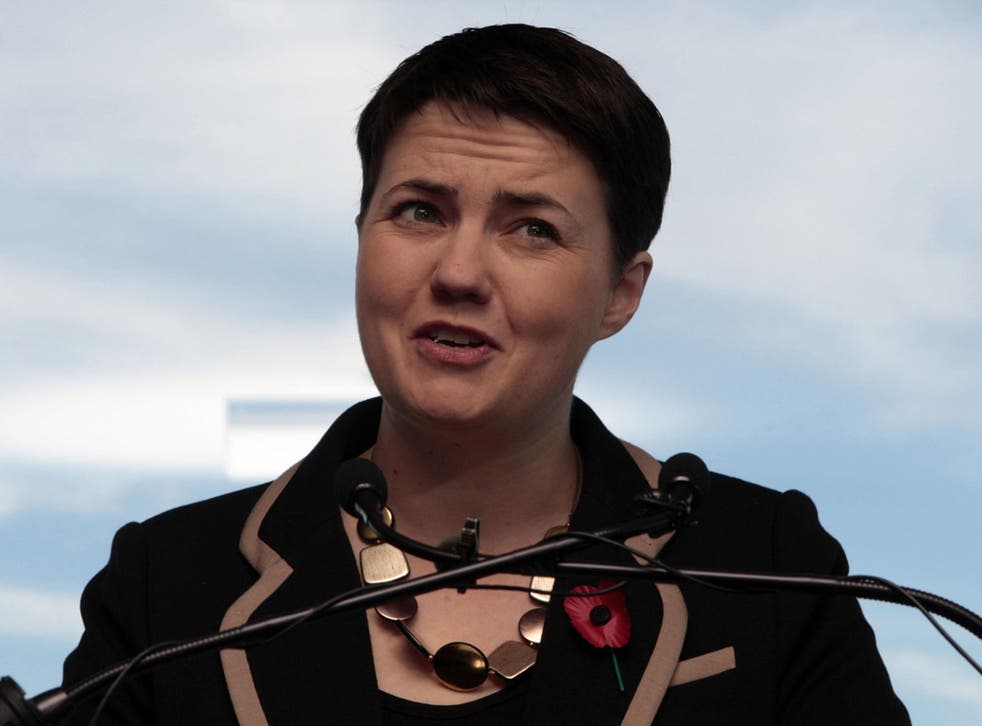 The new leader of the Scottish Conservatives last night sought to distance herself from David Cameron, as a new poll showed Scots do not back full independence.
Ruth Davidson insisted the Prime Minister is "not my boss", adding: "If he needs a quiet tap on the shoulder, then I'm just the girl to do it."
Ms Davidson's remarks came after she defeated rival Murdo Fraser, the radical candidate who wanted to disband the Tories in Scotland to form a new centre-right party. The proposal had been backed by some senior Conservatives, including Sir Malcolm Rifkind.
However, Ms Davidson, the first openly gay leader of a major political party, insisted the party would now pull together. She replaces Annabel Goldie, who quit after the Tories lost five seats in the Scottish elections. The polls saw Alex Salmond's Scottish National Party secure an overall majority, paving the way for a referendum on independence.
"We have much work to do," Ms Davidson said. "Some might think it looks like an insurmountable challenge ... Well, it won't be easy, but then I'm a Conservative, and Conservatives don't believe in something for nothing.
"While David Cameron is my Prime Minister, when he comes to Scotland he's not my boss, we're colleagues. I'll be making a vision that is right for Scotland, right for the Scottish Conservatives, and I hope very much to work with our Prime Minister." Ms Davidson only entered the Scottish Parliament in May.
Mr Salmond has committed to holding a referendum towards the end of this parliamentary session. Ms Davidson said: "I don't envy the SNP. They are tasked with making the negative case against the United Kingdom, talking down our history, our country and our achievements. That's a fitting script for a party locked in the throes of backwardness and reaction."
A poll for BBC1's Politics Show, to be broadcast today, shows opinion split on Scotland's future status. Among Scottish voters, 29 per cent back the status quo, while 33 per cent would support more control for Holyrood over tax and welfare, but not defence or foreign affairs. Only 28 per cent of those polled in Scotland by TNS-BRMB supported full independence.
Among English voters, 40 per cent want no change, and less than a quarter support full independence. Mr Salmond has sought to shift the terms of the debate, raising the prospect of a third option known as "independence lite", which would give Scotland full financial autonomy, while remaining part of the UK.
The poll results will provide some comfort to the Westminster coalition which has become increasingly panicked about Mr Salmond's seemingly unstoppable march towards independence. New political advisers have been appointed to draw up a strategy to "sell" the concept of the United Kingdom to voters on both sides of the border. A more "muscular" approach will be taken towards the Scottish administration, challenging financial decisions and taking a more strident approach to policy areas that have not been devolved, including welfare and defence.
The Labour Party has yet to appoint a new leader in Scotland since Iain Gray quit following the May election. The three confirmed candidates are MP Tom Harris and two members of the Scottish parliament, Johann Lamont and Ken Macintosh.
Join our new commenting forum
Join thought-provoking conversations, follow other Independent readers and see their replies