Cameron reveals civil servants who earn more than him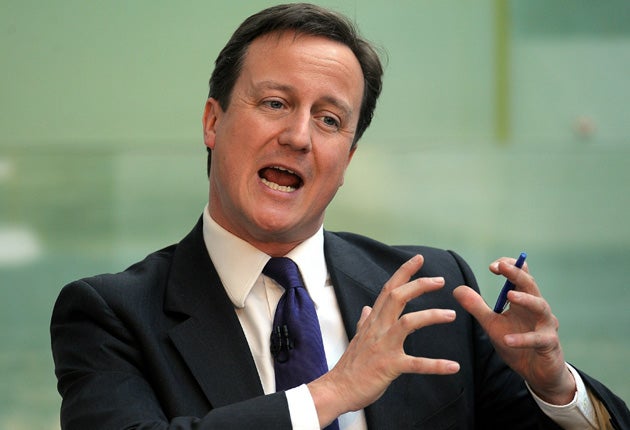 More than 170 top civil servants receive bigger salaries than the Prime Minister, figures released today by the Cabinet Office disclosed.
They are each paid more than the £150,000 to which David Cameron was entitled until he took a £7,500 pay cut when he arrived in office last month. Between them they earn £29.2m.
The first civil service pay league table will be required reading for the mandarins – and many of their staff – this morning. They may be puzzled over a series of apparent anomalies: why does Sir Nicholas Macpherson, permanent secretary at the Treasury for the last five years (£175,000– £179,999) earn £15,000 less than his counterpart at the Department for International Development, Nemat Shafik?
Why does Jonathan Stephens, permanent secretary at the Department for Culture Media and Sport, on up to £159,999, receive £70,000 less than Jeremy Beeton, who heads the Government's Olympics watchdog? In this case the answer appears to be the cost of head-hunting Mr Beeton from his previous employer, an American building firm.
Top of the list is John Fingleton, chief executive of the Office of Fair Trading, whose annual package, including taxable benefits and allowances, is between £275,000 and £279,999.
The head of the National Health Service, David Nicholson, receives remuneration worth up to £259,999, which includes the use of a rented flat in London. Health service unions have protested that the salaries of senior NHS executives have soared while nurses received below-inflation rises.
The Chief of the Defence Staff, Air Chief Marshal Sir Jock Stirrup, gets up to £244,999. The new Government ordered the release of the salary details, which were grouped into bands of £5,000, as part of a drive for greater transparency in the public sector.
The pay of some career civil servants is outstripped by colleagues recruited from the private sector.
Joe Harley, who is responsible for the computer systems at the Department of Work and Pensions, earns up to £249,999. He has spent much of his career in the oil industry. Clare Chapman, the director general of workforce for the Department of Health, who is on up to £224,999, previously worked for Tesco and Pepsi Cola.
The most senior civil servant, Sir Gus O'Donnell, who has advised three prime ministers as Cabinet Secretary is fifth in the pay league table. He is paid £239,999 – almost £100,000 more than his political masters.
Lin Homer, the chief executive of the UK Border Agency, receives up to £209,999. Her spell running the immigration service has been hit by controversy, including the failure to deport foreign criminals.
Sir Liam Donaldson, the Chief Medical officer, who took the lead in preparations for swine flu last year, earns up to £209,000.
James Hall, the chief executive of the Passport and Identity Service, earns up to £209,999. He was responsible for launching the previous Government's national identity card scheme – and will now take charge of dismantling it.
Keir Starmer, the Director of Public Prosecutions, earns up to £199,999.
Most permanent secretaries – heads of Whitehall departments – earn between £180,000 and £200,000.
Nigel Sheinwald is paid up to £179,999 as Ambassador to the United States. The same salary was earned by Sir Peter Ricketts as permanent under secretary at the Foreign Office, its most senior civil service job. He left last month to become the Government's security adviser.
The publication of the pay and perks enjoyed in Whitehall came after Mr Cameron condemned the "cloak of secrecy" around much of the workings of government.
Top salaries in the public sector
John Fingleton (chief executive, Office of Fair Trading, £275,000 – £279,999)
Grew up on a dairy farm in Ireland. Spent nine years lecturing in economics at Trinity College, Dublin and headed the Irish Competition Authority.
David Nicholson (chief executive, National Health Service, £255,000 – £259,999)
A former Communist Party member, he joined the NHS more than 30 years ago and has held various executive roles.
Joe Harley (IT director general and chief information officer, Department of Work and Pensions, £245,000 – £249,999)
Spent 25 years in the private sector, mostly the oil industry. Says his current job is "much more fulfilling than helping to pipe petrol to the pumps".
Air Chief Marshal Sir Jock Stirrup (Chief of the Defence Staff, £240,000 – £244,999)
Commissioned in 1970, he became the Chief of the Air Staff in 2003 and appointed to his current post four years ago.
Sir Gus O'Donnell (Cabinet Secretary, £235,000 – £239,999)
Also head of the civil service. He is currently serving his third Prime Minister. Made his mark as an economist. Had earlier uncomfortable spell as press secretary to Sir John Major.
Jeremy Beeton (Director general, Government Olympic Executive, £225,000 – £229,999)
Engineer hired from US construction firm Bechtel charged with controlling costs of staging the 2012 Games.
Stephen Laws (First Parliamentary Counsel, £225,000 – £229,999)
One of the civil service's three most senior lawyers. Heads office that drafts Bills and advises on parliamentary procedure.
Paul Hemsley (director of Finance, Ordnance Survey, £220,000 – £224,999)
A chartered accountant with extensive business experience in the public sector and private companies.
Clare Chapman (director general of workforce, Department of Health, £220,000 – £224,999)
Joined from Tesco where she was personnel director. Also worked for Pepsi and Quaker Oats.
David Green (director general of Revenues and Customs Division, Crown Prosecution Service, £210,000 – £214,999)
Qualified barrister who often worked as counsel for Customs & Excise.
Join our commenting forum
Join thought-provoking conversations, follow other Independent readers and see their replies