Cameron reveals his vision for 'moral markets'
PM accused of not matching his rhetoric with action after blocking Lib Dem pay plans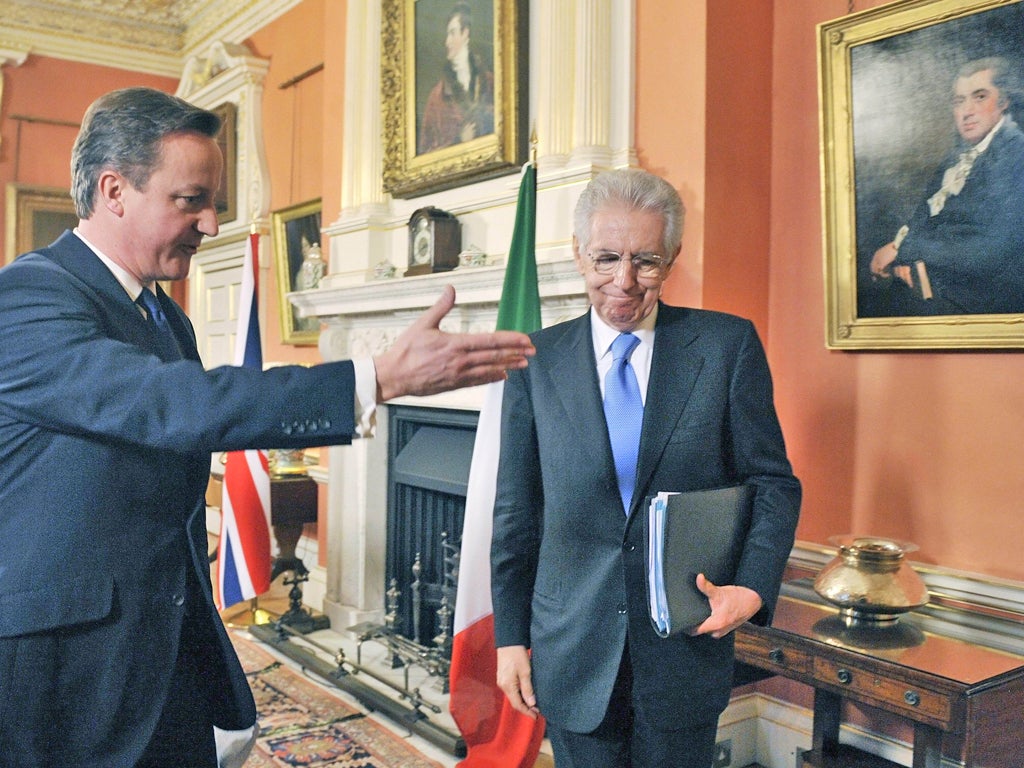 David Cameron will spell out his vision of "moral markets" today, as he enters the intense political debate over how to create a more "responsible capitalism".
In a long-awaited speech in London, the Prime Minister is expected to call for reforms to create a new "popular capitalism" and say the Government is prepared to intervene to make it happen. However, he is also likely to stress the benefits of free markets and to reject what he regards as the heavy-handed, statist approach favoured by Ed Miliband, the Labour leader.
Mr Cameron will enter the fray against an increasingly gloomy economic backdrop. As unemployment rose to a 17-year high, the Chancellor, George Osborne, admitted that official figures to be published next Wednesday could show that Britain slipped into negative growth in the final three months of last year.
The Prime Minister faces an uphill struggle in calming public anger over excessive pay for company bosses. Ministers are braced for another public backlash next month when UK banks, including the state-owned Royal Bank of Scotland, announce their bonuses.
RBS is preparing to offer a bonus of between £1.3m and £1.5m to Stephen Hester, its chief executive – on top of his £1.2m salary – even though its share price almost halved in a year.
MPs from all parties are calling for Sir Fred Goodwin, the disgraced former RBS boss, to be stripped of his knighthood. Under him, the bank almost went under and was bailed out with £46bn of taxpayers' money. Mr Cameron is said to be sympathetic to the MPs' demand.
Yesterday Goldman Sachs, the New York-based investment bank that employs 5,300 staff in the UK, announced a bill for pay and bonuses of £7.95bn last year despite a fall in profits. While the total pay packet fell by 21 per cent on the previous year, the share of revenues paid out in salaries and benefits rose from 39.3 to 42.4 per cent.
Mr Cameron is accused of failing to match his words with action. He and Mr Osborne have blocked a plan, favoured by Vince Cable, the Liberal Democrat Business Secretary, for workers to have a seat on remuneration committees – giving them a say on their bosses' pay.
Labour backs the proposal but it will not be included in sweeping boardroom reforms and measures to rein in excessive executive pay to be announced by Mr Cable next Tuesday. He is expected to call time on "rewards for failure" and the "old boy network" operating on remuneration committees. Shareholder votes on directors' packages could be binding rather than advisory as they are now, and companies may be forced to publish the ratio of senior directors' pay to the median in the firm.
Yesterday the four largest supermarket chains were accused of paying "poverty" wages to staff. A study by the Fair Pay Network (FPN) – a coalition of charities and NGOs including Oxfam, Child Poverty Action Group and the TUC – argued that despite huge profits and rising executive pay, the lowest-paid workers at Tesco, Sainsbury's, Asda and Morrisons were not being paid a "living wage". Mark Donne, a director of the FPN, said: "It cannot be acceptable to shareholders or customers of the big four supermarkets to see soaring profits, huge executive pay, incredible expansion and yet a large strata of employees getting into greater debt, unable to buy new shoes for their children and relying on state benefits to survive."
Retailers defended their record, saying their employees also received performance-related bonuses and store discount cards on top of their basic salaries. Philip Clarke, Tesco's chief executive, receives a basic salary of £1.1m, less than the £1.4m paid to his predecessor, Sir Terry Leahy. However, Mr Clarke's pay could rise to £6.9m this year if he hits his targets. Justin King, Sainsbury's chief executive, receives a £900,000 salary but his total package is estimated at around £3.2m; Dalton Philips, chief executive at Morrisons, receives a basic salary of £800,000 but could end up with a total package estimated at £4m.
The report, Face the Difference, calculated that supermarket workers were paid an average of £6.83 an hour and only one in seven received a living wage rate – calculated at £8.30 an hour in London and £7.20 outside the capital. The minimum wage is £6.08 an hour. On the eve of the 2010 general election, Mr Cameron called the living wage "an idea whose time has come" but has not acted on it. Labour says Mr Miliband set the agenda on "responsible capitalism" in his Labour conference speech last September in which he urged the state to punish "predators" and reward "producers."
Join our commenting forum
Join thought-provoking conversations, follow other Independent readers and see their replies