Campaigners demand investigation into Met police's handling of China state visit
Politicians angry at targeting of protester whose treatment had echoes of his experiences after Tiananmen Square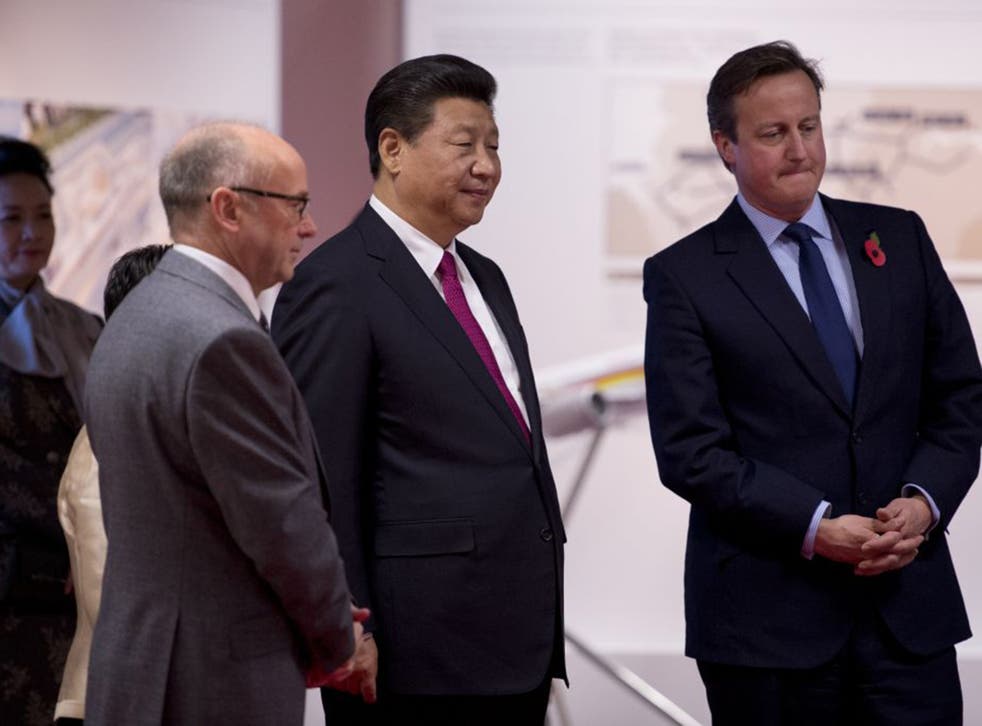 The Metropolitan Police should be investigated over its handling of Chinese Premier Xi Jinping's state visit to Britain, campaigners have said, amid anger at the treatment of demonstrators.
Scotland Yard was stung by criticism of the arrests and house searches of three protesters, including academic Dr Shao Jiang, a survivor of the Tiananmen Square massacre and two women waving Tibetan flags. It defended its policing and denied claims that it was "politically manipulated" to arrest protesters.
Commander Lucy D'Orsi, said the policing of the visit was solely a matter for the Met. "Any other suggestion is wrong," she said. "The assertion that political manipulation of the command team or, indeed, the broader Metropolitan Police took place is wrong and doesn't reflect the facts."
Police had worked "tirelessly to facilitate peaceful protest" throughout the state visit she insisted. "In addition to the need to facilitate peaceful protest, there was a need to ensure a tight security operation for not only the Chinese President and First Lady but also our Royal Family and Prime Minister. It was never an 'either/or' choice," she said.
The rare statement from the Met, already facing criticism from the Home Secretary over its knife crime policy as well as the way it handled abuse allegations against former Tory politician Lord Brittan, came as criticism of its heavy-handed approach to human rights protests mounted.
Lawyers and politicians questioned the Yard's handling of the protests. Many expressed surprise at a police decision to rearrest the three on a more serious charge resulting in their homes being searched and computers and phones being seized.
Opposition politicians reacted with dismay to the episode and demanded an explanation from the Met Commissioner, Sir Bernard Hogan-Howe.
Tim Farron, the Liberal Democrat leader, told The Independent: "The right to protest peacefully is an intrinsically British value that underpins our democracy. The police's heavy-handed response undoubtedly will leave some questioning our commitment to human rights and I would urge the Home Secretary to take this up directly with the Metropolitan Police."
Jenny Jones, a Green Party member of the London Assembly, said: "Having been manhandled by the police myself, and having been arrested, I know what a distressing experience it is. The raid on his house seems out of proportion and I will be asking for an explanation from the Commissioner."
Former Labour frontbencher Ann Clwyd, who chairs the all-party group on human rights, said she would raise the case with the Home Secretary, Theresa May. She said: "Peaceful protest is something we take as a given in the United Kingdom."
Bill Nash, of BSB solicitors, acting for the two women arrested, said: "My clients were arrested for what was a peaceful and what many would see as a legitimate non-violent protest concerning the treatment of their country by the Chinese regime.
"Despite the fact that no one suggests that any violence was contemplated or offered, a decision was taken to further arrest for an offence of conspiracy to contravene section 5 of the Public Order Act of 1986. In over 40 years of legal practice I have never previously heard of an arrest for such an offence. This smacks of overreaction to a considerable degree."
On 23 October, Shao Jiang tweeted a photograph of his bail conditions, showing he is not allowed within a mile of Heathrow airport; the prime minister's country residence, Chequers; or within 100 metres of the Chinese Premier to "prevent further harassment of the victim".
Human rights issue 'not off limits'

Show all 3
In a joint statement by the Tibetan Community in Britain group, the women said they "never expected to be arrested or to have to spend 24 hours in custody" just for waving a flag.
Downing Street refused to condemn the police actions. A spokesman said: "I'm not going to comment on an operational issue."
Caught on camera: 'Supporters' conducted
A Chinese official co-ordinated thousands of cheering supporters during President Xi Jinping's visit to Manchester.
The suited security man could be seen signalling to the crowd as the President left a dinner at Manchester Town Hall. Many of those gathered were waving flags that appeared to have been taken from official diplomatic boxes. Large numbers of well-organised supporters gathered in different parts of the city for Mr Xi's visit.
At Manchester Town Hall, supporters vastly outnumbered the dozens of protesters who held up the flags of Tibet and Taiwan. Chodak Hunter, 40, a Tibetan activist, said he had been left saddened by the arrest earlier this week of Chinese democracy activist Shao Jiang.
Mr Hunter, who has lived in the UK for 33 years, said: "It is sad that the police behaved in a tyrannical manner as they did but there is little we can do about it."
Join our new commenting forum
Join thought-provoking conversations, follow other Independent readers and see their replies