Government says 'Covid-secure' care home visits will be allowed during England lockdown
Options for visits set include communicating through windows, outdoor meetings and visiting areas with floor to ceiling screens
Ashley Cowburn
Political Correspondent
Wednesday 04 November 2020 18:06 Comments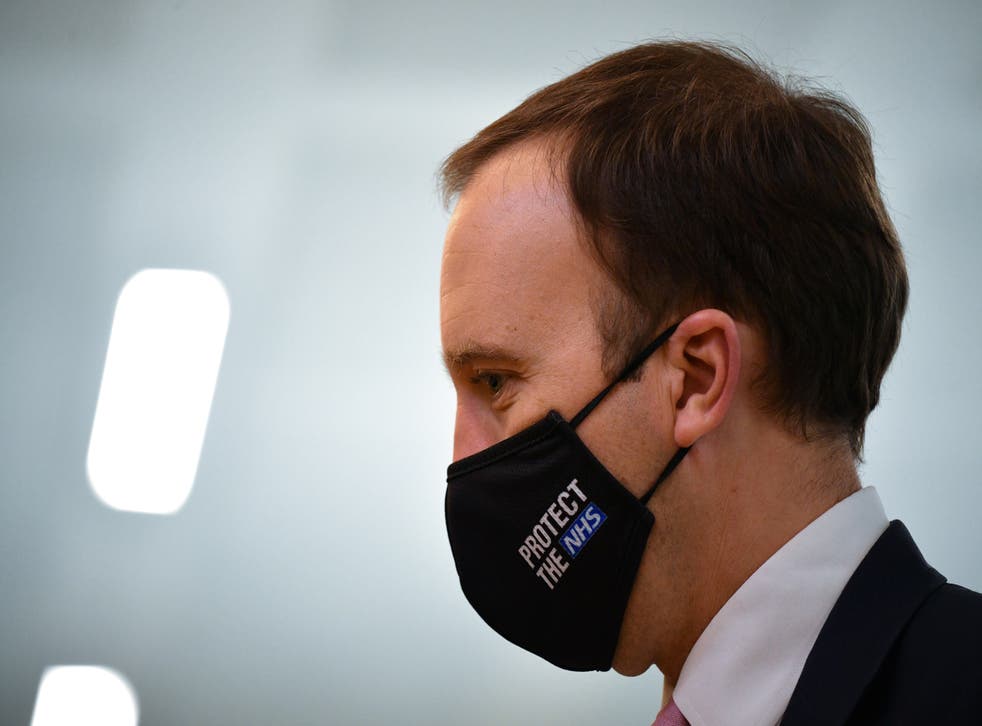 Visits to care homes will be allowed during England's one month-long lockdown under strict Covid-secure measures, including communicating through windows and behind screens, the government has announced.
In a departure from the sweeping ban on visits during the initial wave of the pandemic, ministers said that under new guidance all care home residents should be allowed to receive visits from their family and friends.
But the Alzheimer's Society said families of people with dementia would be "devastated" by the plans, comparing the government's proposed meetings behind screens to prison visits.
Chief executive officer Kate Lee warned: "This attempt to protect people will kill them. Distraught families will read this news and despair."
Ms Lee said that thousands of dementia patients had died during lockdown, and the charity had been "inundated" with calls from families describing how isolation had worsened their condition.
"The guidelines completely ignore the vital role of family carers in providing the care for their loved ones with dementia that no one else can," she said.
"Eight months have gone by – more and more people are fading away, imprisoned in care homes, without the family and loved ones they live for. How is it possible to test the whole of Liverpool yet not deliver testing and equipment to allow family carers to visit safely? Anything less is unacceptable."
The Department for Health said those visiting residents will be required to follow social distancing rules and ensure proper Personal Protective Equipment (PPE) use is observed.
Options for visits will include visiting at windows, where the visitor doesn't enter the care residence and using visiting areas or pods with floor to ceiling screens.
Outdoor visits with one other person will also be permitted, provided it can be accessed by the loved-one without going into the main building.
More specific guidelines will be published on the Government website "soon", a department spokesman said.
Matt Hancock, the health secretary, said: "I know how heart-breaking and incredibly frustrating it has been for families and friends who haven't been able to see their loved ones during the pandemic.
"Care homes should feel empowered by this new guidance to look at safe options to allow visits to care homes that suit their residents and facilities. We've seen some really innovative solutions used to help families see each other safely, face-to-face, which has been life-changing for some.
"It is vital high quality, compassionate care and infection control remains at the heart of every single care home to protect staff and residents' lives, but we must also families to reunite in the safest possible way."
The department also said plans to allow specific family and friends to visit care homes supported by testing will be trialled later this month in England, but provisions are not expected to be in place during the November lockdown.
Earlier, Sir Keir Starmer raised the issue of care home visits during the draconian restrictions at prime minister's questions, telling Boris Johnson there was "increasing concern about the emotional wellbeing of those in care homes and their families" if all visits were banned.
The prime minister said the new guidance would "try to strike the balance between people's real need to see their loved ones and obviously the risk of spreading the disease in care homes".
Mark Adams, chief executive of social care charity Community Integrated Care, earlier claimed that people supported in care services have been "tragically deprived of access to face-to-face contact with their loved ones for too long", and said he hopes improvements to the testing programme will be "the game-changer we need".
He said: "As winter sets in, the creative ways that the care sector has supported safe visiting outdoors are becoming untenable. Whilst care homes simply cannot be as accessible as they were before the pandemic, there are some solutions.
"We want individuals to be enabled to have a named visitor, who receives fast-turnaround testing before their visit.
"With support to provide effective PPE and decontamination processes, safe visiting areas, and a sensible expectation for how many visits a care home can facilitate in such a complex and high-risk environment, we can at least offer families some comfort."
Register for free to continue reading
Registration is a free and easy way to support our truly independent journalism
By registering, you will also enjoy limited access to Premium articles, exclusive newsletters, commenting, and virtual events with our leading journalists
Already have an account? sign in
Join our new commenting forum
Join thought-provoking conversations, follow other Independent readers and see their replies