Carrie Johnson to give speech on LGBT+ rights at Conservative Party conference
PM's wife is 'good sport' and 'longstanding ally', says LGBT+ Conservatives
Adam Forrest
Friday 01 October 2021 09:20 Comments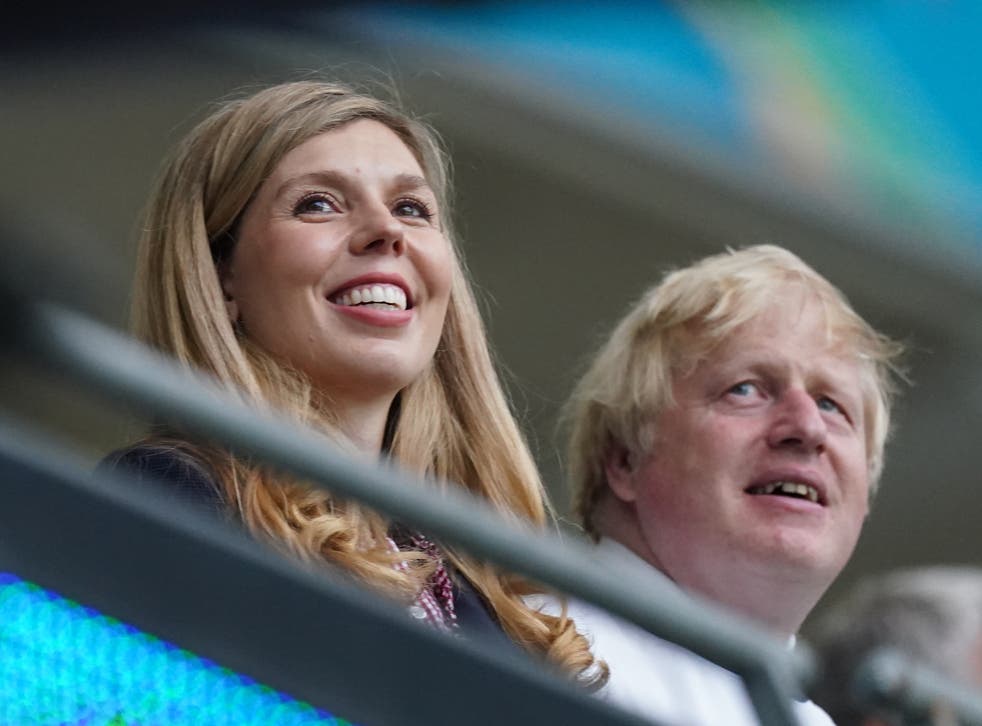 Carrie Johnson will give a speech about the importance of defending LGBT+ rights at the Conservative Party conference next week, it has emerged.
The prime minister's wife will also be the guest of honour at the Pride reception at the conference in Manchester.
The LGBT+ Conservatives hailed Ms Johnson as both a "good sport" and a "longstanding ally" of campaigners.
"Carrie is a longstanding ally, and has always been a good sport to LGBT+ Conservatives," said Elena Bunbury, chairwoman of the group. "She even judged our virtual lip-sync last conference. We're thrilled she'll be joining us in person this year in Manchester."
The event in Manchester is being held in partnership with Stonewall – the charity that has odds with the government and several top public bodies over its "diversity champions" scheme.
Liz Truss, the equalities minister, reportedly pushed for government departments to withdraw from Stonewall's scheme – which gives employers training to embed LGBT+ inclusion – over concerns about value for money.
Media regulator Ofcom, one of the bodies that withdrew from the scheme, said its involvement might pose "a conflict or risk of perceived bias".
The government has received fierce criticism for delays in implementing a ban on gay conversion therapy – promised by Boris Johnson almost two years ago and announced in the Queen's Speech this year.
News of Ms Johnson's speech comes as a group of lawyers and experts called on the government to criminalise all conversion therapy practices – including prayer. The Forum, chaired by Helena Kennedy QC, said the argument that victim appears to have consented should not be a defence.
"Individuals who seek out conversion practices in the hope of being 'cured' are not made aware of the severe psychological harm to which they are exposed, and so cannot give informed consent," said a report by the group.
There is also frustration that ministers have ruled out any changes to Gender Recognition Act to make it easier for transgender people in England and Wales to have their gender legally recognised.
Ms Johnson's speech to the Tory faithful will mark a rare public intervention by Ms Johnson, the party's former communications director.
She is known to champion the cause animal rights and conservation causes, and works as director of communications at the wildlife charity Aspinall Foundation.
The Aspinall Foundation came under scrutiny in August, when it emerged that the charity had lobbied the government in an attempt to purchase a game reserve in Africa.
In January 2021, the Aspinall Foundation announced that Ms Johnson would take over as the head of communications of the charity.
The prime minister and Ms Johnson married in a ceremony in Westminster Cathedral this year after the birth of their son, Wilfred. She is pregnant with their second child.
Mr Johnson finally admitted on US television last week that he is the father of six following years of speculation about the number of children he has.
Register for free to continue reading
Registration is a free and easy way to support our truly independent journalism
By registering, you will also enjoy limited access to Premium articles, exclusive newsletters, commenting, and virtual events with our leading journalists
Already have an account? sign in
Join our new commenting forum
Join thought-provoking conversations, follow other Independent readers and see their replies